September 2008 Table of Contents
Heading out the door? Read this article on the new Outside+ app available now on iOS devices for members! Download the app.
Features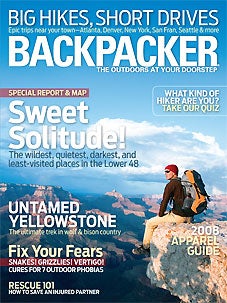 Destination Nowhere

Where is the most remote spot in the Lower 48—and will it stay that way? Our correspondent hikes deep into Yellowstone country, among wolves and elk and grizzlies, to find out. What he discovers about solitude and the state of wilderness will surprise you.

By Mark Jenkins
(Don't) Pay at the Pump

When the pain of $4 per gallon gas and the threat of melting glaciers became too much to bear, our frustrated Los Angeles hiker had an epiphany: Take the bus to his favorite trailhead! Hang on for a bumpy ride. Plus: Ten sweet hikes coast-to-coast that you can reach via mass transit.

By Dan Koeppel
Never Fear

Snakes and heights and lightning, oh my! If you have a phobia, we have a fix: From the latest scientific research to on-trail tips and coping strategies, here's everything you need to know to conquer your terrors—and get out on the trail with confidence.

By Elisabeth Kwak-Hefferan
River Keeper

Shana Watahomigie is the only Native American river guide in the National Park Service. And now she's the star of a new IMAX film about how to save the Colorado River and her backyard—the Grand Canyon.

By Tracy Ross
Gear
Apparel Guide 2008

Searing heat, pounding rain, teeth-chattering cold: We spent 1,100-plus days in the field testing the year's new apparel—and choosing the best layering systems for extreme weather.
Extreme Layering: All-Purpose Clothing

Extreme Layering: Rainy-Weather Clothing

Extreme Layering: Hot-Weather Clothing

Extreme Layering: Cold-Weather Clothing
Adventures
Wild West

With no trails and few visitors, Wyoming's Red Desert is an explorers paradise.
Dayhikes: Shenandoah

Catch this national park's brightest fall foliage on a short stroll or an all-day epic.
Top 3 CCC Trails

Conservation Corps is turning 75—so celebrate right by hiking its classics.
Luxe Camping

Cozy shelters and trail-side restaurants from Washington to Maine.
Secrets of Saguaro

The name doesn't say it all: Arizona's premier cactus preserve conceals a cool mountain escape.
Vacations: Vermont's Long Trail

Don't have time to walk across the entire state? Here's a weeklong sampler that hits the iconic route's high points.
Trek Newfoundland's Long Range Traverse

Nature



Turbulence Ahead

Wind power is clean and green—but do turbines belong in our wilderness areas?



See More: Beavers

America's largest rodent may be clumsy on land, but in water it's a marvel of design.
Phenomenon: Predator vs. Prey

Learn how carnivores and their quarry interact—and what happens when humans upset the natural balance.



Trip Doctor: Best Western Foliage
Danger Signs: Flash Flood



The Big Question: Outdoor Education



Where Can I Find: Fall's Best Birdwatching?



Skills
Ditch the Tent

Take advantage of September's warm, dry weather: Pack a tarp—and rest easy.



Technique: Warm Up

Cold and wet? Here's how to avoid hypothermia.
How to Rescue an Injured Hiker
Reader Tip: Create a Fast Flame
The Specialist: How to Make Your Boots Last
Food: Hot 'n Spicy

Kick your flavor up a notch with these Southwestern recipes. Plus: Farmer's market fare—on the trail.
Freshen Up with Fresh Fruits and Veggies
Health: Custom Training

How to exercise for your body type.
How Rangers Stay Fit with Stretching