Scott Jurek Sets Appalachian Trail Speed Record
The vegan ultra-runner completed the 2,189.2-mile Appalachian Trail in just 46 days, 8 hours, and 7 minutes, beating the previous record by 3 hours.
Heading out the door? Read this article on the new Outside+ app available now on iOS devices for members! Download the app.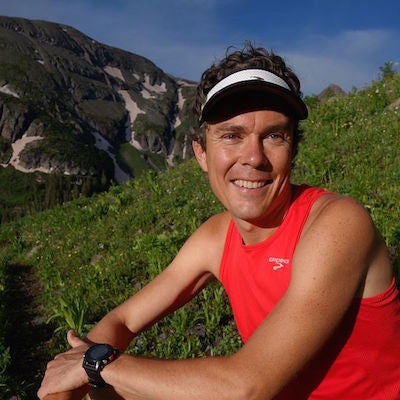 Scott Jurek set the Appalachian Trail supported speed record yesterday, clocking in at 46 days, 8 hours, and 7 minutes. His northbound trek started May 27th at 5:56 a.m. in Springer Mountain, Georgia. Jurek, 41, averaged about 50 miles a day on his run across 14 states, all while battling a knee injury and a quadricep strain. He reached the summit of Mt. Katahdin, accompanied by his wife, Jenny, on Sunday, July 12, around noon, completing his 46-day journey in a fraction of the 6 months that most hikers require.
The previous supported speed record was set in 2011 by Jennifer Pharr Davis, which Jurek beat by just 3 hours. The unsupported speed record is held by Matt Kirk, who completed the trail in 2013 in 58 days, 9 hours, and 40 minutes.
Jurek's new record is just another high point in his impressive career. He has 7 consecutive wins in the Western Endurance Run race, and holds two titles from the Badwater Ultramarathon. He authored best-seller Eat & Run about endurance running on a vegan diet.
But according to Runner's World, this may be Jurek's final win. Retirement and children are in the ultrarunner's future after the completion of the Appalachian Trail, which he calls his final "masterpiece."
However, the record might not last long. Jurek's friend and fellow ultrarunner, Karl Meltzer, plans to attempt the AT and set his own record next summer. But for now we can all admire Jurek's momentous feat in setting this new speed record.
Read more on Jurek's journey in Runners World, National Geographic, and USA Today.