Will Ryan Zinke Save the Outdoors—or Ruin Them?
The new Secretary of the Interior says he'll never sell America's public lands—but his record on wilderness, drilling, and "local control" has many advocates worried.
Heading out the door? Read this article on the new Outside+ app available now on iOS devices for members! Download the app.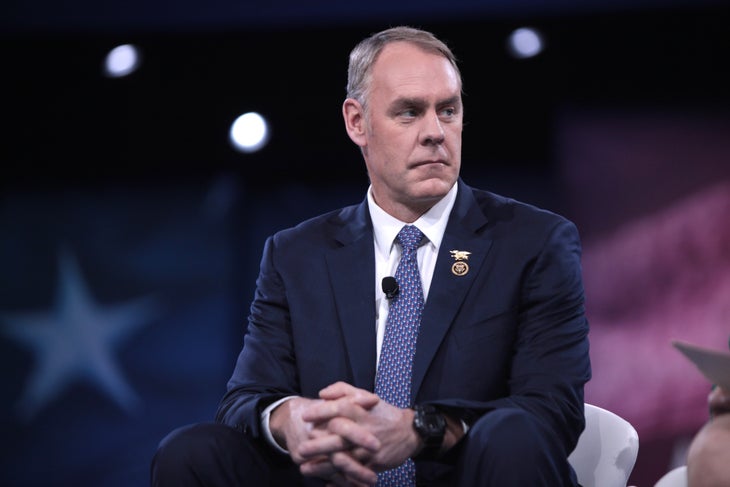 When Ryan Zinke, President Donald Trump's nominee for Secretary of the Interior, first appeared before the Senate, he presented himself as a Roosevelt-style conservationist, a Boy Scout who grew up hunting and fishing in a Montana timber town, but also appreciated his home's reliance on logging and mining.
"I fully recognize and appreciate that there are lands that deserve special recognition and are better managed under the John Muir model of wilderness, where man is more of an observer than an active participant," he told committee members. "I also recognize that the preponderance of our federal holdings are better suited to be managed under the Pinchot model of multiple use using best practices, sustainable policies and objective science."
It's the word "preponderance" that's scaring backpackers and other advocates for outdoor recreation.
With his confirmation by the Senate on Wednesday morning, Zinke, a former Navy SEAL and Montana's sole congressperson in the House of Representatives, is America's new Secretary of the Interior. As the head of the department that controls the Bureau of Land Management, National Park Service, U.S. Fish and Wildlife Service, and Bureau of Indian Affairs, he now manages the vast majority of public lands open for recreation. The nation's wilderness areas, national monuments, historic trails and wild and scenic rivers will all fall under his stewardship, as will issuing permits to drill for oil and gas, mine for coal, and build solar, wind and geothermal energy projects.
The federal land fight
One of the biggest outstanding questions is where the new secretary will fall on efforts to turn over federal land—the majority of some western states—to state government. Financial analysis so far suggests that the cost of managing those lands would bankrupt states and force a sale to private interests.
So far, Zinke has professed his opposition to disposing of federal lands; last year, he resigned his position as a delegate to the RNC in a dispute with party leadership over the issue. "He's less frightening than a lot of the nominees, but that's a really low bar," says Michael Garrity, executive director of the Alliance for the Wild Rockies.
But that doesn't mean that Zinke's necessarily a friend to conservationists. He supported a bill that would have allowed local governments to take over management of 4 million acres of federal land. He also refused to sign onto a bill that would have designated 24 million acres of wilderness there and in Idaho, Oregon, Washington, and Wyoming.
"He's been very supportive of more logging and mining on public lands, and people don't like to go hiking in clear-cut forests and open pit mines," Garrity says. "Most backpackers like solitude. That's not what Congressman Zinke has proposed."
'Local control' is an issue
Zinke has listed three priorities for his role at the Interior: catching up on the estimated $12.5 billion in backlogged maintenance and repairs at national parks, ensuring rangers and field managers have the right tools and flexibility to make appropriate choices for their areas, and working with states to craft management policies that respond to their preferences.
That notion of local control prompts skepticism, if not outright concern, among conservation watchdogs. The point of public lands is that they belong equally to all Americans. Cede control to locals, and you run the risk of running Yellowstone National Park or Bears Ears National Monument as though they're just for Wyomingites and Utahns—and some of those states are more interested in seeing drilling rigs than tents pop up across the landscape.
Drill baby drill
Zinke's not a Sarah Palin, says Hillary Hoffman, a professor at the Vermont Law School who has testified before Congress, including Zinke, on oil and gas permitting authority and transferring federally owned lands to states. But while he may not embrace the drill-baby-drill line, he'll be surrounded by a cadre of officials vocally in favor of resource extraction
"There's going to be a lot of pressure on him from the right to open up more land for oil and gas. I think he's going to have to decide either to yield to that pressure … or stick with his background and his constituents who elected someone who's a hunter and an outdoorsman," Hoffman says. "You can have hunting and oil and gas on the same lands, but if you allow too much of one, it starts to inhibit the ability to engage in the other in any meaningful way."
Those leases would mean a "piecemeal privatization of our public lands through a cozy relationship with the oil and gas industry and the coal industry," says John Horning, executive director of WildEarth Guardians, originator of the "Keep it in the Ground" campaign.
If that sounds like a problem just for oil boom states like Texas and North Dakota, keep in mind that private interests or states own mineral rights in 40 national parks, including Grand Teton, Everglades and Great Sand Dunes.
"I think [Zinke] understands the balance between preservation and the working landscapes of the West—with 700 million acres of federal mineral estate, it's not all Yellowstone," says Kathlee Sgamma, with Western Energy Alliance, nonprofit trade association for the oil and gas industry that has called for Zinke's speedy confirmation. "It's a lot of lands that are very appropriate for production."
With 25 percent of our domestic energy production coming from land managed by the Department of the Interior, we need to worry about the effect on the climate, counters Horning. Preserving postage stamps of land is moot if we continue cooking the planet.
"You have to look at the Interior Secretary nomination first and foremost, from the lens of climate," he says. "From that lens, Zinke will be a disaster."
But if Zinke keeps to his word and listens to locals, says Peter Olson, vice president for programs and government relations at the American Hiking Society, there's reason to hope he might listen to local trail managers about what works and what doesn't for logging and mining operations. (Editor's note: Backpacker Editor-in-Chief Dennis Lewon is a board member of the AHS.)
"That can be done thoughtfully," Olson says of planning energy infrastructure and development around historic trails, as has been done around the Appalachian Trail. "Where it's done hastily, that's when we fight."