These 21-Year-Olds Just Became the Youngest Calendar-Year Triple Crowners
Sammy Potter and Jackson Parell finished their record-setting hike on October 22, 2021.
Heading out the door? Read this article on the new Outside+ app available now on iOS devices for members! Download the app.
Twenty-one-year-olds Sammy Potter and Jackson Parell on Friday became the youngest people to complete a Calendar-Year Triple Crown—over 7,000 miles of hiking that covers the Appalachian Trail, the Pacific Crest Trail, and the Continental Divide Trail.  
The pair started their journey on January 1 at the AT's southern terminus on Springer Mountain. Over the next 295 days, they bounced between trails in order to chase the best conditions. When the snow became too deep on the AT in February, they transferred to the CDT in New Mexico, and shortly after started southbound on the PCT in Kennedy Meadows, CA. After reaching the Mexican border on the PCT, they traveled east to finish up the northern portion of the AT. The rest of the CDT followed, and finally, Potter and Parell ended their journey on the northern stretch of the PCT.
Flyin' Brian Robinson was the first person to complete a Calendar-Year Triple Crown in 2001. Since then, only a handful of others have followed, including Heather "Anish" Anderson, who was the first woman to do so. 
"I'm both relieved that we narrowly escaped the snow set to hit the Cascades and in denial that this hike is over," said Potter. "I woke up at 4 a.m. this morning and instinctively opened [our mapping app] to check today's elevation profile. Then I lay there for a minute and remembered it's over. Mostly I'm just struck with a powerful sense of gratitude—for the people who helped us along the way, for these trails, and for my absolute stud of a partner, Jackson."
Potter and Parell celebrated their achievement with beers atop Etna Summit after 4 p.m. on Friday. Due to trail closures resulting from wildfires, Parell and Potter ended their monthslong journey with a roadwalk around a 40-mile section of the PCT in northern California. The pair was forced to skip this section of trail when a fire broke out there in July, and planned to return this month to complete it. But another fire closed the trail again; in order to connect their footsteps for a continuous hike from Mexico to Canada, Potter and Parell completed their trek on the pavement.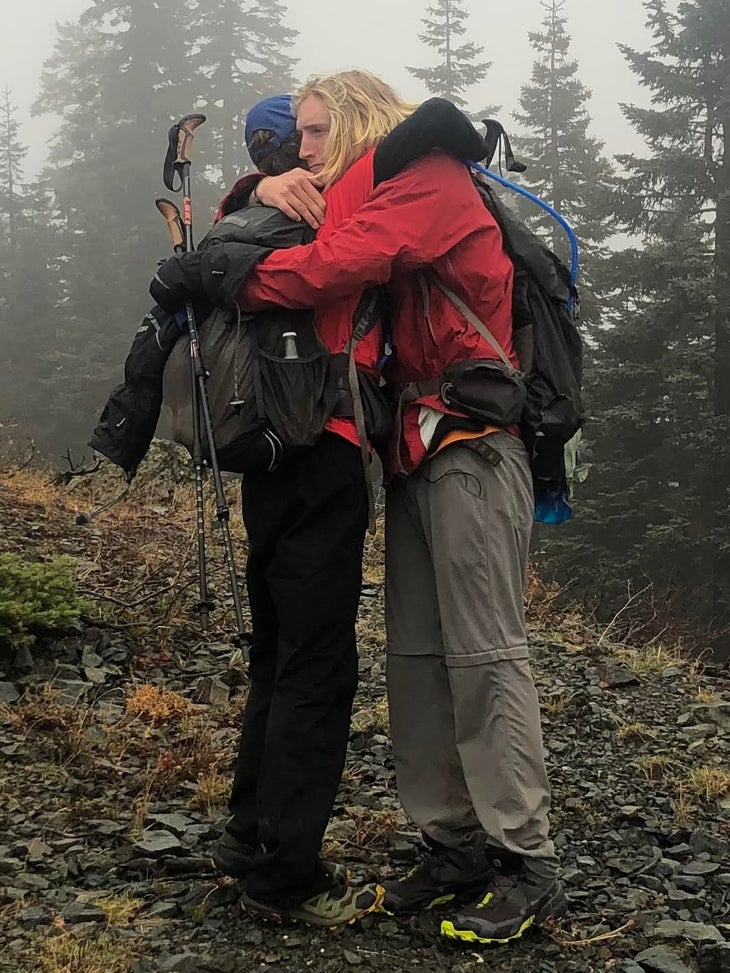 "Missing the trail already, but it's time to take a zero day," they wrote on Instagram. "And then about 10 more zero days after that."
You can hear all about Potter and Parell's Calendar-Year Triple Crown hike on Backpacker's newest podcast Impossible Odds, premiering soon.