Photo School: The ClikElite Bodylink Telephoto Pack
A "hallelujah!" solution to telephoto stills and video pans on the run.
Heading out the door? Read this article on the new Outside+ app available now on iOS devices for members! Download the app.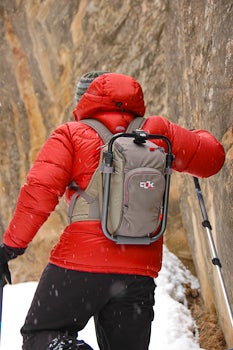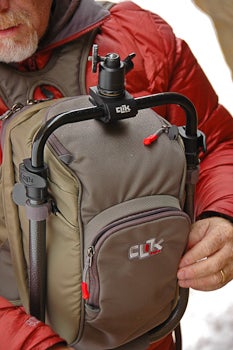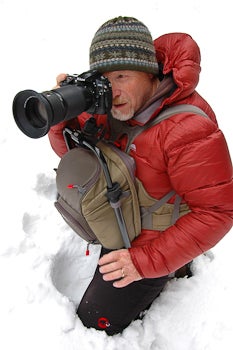 Greetings from my recovery bed, readers. While I've got zero pain after my recent hip resurfacing I'm ordered to lie flat (not sitting up) for the next 9 days. So life sucks but self-pity is boring, and Nurse Betty keeps calling me a whiner, so instead I'll pass along this gear tip to all you fellow photo-holics.
One of the biggest challenges to being a real trail photographer/videographer is how to carry your gear at the ready, and minimize camera deployment and tripod hassles, while still getting sharp shots and steady footage. Even if you're a nature photog who concentrates on landscapes and wildlife, cumbersome photo equipment (virtually all of it designed for street and studio shooters) can make you miss fast-changing light and brief wildlife encounters. It's an unfortunate truth that most great images are taken in spite of the gear, not because of it.
And then there's video, a medium that's never been more appropriate for backcountry image capture. Video can bring a whole new hassle level, especially when shooting telephoto sequences that are impossible to handhold. Setting up a video tripod level enough for flat, smooth pans on uneven terrain makes the most exacting still photography seem streamlined. And if you get a video tripod with a "leveling ball" for the head, it'll weigh5 to 6 lbs minimum. Ugh.
Fortunately, photo and video gear is just now beginning to catch up to the fast-changing language of action imagery, with cameras and camcorders that can (finally, thank gawd) shoot in low light, capture time lapses, combine stills and video, and handle a modicum of bad weather. The last gear frontier is camera steadying systems. Let's face it, tripods do the job well, but they all suck.
Enter the BodyLink Telephoto Pack, by photo equipment newcomer ClikElite (the same people who started Ultimate Direction running packs). This camera/camcorder daypack has a well-tailored harness that carries securely in backpack style, takes accessory pouches on the waistbelt, and holds a monster SLR with bulky telephoto (think 70-200mm f2.8 zoom) or multiple smaller lenses.
The big difference is that the BodyLink switches to become a chest holster with an integrated camera holding frame. Just mount your own small tripod head, adjust the frame to position your camera at eye level, and you can handhold that dusk mule deer shot while still following Bambi, or get steady video pans, or do unique point-of-view action sequences. That, my fellow freaks, is a friggin' revelation. Hallelujah!
At 13.5″ x 8.5″ x 8″, the BodyLink is a bit ungainly to use as a dedicated chest holster in combination with a multi-day backpack, and there's no room for dayhike gear unless you're using it to carry small cameras. But bulk aside, it still rules. The gusseted clamshell-style zipper opening lays out in front of you like a work table, making lens changes drop-free. The gusset also seals most of the zipper against blowing dust. The frame is removable if you don't need the steadying effect and want to save weight. Adjustable interior dividers let you configure it for a variety of lenses and accessories, and it'll even fit an SLR with separate camcorder.
ClikElite has applied this combo frame/tripod concept to several larger backpacks as well. Bottom line: An awesome tool for serious, on-the-move shooters. $200; 3 lbs.; Clikelite.com.