PCT MVP: An Interview With Cheryl Strayed
Thru-hiking hits the big screen this month with the release of Wild, the adaptation of Cheryl Strayed's bestselling memoir.
Heading out the door? Read this article on the new Outside+ app available now on iOS devices for members! Download the app.
BACKPACKER:What was it like the first time you saw the movie?
CHERYL STRAYED: Despite being part of the process from the beginning—I weighed in on the script significantly, I was on the set—when it came time to see that first cut, it was a moving experience, a shocking experience. There's no getting over the strangeness of watching parts of your life being reenacted on the screen.
BP:How involved were you in trying to nail the authenticity of the movie?
CS: Obviously, there were conversations I had with Reese [Witherspoon] and Laura [Dern] about me and my mom, the real people they were playing. But I think my presence was the most helpful on the set when it came to the backpacking details. I mean, none of these people who made the film are backpackers—not [screenwriter] Nick Hornby, not [director] Jean-Marc Vallée, not Reese.
BP:Even though you're the inexperienced one in the story?
CS: With backpacking, like many things in life, you only go from beginner to expert after you experience certain moments. You don't know the consequences of bringing too much stuff until you're walking under the weight of that pack. Reese does this beautiful job of paying attention to those details that I shared in the book about how I prepared as much as I could and then the trail taught me everything else. You see her over the course of the film go from sort of comically naïve to being in command of what she's doing.
BP:Did you feel you were comically naïve when you started your thru-hike?
CS: Yes and no. I did a lot of hiking. I was an avid dayhiker before my trip. And in other ways I was really prepared, like before I went, I packed all those boxes of food and mailed them to myself along the trail. But backpacking is different than dayhiking, and I absolutely made a lot of comic mistakes. I took too much stuff and I put the wrong gas in my stove.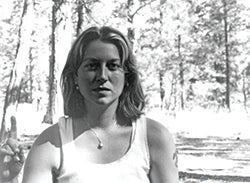 BP:In the film, which scene best captures your experience?
CS: One of my favorite scenes is that first morning when I packed my pack in the motel. It's just like how it was in life. I laughed so hard watching that because it's so perfectly acted by Reese. I love that moment where she topples and rolls over; she's just flattened by the pack, lying there on the floor crushed beneath its weight. Of course this scene is comical, but it's also what the movie and the book are about: how we bear the unbearable. I know I felt that I couldn't bear the world without my mother, and then there I was with this backpack that I couldn't bear. Trying to figure that out wound up being the whole point of the journey.
BP:What was your reaction to the way wilderness is portrayed in the movie?
CS: That was important to me. While we were out shooting, I would say to Reese, "Always remember that even on my hardest days, the days that I was the most miserable on the trail, there were several times throughout the day that I would stop and look around and I would just feel so lucky to be there." Even if I was grumpy about being there, it was the indisputable beauty of the wilderness that in so many ways kept me inspired.
BP:You mentioned that the people involved with the project were not hikers or backpackers. Do you think any of them came around during this process?
CS: I think so [laughs]. The night before Wild had its world premiere at the Telluride Film Festival [in August], we all had dinner and I said, "You guys, we got to start this day out right, so let's go hiking." So many people on the Wild team—Reese, Jean Marc, Laura, and executives like David Greenbaum and Nathan Ross—got up the morning of that premiere and went for a hike.
BP:How have the book and movie affected your own hiking?
CS: I am so unbelievably busy—time to myself, time to hike has been a challenge. But whatever city I'm traveling to, I at least find a good spot to hike. But it's funny: These last couple years I've been traveling so much and talking about this story, it's the least fit I've ever been. I'm traveling, eating hotel room service and airport food, and hardly getting to exercise. But that's how it is and I'm finding my way back. Next summer I'd like to go on a backpacking trip with my family and just get away from it all.
BP:Where would you want to go?
CS: Oh god. There are so many places near and far, but I have to say, I'd love to go to New Zealand. •
Next: How the Film Crew Got the Details Right
Art Imitates Life
If you want to make a film about a PCT adventure set in 1995 that won't make backpacking enthusiasts cringe, you'd better get the details right. Here's how the filmmakers managed the task.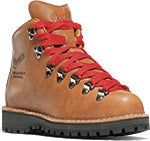 The Gear
Danner re-created Strayed's old kicks, the Mountain Light Cascade (and lest the movie inspires some retro hiking, the model is available to consumers as well). Gregory provided an original sample of the pack that Strayed dubbed "Monster." A vintage MSR WhisperLite stove, a North Face tent, and a period-authentic Sierra Designs sleeping bag were curated from collectors and Craigslist.
The Locations
Other than one day of shooting in California, all filming took place in Oregon, and very few of the scenes were shot on the PCT. Crews used more than 70 locations to simulate the varied elevations and vegetation zones.
The Flora
The film crew transported Joshua trees from Nevada to Oregon to re-create desert scenes. They also brought in foxtails, Jeffrey pines, cacti, and various chapparal species to make different environmental zones look realistic.
The Props
The Pacific Crest Trail Association* provided real, mid-1990s trail markers and the film crew purchased additional signage from the same vendor as the U.S. Forest Service.
The Light
Nighttime scenes were lit by candles instead of floodlights, and the film doesn't show any campfires in areas where they would have been banned at the time.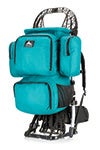 The Pack
After watching Witherspoon carry a pack that looked full but not heavy, Strayed suggested using a genuinely heavy load. The weighed-down Monster approached 60 pounds, and viewers can see Witherspoon laboring with real effort. •