Patagonia Boaris Gear Test
We reassess Patagonia's limited-edition "boar hunting" shoe after sending it into the field with an actual hunter
Heading out the door? Read this article on the new Outside+ app available now on iOS devices for members! Download the app.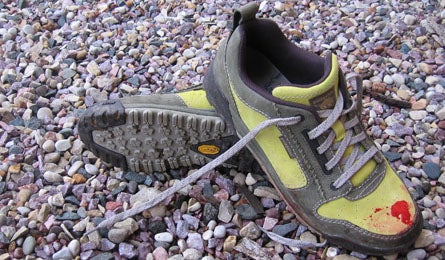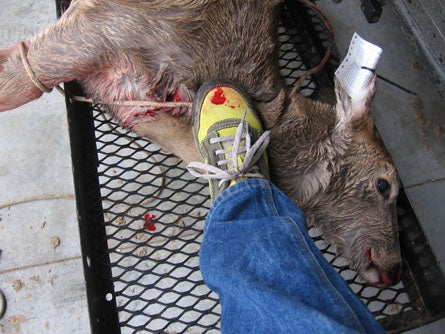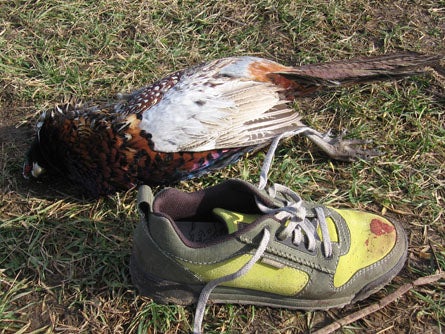 [Ed. note: Last month, Shannon Davis tested Patagonia's limited-edition Boaris shoes in all the normal ways—hiking, at barbecues, stepping in his dog's poop, etc. In Part 2, hunting consultant Dan Corbett returns with a progress report after using these shoes for their intended purpose—hunting. Also, a bit of warning to the weak of stomach, as this blog post features graphic hunting images ahead.]
I received the Patagonia Boaris Limited Edition shoes ($120) (which I agreed to test while hunting on my family farm in Wisconsin over Thanksgiving) in a plastic grocery bag. The plastic bag was a necessity, as the shoes still harbored traces of excrement, human and otherwise, from Shannon Davis's review. I thought I was getting a clean, new pair to test, but Shannon saved those for himself.
The story behind the Boaris shoes came to me probably ten people removed from the truth. Supposedly Fletcher Chouinard, the son of Patagonia's founder, crashed a shoe design meeting and lamented the lack of a shoe that he could wear boar hunting (and mangle with internal boar fluids) and then wear on a hot date in Ventura later that same day. If you believe all that, then being the founder's kid has some perks: Patagonia built 1,000 pairs of the Boaris Limited Edition.
I packed the shoes for my week-long trip to Wisconsin and effectively ignored them for the first two days. Shocking, but the climate in Southern California's boar hunting regions differs wildly from that of Southern Wisconsin's deer hunting areas. The shoes have zero insulation—not good for sitting in a tree stand all day. When I finally broke them out, it was to travel into the thriving metropolis of Reedsburg, Wisc. (population 8,549), where locals shot odd looks at my selected footwear. (I thought they went well with my blaze orange jacket.)



The closest I came to hunting in the Boaris Limited Edition happened when, after shooting a deer, I changed into the shoes to drag the doe 100 yards up a wet, steep hill. The shoes fit snug in the ankle and provided a surprising amount of traction on the wet leaves. After securing the deer to the back of my truck, I intentionally got blood on the shoes—lots of thick deer blood. Later, I added drops of pheasant blood. (As with the deer hunting, pheasant hunting conditions—tramping through ankle-deep muck in a creek bottom—don't seem to match the Boaris' intended use.)



Then I let the blood dry, because really, unless you are Shannon Davis, you will not be peeing on your shoes to wash blood off. Two weeks later (ample time for blood to stain leather), I was able to wash all the blood off with a wet paper towel in less than thirty seconds, confirming Patagonia's bloodstain-proof claim.
As for whether the Boaris can actually perform as boar hunting shoes, I am still waiting for Fletcher to invite me out to SoCal to try the skate, er, hunting shoes in their intended natural environment.
—Dan Corbett