2020 Pacific Crest Trail Permit Changes: Here's What You Need to Know
Southbound quotas and restrictions on hiking through the Sierra will both be coming to the Pacific Crest Trail next year.
Photo: Bureau of Land Management/Bob Wick
Heading out the door? Read this article on the new Outside+ app available now on iOS devices for members! Download the app.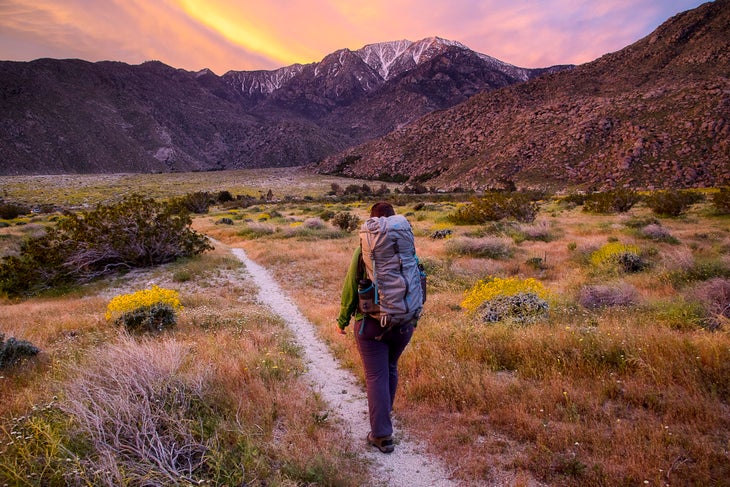 Starting on Tuesday, aspiring Pacific Crest Trail thru-hikers planning on hiking north from the Mexican border will be able to sign up for permits for 2020. (Permits for all other trips open on January 14). 
If you're planning on traveling more than 500 miles on the trail, a permit, which replaces all the wilderness permits hikers would otherwise have to sign up for separately along the way, is a must.  But starting next year, a few key changes are coming to the process. Here are the points to understand if you're planning on going for a hike:
You'll need to hike the Southern Sierra in one continuous trip. 
Especially in big snow years, skipping the Sierra and coming back later to finish in better conditions can be tempting. But starting this year, it won't be allowed.
"PCT long-distance permits are for a specific itinerary and permit holders are expected to pass through the Southern Sierra during the specific timeframe of their permit," the Pacific Crest Trail Association wrote in a blog post earlier this month. Starting next year, hikers will have to complete the stretch from Kennedy Meadows South to Sonora Pass in one continuous push, without skipping any sections or changing direction. You'll be able to leave the trail to resupply, but exit for longer than that and your permit will no longer be valid.
Southbound permits will be limited to 15 per day.
As heading south has become more popular, trail managers say they've seen crowds forming at the northern border. 
"On July 1, 2019, over 160 people were permitted for trips at the Northern Terminus, while June 29 had only 13 people," the PCTA wrote. "Having 160 people traveling through fragile alpine areas at the same time means our collective impact on the landscape is greater." In 2019, the organization will issue only 15 permits per day for southbound departures.
The permit season is changing.
The PCTA will issue permits for northbound hikers leaving between March 1 and May 31 next year.
For more information, or to enter the permit lottery, visit the Pacific Crest Trail Association's permits page.