Outdoor Retailer Roundup: Meeting New Brands
On his final day at the show, our Reader Reporter Gerben got introduced to some new brands, and put together his money-is-no-object hit list of favorite gear.
Heading out the door? Read this article on the new Outside+ app available now on iOS devices for members! Download the app.
Gerben likes how he has room to stretch out in the Hilleberg Anjan 3 tent
Exped down sleeping pads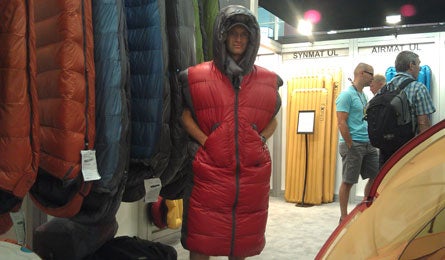 A model sporting Exped's Dreamwalker sleeping bag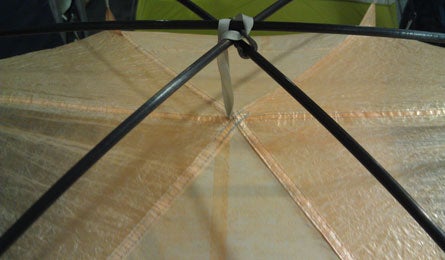 A closeup on Easton's forthcoming Summit Assault Tent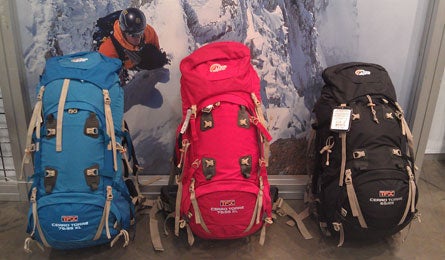 Lowe Alpine TFX Cerro Torre 75:95
One of the great things about the Outdoor Retailer Summer Market is that among many of the well-known, favorite brands are some hidden gems. Today while I was assembling my wish list of favorite gear, I ended up with a list that was dominated by companies I had never heard of before coming to OR. Many of the brands that I talked with today are foreign-based companies that are pioneering new fabrics and designs for the backcountry camping world. I also met with a local Salt Lake company that just yesterday announced that their prototype of one of the lightest tents ever constructed will be going into production this year. So if price were not a factor, here are the items that I would be cruising around the trails of New Hampshire with.
Shell: Outdoor Research Enchainment Jacket, Cirque Pants

This technical softshell duo was designed for mountaineering and other high-exertion sports. The wind- and water-resistant fabric is highly breathable and stretch panels around the shoulders allow for a wide range of movements. The jacket is compatible with helmets and can easily be cinched down during high winds. Pockets on the chest and sides of the jacket as well as on the hips and one on the thigh of the pants allow for easy access to food, maps, and gear. The jacket weighs 18.1 ounces and costs $199 and the pants weigh 20.5 ounces and retail for $140. I would love to use these shells for skiing and hiking in the fall, winter, and spring. outdoorresearch.com
Sleeping Pad: Exped Downmat XP 9

I had absolutely no intention of including a sleeping pad on my wish list for today because I do not think they are very exciting. I was hesitant when a representative from Exped, a Swiss company I had never heard of before today, insisted that I should see their sleeping pad line. After walking me through the full line of down-filled sleeping pads I was astounded that I had been missing out on this technology for so long. These sleeping pads are light enough to come on your multi-day backpacking trip and they will make you feel like you are sleeping on a warm, thick mattress. The Dowmat XP 9 is nine centimeters thick, which will prevent side-sleepers from having any contact points with the ground, and the 700-fill goose down insulates about four times better than a standard inflatable pad. I was even more impressed when the representative inflated the pad by giving it CPR with a built in air pump. This will save your breath as well as the sleeping pad because it prevents condensation in your breath from filling the pad. Believe it or not, all of this comfort fits into a standard size stuffsack so it is easy to bring along. At 32.8 ounces and $249 for a medium, this pad doesn't come cheap but the extra insulation it provides can save you from having to buy a warmer sleeping bag. If sleeping on a cold tent floor has ever negatively impacted your backpacking trip, consider this smart design. exped.com
Sleeping Bag: Exped DreamWalker 650 L

Yep, that's right, I am reviewing a sleeping bag from Exped as well. With hundreds of sleeping bags displayed around the convention center wouldn't it make sense to review a different company? Yes, but this is not just a sleeping bag. Admittedly I laughed when the Exped representative showed me this bag that has arm holes and holes for your feet, but it makes so much sense. Why pack insulating layers to wear around camp when you have 650-fill down insulation lying idle in your tent? When it's time for bed you just zip up the sleeve zippers and cinch the feet-hole closed and you have a standard sleeping bag. This wearable bag saves weight and space in your pack and is also convenient for midnight bathroom excursions. I know that if I wore this on my next backpacking trip my friends would laugh, but a few minutes later they would be asking where they can buy one for themselves. The DreamWalker 650 long costs $519 and weighs 45.5 ounces. exped.com
Summit Tent: Easton Mountain Products Summit Assault Tent

Just two days ago I was gawking at the prototype for this 2 lb., 9 oz. tent for two people. Yesterday the company announced that they will be putting the four-season tent into production. The tent is designed for ultralight backpacking and summit climbing and has a bit of a space-age appearance because of the Cubin fiber material, which is used to make boat sails. The fabric uses E-Vent waterproofing and is breathable on the sidewalls and door flaps which are supported by carbon poles. The tent is anticipated to retail for around $1,800, which is pricey, but many people are willing to pay for a 29-square-foot tent that weighs about as much as a full Nalgene. eastonmountainproducts.com
Tent: Hilleberg Anjan 3 GT

Coming out of Sweden, this three-person, three-season tent is also light but features a roomy living room as well as a very spacious vestibule. The tube-tent construction features an inner and outer tent that are setup and packed together but can be separated and setup individually if need be. I love this tent because as a tall person I take up a good amount of room in the tent but I also don't like leaving my pack out in the rain. The very large vestibule, which can also be partially rolled back, allows room for cooking, and pack and boot storage without obstructing the entry. The tent weighs 5 pounds, 5 ounces and costs $725. hilleberg.com



Backpack: Lowe Alpine TFX Cerro Torre75:95

If somehow I ended up with all of the items on my wish list, this is the pack I would want to carry them in. I love this pack because it has a sleeping bag and a main compartment which are separated by a removable divider. Both of these compartments can be accessed by front-entry zippers, which save the hassle of having to unpack the entire bag to access a sleeping bag. I also really like all of the external lashing points to attach gear to the outside of the pack. The bag also features a built-in rain cover and Tip Grippers which hold trekking poles in place while they are not in use. Finally, the TFX feature makes it easy to adjust the size of the pack for different torso lengths. The TFX Cerro Torre costs $340 and weighs 6 lbs, 9 ozs. lowealpine.com