Outdoor Retailer Roundup: Final Picks
Our Reader Reporter gravitated to the products she most looks forward to coveting in the coming year and selling in her job as an REI employee. See her picks for food, drinks, kids' packs, zipperless tents, and more.
Heading out the door? Read this article on the new Outside+ app available now on iOS devices for members! Download the app.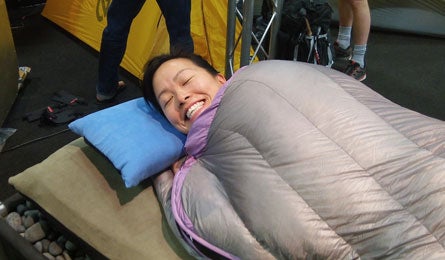 Getting cozy in the new Nemo Spoon sleeping bag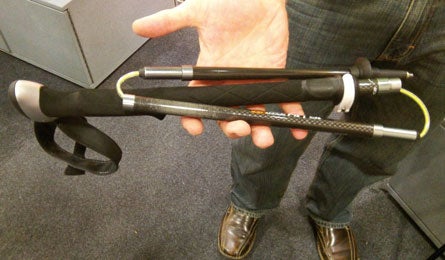 Leki Vario collapsible pole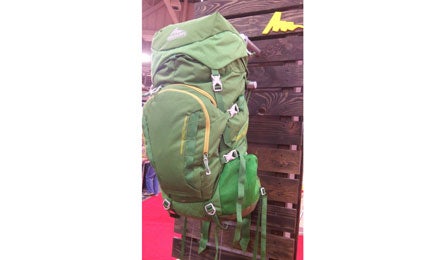 Gregory's Wander 50 is their first full-suspension kids' pack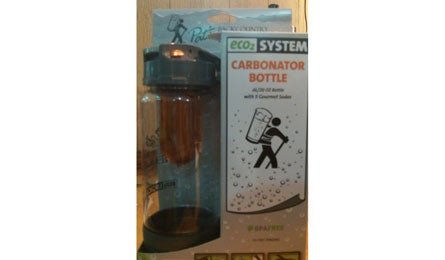 Pat's Backcountry Beverages brings fizz to the backcountry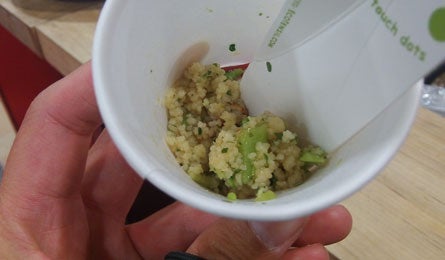 ackpacker's Pantry's cold water couscous salad
Straight From The Source: Backpacker's Pantry

The most fun moments I've experience at Summer OR 2012 have been encounters with "industry legends" and inventors of products I use. I met the inventor of Vibram's FiveFinger shoes, heard a talk by the (in)famous canyoneer Aron Ralston, and chatted with the founders of upstart company Ethnotek bags. So when I stopped by the Backpacker's Pantry booth and was offered samples by Soraya, one of the chefs who develops recipes for the company, I was starstruck once again. Three new flavors will be launching this year, including two that expand their "just add cold water" lunch line. How perfect for those midday meals when you don't want to pull your stove out of your pack, but still want a tasty (and I say this from real experience) bite. Check out Cold Cous Cous Salad, Cuban Black Beans with Rice, and Crème Brulée (no torch needed; $5-7) backpackerspantry.com
Nemo launches the Spoon sleeping bag line

As I approached the Nemo booth, I did a double take. Nemo does sleeping bags? As of next spring, the answer is yes. Their first move into the category will be the Spoon series, with men's and women's, down and Primaloft, 15- and 30-degree offerings. The innovative shape is designed to please those of us who sleep with bent knees. I am a back-to-side sleeper and notice when I climbed into the new women's Rhapsody 15-degree down bag ($399) that the extra leg room was helpful when turning. Weighing in at 2 lbs. 2 oz., this 700-fill bag has DownTek hydrophobic down treatment, as well as waterproof coating on the inside fabric in the footbox, designed to help with odor control as well as better insulation in damp conditions. I particularly liked the blanket fold, an extra panel of down along the neckline that adds extra coziness under the face, and can be folded down when I need a little extra breathing room. The pillow pocket and tiny zippered stash pocket round out the extra features on this debut bag for Nemo. nemoequipment.com
Soft and Shapely Wind Shell from Rab

My visit to the Rab booth on Day 1 still sticks in my mind. The shapes of the women's shells I tried on there, along with the feel of the fabrics, earned them a spot on my Wish List today. The Rab Solar women's wind shell ($100, 9 oz., men's version is the Zephyr,) has a UPF30+ sun protection rating and is treated with Polygiene silver salt odor control technology. This jacket is a lightweight wind shell for those cool mornings when you're headed for a brisk hike or run and expecting to work up a sweat quickly. Unlike the boxier fit on other soft shells I've tried on, the Solar is cut for a woman without extra bulk at the waist or under the arms. Thumb loops and a roll-up hood add to the list of functional features I love. rab.uk.com
LEKI foldable poles

I was familiar with Black Diamond's collapsible line of trekking poles, which are fairly popular among shoppers at the REI store where I work. So when I heard that Leki was launching its MicroVario line of fully adjustable, collapsible trekking poles, I had to check them out. They're available in either carbon (8.3 oz, $199) or aluminum (9.6 oz, $169). The advantage of the adjustability resonated on two levels for me: For the consumer, there's no need to buy multiple lengths. And for retail employees who have to keep everything organized, no need to keep track of different lengths for the same product. Unlike other collapsible poles I've seen, Leki's MicroVario retains a full-featured foam grip system and flex tips (which are replaceable and bend to 30 degrees before breaking) with interchangeable baskets. All this function in a compact foldable format impressed me, and maybe Santa Claus will bring it down the chimney this year. leki.com
Gregory wanders into the youth pack category

I was really pleased to see veteran pack-maker Gregory announce their entry into the youth pack market with the Wander 50 ($179, also available in 70-liter size, $199). Every parent shopping for a fully functional multi-day backpack for their child wants size adjustability (so they won't have to buy a new pack next year), and value (so they can save up for that adult-sized pack in a few years). The Wander comes in two sizes (XS/S and S/M), with adjustable back panel and waist belt. This sizing accommodates torso lengths from 13 inches to 20 inches (equivalent to an adult large size), and waists as small as 24 inches. Weighing in at 3lb 6oz (3 lb 10 oz for the 70-liter version), the Wander has full-suspension with internal frame, and is a duffel-style pack with an attached lid and outer zip compartment as well as side zip entry. While it doesn't have a bottom zipper compartment, the Wander does have nifty kid-friendly features such as the packing guide and 10 essentials printed on the inside the top lid. It's never too early to start cultivating the next generation of backpacking lovers, and Gregory now plants its own seeds in this area. gregorypacks.com
Will I Bite The Hook with Fishhook Zipperless Tent from Big Agnes?

I'm curious. Does the sound of a zipper in the middle of the night bother you enough to try to find another way? Big Agnes is giving it a try with the Fishhook SL-2 Zipperless tent ($400), launching next spring. The final weight on this tent is not yet available, but representatives say they anticipate it will be "in the range" of the popular Copper Spur SL-2 (3lb 7oz packed weight). Touting a rectangular floorplan, with a little more legroom than the trapezoidal Copper Spur, this single-door tent's main differentiating feature is a series of tiny magnets sewn into the seam where a zipper would traditionally be. Silent, instant tent closure! I even managed to create a half-door by overlapping a few of the magnets. It remains to be seen whether bugs will be able to outsmart the spaces between the magnets, and whether the zipperless rainfly door with overlap closure will do the job in wet conditions. bigagnes.com
Pat's Backcountry Beverages

There is no pleasure quite like the taste of a big juicy cheeseburger and cold carbonated drink of choice after a long hard hike in the backcountry. Pat's Backcountry Beverages has a product that will eliminate the need to await the return to civilization for the former. With the Portable Carbonator system ($40), which includes a 20-ounce bottle with reservoir and optional flavor concentrate packets, you can make your own refreshments on the trail. At OR, I got a demo and taste test from Pat himself, who stood behind a "bar" making drinks. When you're ready to create the beverage, fill the bottle with water and your favorite flavor (or make some plain bubbly water and add a twist of lime). Add the packet of activators to the reservoir, turn the bottle upside down to pump water into the reservoir, then invert as the carbonation percolates from the reservoir into the bottle. Pat's flavors even have clever backcountry names such as Ginger Trail and PomaGranite. The entire system weighs in at 12.8 ounces. The starter pack comes with six activators and five flavor packets, and is made in Salt Lake City. Refills cost $6 for a 12-pack of activators, $1.50 per flavor packet. patsbcb.com