Outdoor Retailer Q&A: Rocker Grace Potter
BACKPACKER jumps the tour bus to talk music and the outdoors with the lead singer of Grace Potter and the Nocturnals.
Heading out the door? Read this article on the new Outside+ app available now on iOS devices for members! Download the app.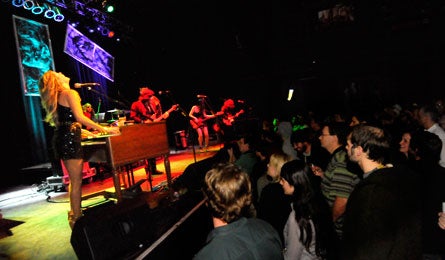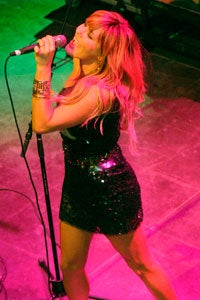 If you're Grace Potter, apparently the only way to follow up a Wednesday night appearance on the Tonight Show is to head to Outdoor Retailer for a show to benefit OIWC (Outdoor Industries Women's Coalition) and the Love Hope Strength Foundation. Before she tore the roof off The Depot theater with a classic-rock-sequined-dress-swagger that floored the crowd, BACKPACKER Deputy Editor Anthony Cerretani sat down with Potter on her tour bus to talk about the marriage of music and the outdoors, her efforts with 1% for the Planet, and the crossroads moment of picking a sequined dress over a slalom suit.
Let's go back to the beginning for a minute. The band formed up at St. Lawrence University, a really outdoor-driven school.

I was really excited about going there because they have the Adirondacks semester. You live in a yurt for three and a half months. Most kids go to Spain or whatever. I was really attracted to the outdoor program there. They've got this plethora of acreage around them and you can just disappear into the woods for weeks.



Music and the outdoors. Both seem like key components of your life.

They go hand in hand. It starts with music festivals; the whole concept of living out of a backpack or a suitcase or living out of a tent quite literally. The entire lifestyle that surrounds the music we make means that you're going to have to weather the storm a little bit. You have to pack those bare necessity things and you have to live by that. It really became one of those life experiences as a band. I spent a lot of time in tents, living that life. All you have with you are the things you absolutely need."
And you've taken that outdoor-driven attitude to the next level with conservation, getting involved with some very legit efforts..

There's a lot to be said for the fact that the outdoor lifestyle is becoming a sort of philanthropic experience. If we don't take care of the environment, if we don't take care of what's around us right now, it's not going to be here in 40 years when we want our kids or grandkids to go experience the same kinds of things we're experiencing. The land we set our festivals on might not be there. It might get developed; it might turn into a parking lot. For those reasons, they're very intertwined.
Is that what prompted you to get involved with 1% for the Planet?

It's kind of cool. They base all their employees in the Mad River Valley, where I'm from, so I see them all the time. I was on a sledding mission last winter and on our way out, we ran into the whole slew of them. When we first started working with them, I got the whole story of the trajectory of what we're looking at over the next 50 years. It was daunting.
You've met founder Yvon Chouinard as well.

He really understands the sentiment behind music and this philanthropic experience combining and making friends with each other. He's phenomenal. He's so real. He doesn't just sit behind a desk. He still goes out.
Let's talk about your outdoor pursuits for a second. What do you get out and do?

I actually ice-climbed last year in Alaska. We were playing the Juneau Jazz and Classics Music Festival and went up in the glaciers. It was my first and only, ever helicopter ride. It was a fantastic experience. I'm an outdoors person when it comes to hiking up a mountain and skiing down it. I've done a lot of snow camping. I've done a lot of igloo building. But ice climbing, for some reason, me and all that equipment did not get along that well.



I've heard you're a tele-skier too?

Yeah. I was into GS and slalom competitively at GMVS (Green Mountain Valley School) where Doug Lewis went, and Peekaboo Street.
Why did you give it up?

I had the crossroads moment and realized that my ski-racing career was based around whether I could borrow one of those skin-tight outfits from a friend. I figured, if I can't wear a leotard down the ski slope and afford it, I should just buy the bell-bottom jeans and the cowboy boots and go that route instead. Did I want to spend my money on cowboy boots or a GS suit? It was the red sequined dress and the cowboy boots. [[laughs]]



Last question: you have a crazy high-energy show. Do you do like nine GU shots before you go on stage or what?

[[Laughs]] I just have this. My dad, whose name is Sparkie Potter, is one of the all time greatest skiers, backpackers, hikers, adventures that I've ever met. He will pull out an impromptu Frisbee game whether you like it or not in the middle of a city.
I think his spirit and energy rubs off on me. That's where it comes from. Our music just reflects the kind of person I am and I'm an energetic person.
Listen to a Free Preview of Grace Potter and the Nocturnals' latest album below:
(All photos by Lin Alder)