Outdoor Companies Join Relief Efforts for Hurricane Dorian Victims
A handful of brands are donating product, money, and time to survivors in the Bahamas.
Heading out the door? Read this article on the new Outside+ app available now on iOS devices for members! Download the app.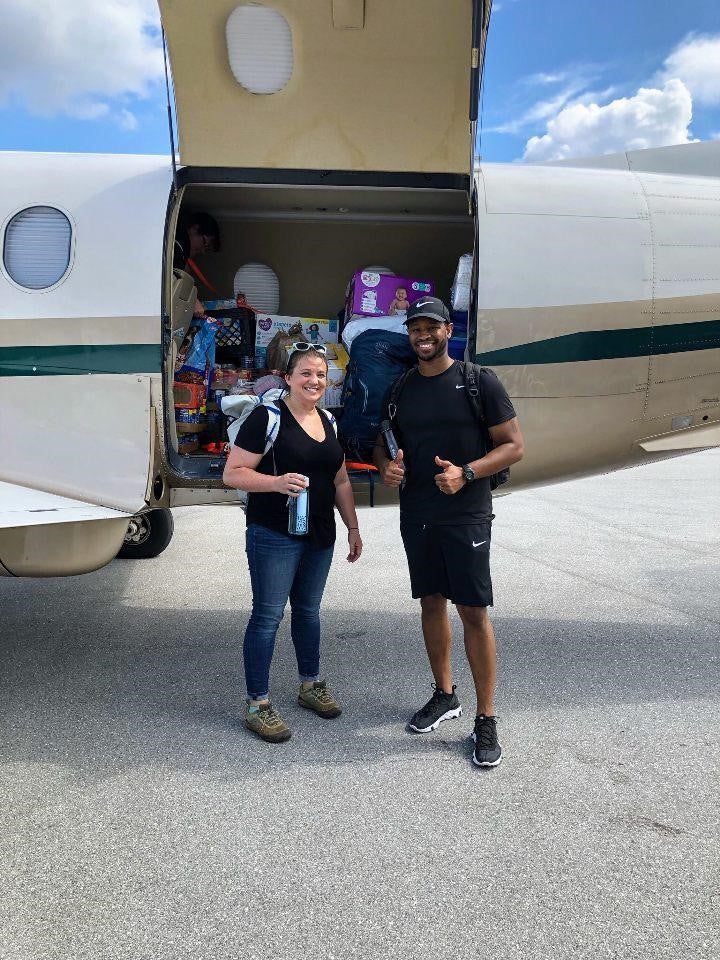 Last Thursday, Alison Hill, LifeStraw's Managing Director, boarded a tiny propellor plane headed for Freeport in The Bahamas. Squeezed in among packages of diapers, canned goods, and boxes of water filtration products, Hill braced herself for the destruction on the ground. When the plane touched down, Hill and her few companions were among the first volunteers to land in Freeport in the wake of Hurricane Dorian. 
"Over the next couple of days, I worked to unload aid from planes, move it to the distribution points…and identify other areas of help needed—like providing a generator to the Freeport hospital who was seeing patients in a dark building with no electricity or water," Hill said. 
Her visit to Grand Bahama island was part of LifeStraw's ongoing contribution to Hurricane Dorian relief efforts. LifeStraw and its parent company, Vestergaard, have a 25-year-long history of providing volunteers and resources to areas impacted by natural disaster. Dorian, which killed at least 50 people and left wreckage across The Bahamas, also left drinking water contaminated across the islands. LifeStraw, alongside a handful of other outdoor brands, are demonstrating how the outdoor industry can be a life-saving resource in the wake of natural disasters.
In the days after the storm, LifeStraw launched a Safe Water Fund for Hurricane Dorian Relief. The proceeds of the fund will go toward transporting supplies to devastated areas, including large-scale purifiers designed to serve communities over long periods of time. (Similar models are in use in rural schools in Tanzania.) On the ground, Hill worked with local partners to ensure that her volunteer efforts could be focused where they were most needed.
"Safe water is always an immediate concern but is also an issue that can grow more urgent over time as initial supplies of bottled water run out and crowded conditions in shelters combined with broken treatment and sanitation systems leave populations vulnerable to disease outbreaks," Tara Lundy, LifeStraw Head of Brand, said in an email to partners on Friday. We are committed to maintaining engagement and providing long term solutions that support this community over a period of years."
As of Wednesday, the company has sent 10 LifeStraw Community purifiers to the islands with eight more on their way. 
LifeStraw isn't the only outdoor company pitching in with disaster relief. MPOWERED, which makes inflatable solar lights, is working with various relief groups to deliver lanterns to victims in zones that still lack power. Customers can purchase Luci lights on MPOWERED's website to be delivered to communities impacted by the storm.  BioLite's Emergency Energy Fund is also helping to deliver solar lights, headlamps, and cookstoves to those in disaster zones.
Beyond brands, nonprofits with ties to the outdoor industry are pitching in as well. All Hands and Hearts, which has partnered with BACKPACKER to build schools in earthquake-stricken regions of Nepal, has begun an assessment for long-term volunteer-powered infrastructure projects. The organization ultimately plans to implement projects for debris removal, sanitation, and school rebuilding. 
For an updated list of outdoor brands contributing to the Dorian relief effort, check out this article from SNEWS.