Our Get Out More Tour is Looking For Our Next Brand Ambassadors!
Think you have what it takes to represent Backpacker and many of the top Brands in the outdoor industry on the road with the Get Out More Tour?
Heading out the door? Read this article on the new Outside+ app available now on iOS devices for members! Download the app.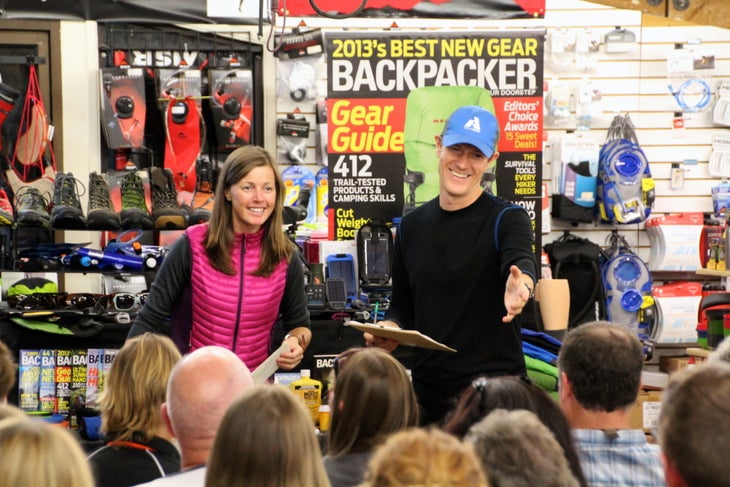 Sheri and Randy Propster are looking for candidates like you!
Here's your chance! Backpacker is in search of Brand Ambassadors to represent our expanding Get Out More mobile Tours. In addition to the 14th annual Get Out More Tour that will be on the road from March through September 2014, Backpacker will be launching a Get Out More Women's Tour that will be on the road from April through August 2014, and a Get Out More Winter Tour that will be on the road from October 2014 through February 2015. If you're selected you will travel across the United States representing Backpacker and the Get Out More partner brands as Tour Hosts at 50 – 65 retail events and at a handful of cool outdoor festivals. We'll provide the Tour vehicle, pay for the gas, cover your campsite/lodging expenses and even give you a paycheck. Sound like your dream job? That's because it is your dream job! We want you (or you and a teammate) to apply for the Get Out More Tour if you (or both of you):
Are able to commit to traveling the United States throughout the duration of the Tour you will represent, at our expense.
Get Out More Tour: March 1, 2014 through September 30, 2014
Get Out More Women's Tour April 1, 2014 through August 31, 2014
Get Out More Winter Tour: October 1, 2014 through February 28, 2015
Love being in the outdoors and being active (need to walk the walk as you talk the talk)
 Enjoy telling friends, family, and complete strangers about what you have experienced, seen, done.
Consider yourself a confident and competent public speaker (and others do to).
Think testing the latest gear, teaching the essential skills, and entertaining audiences full of outdoor enthusiast all across the country sounds exciting.
Are 18 years of age or older To apply, put your compelling pitch to us into video form (no longer than 3 minutes please – a YouTube link, or similar, is fine) and send it to events@aimmedia.com by December 20, 2013. Also, please send us a writing sample: Write a first person, blog-type entry (500 words or less) that describes your level of experience and why you think you would make a great Host for the Tour. Grammar, punctuation, and style count! Have a traveling companion in mind? Bring them along for the ride! Solo applications and team applications are both welcome.