Best Jobs in the Outdoors: Chris Barchet, Gear Category Director
Running a gear company's product categories means lots of research, coordinating with a big team, a new challenge every day—and of course, some field testing.
Heading out the door? Read this article on the new Outside+ app available now on iOS devices for members! Download the app.
Chris Barchet is the category director for MSR's winter and water products. "I'm basically captain of the ship for those categories, which include water filters, hydration products, snowshoes, ski poles, snow tools, etc.," he explains. We asked the Seattle-based winter enthusiast 5 questions about what it's like to have one of the best jobs in the outdoor industry.
BP: What's a typical day at work like for you?
Barchet: There is no typical day! I do everything from A to Z: figuring out what the prices are going to be for each product, figuring out what new stuff we're going to invest in, handling problems with already existing products.
BP: What part do you wake up excited for?
Barchet: Definitely any kind of field testing. We have to be out there learning about the products and how they perform, both prototypes and our competitors' stuff. That means we sometimes get paid to go snowshoeing or backcountry skiing. When those opportunities come up, that's a big bonus day.
I also get the warm fuzzies from getting to tell people about how awesome our products are. I have a real sense of pride, and I like talking about how much research and work we put into each item.
BP: What's the drudgery?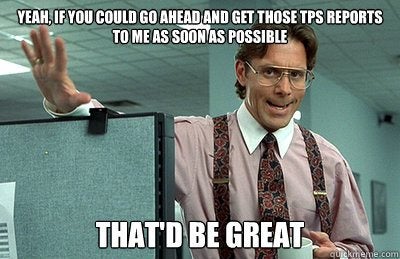 Barchet: The TPS reports, of course. I say that only half kidding—every company has the equivalent of a TPS report. Ours have a different acronyms, but we're an engineering focused company, so to keep the ship moving forward requires a lot of documentation. We can't order an O-ring without having a drawing for it. All these really tiny steps seem super monotonous sometimes, but they allow us to manufacture at a really high level of quality.
BP: What's the most important thing you did when you were younger that helped you land your job?
Barchet: I have an engineering degree, but I took a lot longer to get through school than most students, because I was a lot more diversified in what I focused on. I spent about 10 years teaching skiing, and I worked at REI, in aerospace, and for several outdoor companies. That really broad range of experience is what allows me to help put the pieces together every day.
The reality is that a company like MSR hires people who do these outdoor activities already on their own. I'm out on the weekends backcountry skiing, snowshoeing, backpacking. The work I do for my job wraps right in to my passions.
BP: What's the most epic thing you did last year, work-wise?
Barchet: I don't think of work as being epic; epic has to do with 2 feet of new snow and a helicopter, usually. But one of the most exciting and adventurous work-related things was a week in the Grand Canyon over Thanksgiving. We spent a week below the rim, testing the water filters anywhere we could find water.