Best Jobs in the Outdoors: Melissa Arnot
It's the quintessential outdoor job: guiding clients on hiking and climbing trips around the world. Melissa Arnot dishes on what she loves about her life in the mountains.
Heading out the door? Read this article on the new Outside+ app available now on iOS devices for members! Download the app.
Melissa Arnot is a professional mountain guide and world traveller and is the American women's record holder for summits of Mt. Everest (five and counting). She owns a guide service, Infinity Expeditions, and also guides for other companies, including RMI Expeditions on Mt. Rainier.
BP: What's a typical day at work like for you?
Arnot: Rainier is a good example. On a day I'm heading for the summit, my day starts around 11 p.m. I get up and make hot water for clients and breakfast for guides in little shack at Camp Muir. It takes about 1.5 to 2 hours to get all the clients ready with their final gear, crampons on, making sure they have food, water, sunscreen. And then we'll start climbing usually by 1 am.
Usually by noonish, we'll be back at Camp Muir. That whole time in between is crossing glaciers, roped up to clients, managing risk. Then I clean up, repack everything we carried, and go back to the parking lot, by around 4 pm. We drive down to town, have a celebration with clients until about 6 or 7 p.m. Then I go to bed, get up, and do it again. I'll hike back up to Camp Muir the next day, a five-hour hike with a 40-pound pack. We get up there around 3 p.m., and then go to sleep to wak up at 11 p.m. again.
When I guiding Rainier it all the time, I was doing 27 trips per summer. Now I do like five per summer, mixed with a ton of things and working elsewhere.
BP: What part do you wake up excited for?
Arnot: Knowing that you have the potential to change people's lives, literally. I've literally seen people's lives changed again and again and again and again. That first spark when someone knows they're doing it, they have to climb, I can't do it for them. That's always exciting. I love that.
BP: What's the drudgery?
Arnot: Especially on Rainier, it's the same basic climbing route, and you're just rotating the conditions and the people. Sometimes, especially hiking up to Camp Muir can be a little unexciting. But the least exciting part of my job is what some people train the whole summer to do just one time for one day.
There's no paperwork. It's all just pretty views and uphill walking.
BP: What's the most important thing you did when you were younger that helped you land your job?
Arnot: My dad used to say, "It doesn't matter what a person does for their work, it matters if they're happy." He would actually ask people that. Instead of "What do you do?" it's "What makes you happy?"
I was just told, "the world's your oyster, go figure it out." That allowed me to try a lot of things and find something I really loved. I didn't feel confined by social standards. I didn't feel I had to achieve any special milestone.
BP: What's the most epic thing you did last year, work-wise?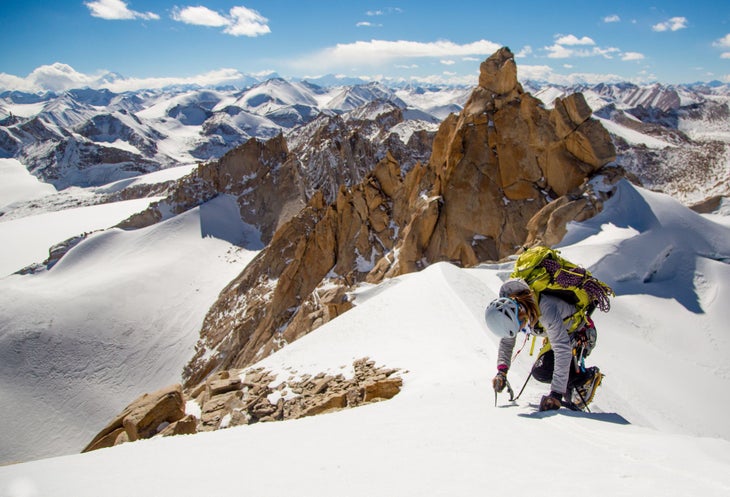 Arnot: In the fall, I got to go to Nepal and explore an area with newly opened unclimbed peaks. Me and two friends were able to summit Mustang Himal, one of the peaks that had never been climbed before in an area no one had ever been. It was adventure at its absolute essence. There was so much unknown. We couldn't even find maps. We called our route the Six Hammers Route, because we asked one of the people in the last local village if he knew what a snowpicket was. He said yes, he could bring us some. Then he brought us six blacksmithing hammers.