OR Chronicles: I met Tom Cruise's Stunt Double
5.10 climber talks about the world's stickiest rubber and going Hollywood with "TC".
Heading out the door? Read this article on the new Outside+ app available now on iOS devices for members! Download the app.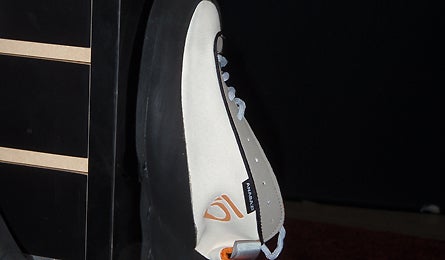 five ten warhawk shoe 445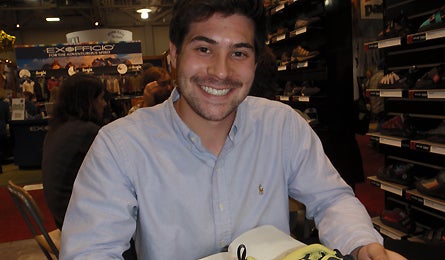 tom cruise stunt double 445
First off, it took me a full 32 hours to make the trip from Boulder, CO to Winter OR in Salt Lake City. This included passing a half dozen accidents on my three+ hour journey to the airport, a missed flight, fruitless attempts at flying standby, an equally long drive back home, some whisky drinking, office work (wistfully staring west out of my window), and a surprise call from a travel agent offering a 2nd chance (free!) at making the trade show. 
I made it. And whoa boy was it worthwhile. Not only did my colleagues take most of my meetings, but yesterday I met Aaron Tague, a 22 year old climber from Bend, Oregon who recently worked as a "climbing consultant" on the latest Mission Impossible staring the always hilarious Tom Cruise.


Climbing shoe company 5.10 created a new rubber for one scene in the film in which Cruise scales the side of the tallest skyscraper in Dubai. This stuff literally sticks to glass–see the moderately crappy shot I took yesterday after I stuck it to the side of their shoe display. The shoe Cruise wears in the movie is the "Warhawk."


But let's get to the good stuff. Some highlights of my convo with Cruise's climbing doppelganger:
ON HOW HE LANDED THE GIG:
I was called to North Hollywood where they had a portable climbing wall set up in a parking lot. They asked me to climb it. I said "uh alright." Then i climbed it and they asked if they could film me. I said "uh alright". Then i climbed it again. I was just out in this parking lot in Hollywood. So weird. Two months later I get a call from Tom Cruise's sister saying that Tom was watching me through one-sided glass as i climbed. He liked my style, and she asked me to work on the movie.
ON , UH, KEEPING IT SIMPLE:

They call Tom "TC," and the first day on the set, these guys start doing a countdown to TC's arrival. They announce "TC arriving in 10 minutes." "TC arriving in 5 minutes." "TC arriving in 3 minutes." One of the directors told that TC gets really immersed and wants to be as accurate as possible, so if i said something about, say, Switzerland having the best climbing that TC would stop the movie until we all got to Switzerland. He says 'Keep it simple. Tom gets easily excited.'
ON PASSING THE TEST:

Tom asked me to climb this wall that had been set up. He really wants the climbing community to buy into this scene, and he was analyzing everything. The way I roll my pants before I climb. My hip movement. Then, as i'm climbing, TC starts asking me to show more emotion. He's getting really amped and says again Show More Emotion! I'm getting kinda annoyed, and i stop and say I'm Not An Actor! Then TC lightens up and says "I like this guy. We're keeping him."
ON WHERE THEY KEEP THE SPECIAL LUNCH:

Tom has like three people with him. A chiropractor, a guy just to hold his phones–he has like four of them, and another guy with a fanny pack holding Tom's special lunch.

….The fanny pack observation was the best part of the conversation for me. How awesome is it that Maverick has a person to hold his lunch? in a fanny pack! Have mercy. …Well, it's up to you to find your own lunch assistant, but you can buy TC's Mission Impossible skyscraper climbing shoes–the Fiveten Warhawk–this spring.
Shannon Davis