October 2012 Table of Contents
 
Heading out the door? Read this article on the new Outside+ app available now on iOS devices for members! Download the app.
SPECIAL GUEST EDITOR

Bear Grylls

The Man vs. Wild star has faced every backcountry disaster under the sun. And moon. He learned the hard way so you wouldn't have to. Just heed his top lifesaving tips and tactics for every hazard.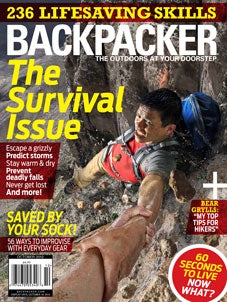 Bear Attack: Q&A with Bear Grylls

Bear dishes about narrow escapes, icky meals, and

his life goals.
Worst Nighmares

Hair-raising tales of wilderness terror that will haunt your backcountry dreams.

Coldby Bruce Barcott

Entwinedby Dennis Lewon

Man Downby Annette McGivney

Blindsidedby Steve Friedman

Breathlessby Rachel Zurer
Survival Bootcamp

When an Air Force crew goes down behind enemy lines, evading capture is priority #1. But finding food, water, and shelter follow closely. Brian Mockenhaupt goes inside the top-secret training school that prepares soldiers for the worst-case scenario.
Saved by a Sock

No survival kit? No problem. You already have plenty of common items in your pack that can multitask as lifesaving tools. Your socks? Use them as crampons, dew-soaking sponges, water filters, and more.
Profiles in (Dis)courage

Seeing is believing: Here's photographic proof of nature's power to hurt—and hikers' ability to heal. Meet four survivors who lived through horrific accidents and returned to the wilderness against all odds. By Jason Stevenson

Danelle Ballengee, fell 60 feet off a cliff while trail-running, shattering her pelvis.

Justin Harris, broke his leg and survived two days after a fall, canyoneering in Utah.

Melissa McQueen, was trapped overnight on a fourteener and lost eight toes to frostbite. 

Brenna Fisch, fell and broke her skull while hiking.
Die Another Day

The surest way to get in trouble in the backcountry? Keep going forward when you should really be going back. One stubborn mountaineer examines the fine line between triumph and tragedy. By Mark Jenkins
Killer Trips

Our favorite high-risk, high-reward adventures in North America.

Weather: Wind, heat, whiteouts, storm surges, lightning, & twisters.

Gravity: Poor footing, knife edges, overhangs, rockfalls, & sheer faces.

Terrain: Flash floods, snowfields, glaciers, steep snow, narrow ledges, & mud.

Wildlife: Grizzlies, snakes, scorpions, moose, boars, & ticks.

You: Summer fever, route planning, fading trails, outdated maps, impatience, & being unprepared for the unexpected.
Danger Zones/Escape Plans

Danger Zones/Escape Plans: You

Danger Zones/Escape Plans: Wildlife

Danger Zones/Escape Plans: Terrain

Danger Zones/Escape Plans: Weather



Danger Zones/Escape Plans: Gravity