Heading out the door? Read this article on the new Outside+ app available now on iOS devices for members! Download the app.
FEATURES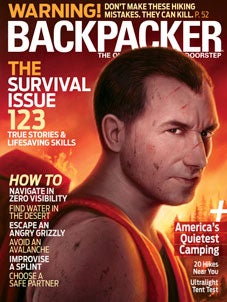 A Piece of Quiet

Discover the silent side of Mt. Rainier National Park–and nine more backcountry hush zones–on a hike with Gordon Hempton, the country's leading authority on wilderness quiet. By Molly Loomis
Perfect Ten

Ten trails. Ten unmatched miles each. Get maximum bang for each boot step on hikes that our most-traveled contributors call their all-time favorites.
SURVIVAL
If I Only Knew Then…

On the path to good judgment, you'll find the wreckage from a whole lot of bad decisions. Your plan: Learn from others' mistakes, and wise up to outdoor hazards without risking your life. Your guide: Veteran adventurer Mark Jenkins. Plus: Guides and rangers share 39 more hard-won lessons they wish someone would have told them.
DESTINATIONS
RIP & GO WEEKENDS
WEST

Explore a volcanic landscape in California's Lava Beds National Monument.
MOUNTAIN WEST

Get Yellowstone's wildlife with none of its crowds in Montana's Hilgard Basin.
MIDWEST

See changing leaves and glimmering lakes in Michigan's Porcupine Mountains.
SOUTHEAST

Snack on cranberries and savor the solitude in a West Virginia wilderness.
NORTHEAST

Camp beside a remote pond and climb to a legendary four-state view in Vermont.
SKILLS
Hiking's Best Season

Enjoy the spoils of autumn–no bugs and no crowds, colorful leaves and migrating animals–without catching a chill. Use these 34 tips to plan mild-weather routes, prepare fall-friendly meals, and stay warm all season.
The Manual: Health Up High

Planning an Indian-summer ascent? Play it safe against altitude sickness.
Technique: Backpacker Yoga

Use sleeping bag-compatible stretches to counter hiking aches and pains.
RECIPES: Harvest Desserts

Satisfy your sweet tooth with these easy-prep twists on classic fall treats.
GEAR
Field Test: Four-Person Tents

Live large with these ultralight and ultraroomy shelters.
Gear Review: Headlamps

Light up the night with powerful, affordable, and versatile lamps. Plus: a fast and efficient stove, a light hiker with superior grip, a merino hoodie you'll never want to take off, and more.