Heading out the door? Read this article on the new Outside+ app available now on iOS devices for members! Download the app.
October 2008

Features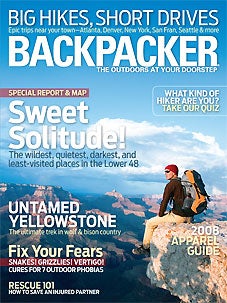 When Disaster Strikes!

Lost in a blizzard. Swept down a raging river. Struck by a falling boulder. When accidents occur, why do some make it out while others perish? We talk to survivors—and get expert analysis—to learn how five regular hikers avoided the ultimate penalty. And how you can do the same.

by Steve Howe
The Hardest Miles

In times of ultimate duress, the will to survive might be our most essential resource. To learn from men who faced such moments firsthand, our author joins the annual reenactment of World War II's Bataan Death March, one of the most grueling hikes in history. Along the way, she talks to survivors—and discovers a few secrets for how we can all toughen up.

by Evelyn Spence
The Ultimate Survivor

Does Aron Ralston's self-amputation beat Beck Weathers's rise from the dead? Does Shackleton in the Antarctic trump Messner on Everest? We pick history's true hard man.

by Bruce Barcott
Rescue Me!

Congressional candidate Gary Dodds disappeared into the New Hampshire woods on a snowy night. Or did he? A bizarre tale of a survival hoax turned all too real.

by David Howard
I Will Survive

Can television stars Bear Grylls and Les Stroud really teach you anything about staying alive in the woods? To find out, our man parks himself in front of the tube, then hikes into the wilds with only a knife.

by Steve Friedman
PLUS:AMERICA'S 10 MOST DANGEROUS HIKES

Diagnosis of Disaster
Gear
Sleeping Bags

No matter where you're going or what the conditions, we found the perfect sack—from warm and waterproof to ultralight and ultra-cheap. Plus: an eco-friendly winter jacket, a big-and-light pack, green wool, sweet new adventure-racing gear, and a rescue ranger's essential survival picks.
Adventures
10 Epic Hikes

From Alaskan bushwhacks to Sonoran scrambles, here are directions—and essential techniques—for 10 top backpacking destinations where scenery, solitude, and challenge work together to turn adventure up a notch. Call it the virtuous circle of epic treks.
Cold War: A Winter Traverse of New Hampshire's Presidential Range

Rocky Mountain (Extra) High: Lightning On The Colorado Trail

Hiking Hip Deep in Florida's Swamps

Highpoint Montana

Alaskan Labyrinth: Bushwacking in Denali

Bear Patrol in Glacier

Washington Paddling: Operation Orca

Mt. Adams: Solitude On Ice

Canyon Connections: Link Grand Canyon To Zion

Thru-Hike The Roadless Sierra
Nature
The Terror Index

What are the most dangerous natural hazards? Should you fear a bee more than an avalanche? We dissect the threats—and tell you how to beat them.
Skills
Life-or-Death Decisions

When a simple hike becomes a survival situation, it's rarely one bad choice that leads to disaster. It's a series of them. Here's a comprehensive guide to making the right call at the right time for the three most common backcountry mishaps: getting lost, injured, and caught in a storm.