Heading out the door? Read this article on the new Outside+ app available now on iOS devices for members! Download the app.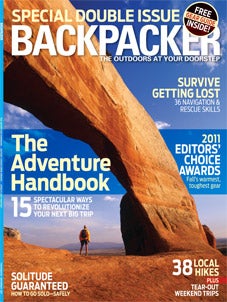 DESTINATIONS
New! Expanded Local Hikes Section

Here are 38 trails mapped by our field scouts, all close to cities like L.A., New York, and Seattle. There's one near you!
Ultimate Weekend Planners

Get out fast with our complete Rip & Go tear-out guides.
WEST

Climb through old-growth rainforest in Washington's Trapper Creek Wilderness.
MOUNTAIN WEST

Rock-hop, bushwhack, and wade your way down a rugged Arizona canyon.
MIDWEST

Visit dense forest, grassy prairies, and alpine-like lakes on this weekend loop.
NORTHEAST

Enjoy the luxe side of winter on this hut-to-hut ski tour in Maine's 100-Mile Wilderness.
SOUTHEAST

An Appalachian Trail reroute left Virginia's Iron Mountains crowd-free. Hike rocky ridges and camp in hollows on this 16-miler.
SKILLS
The Manual: Winterize your dog

Keep your pet safe, warm, and well-fed with these 22 cold-weather tips.
Strength Training: Build Backpacking Muscles

Build trail-ready legs and pack-ready shoulders with these at-home exercises.
Dirtbag/Gourmet Nutty Soups

Peanut butter gives these stews a last-all-day fuel and flavor boost.
Gear School: Four-Season Tents

Want to get out more this winter? Learn the ins and outs of cold-weather shelters.
SURVIVAL
Rip & Live: Lost

Build a shelter, signal for help, and get found with this survival cheat sheet.
Case Study: Wilderness Wander

Learn from a solo hiker who battled despair and dehydration on a six-day epic.
Hike Solo—Safely

Every backpacker dreams of solitude, serenity, and trekking the wilderness with utter self-reliance. But fear of running into trouble prevents most from venturing into the backcountry alone. Learn from hikers who have covered hundreds of solitary trail miles, with 25 strategies for route planning, staying safe, lightening your load, and getting the most out of an adventure on your own. By Kristy Holland
Ansel's Lost Photos?

Imagine finding an art-world treasure at a garage sale. Even better: Imagine the treasure consists of missing negatives made by the 20th century's foremost landscape photographer. That's what Rick Norsigian believes he lucked into a decade ago. But after years of research, conflicting testimony from experts, and more than one lawsuit, only one thing is certain: These beautiful pictures sure spawned some unattractive behavior. By David Howard
Ultimate Adventure Handbook

Climb big trees. Paddle raging whitewater. Explore a slot canyon. Chef up a five-star camp meal. Ski from summit to sea. Scale a backcountry peak. Hike 30 miles in a day. Make an adventure movie. Here are 15 ways to upgrade your next trip—with 66 skills and 25 destinations guaranteed to raise your game. By Kelly Bastone

GEAR
2011 Editors' Choice Snow Awards

We spent months field-testing the year's top cold-weather gear. Then we packed up the warmest, toughest, best-performing shells, skis, gloves, stoves, and more for a final weeklong challenge in Iceland's Glacier Fjords. Here are the 10 tester-approved winners.