Heading out the door? Read this article on the new Outside+ app available now on iOS devices for members! Download the app.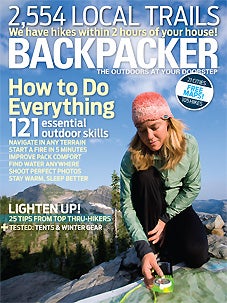 FEATURES
Best of the Appalachian Trail

It's an American classic: 2,175 miles of mountain walking from Georgia to Maine. Whether you dream of hiking it all–or simply all of the best parts–start planning with our ultimate guide to the AT.
The Thru-Hiker's Guide

Expert advice on planning, packing, training, cooking, and negotiating the AT's social intricacies. By Michael Lanza
The Ultralight Guide

At his store just 30 miles into the trail, Winton Porter teaches thru-hikers how to shed baggage–in more ways than one. By Jim Gorman
Backpacker Interview: If Wilderness Could Vote

John McCain and Barack Obama talk trails–plus wolves, wilderness drilling, and guns in national parks–in this exclusive Q&A. And in our presidential poll, we ask with which candidate BACKPACKER readers would rather share a tent. By Dave Pidgeon
I'm Hiking With Stupid

Backpackers know there's nothing like a big adventure to build–or break–a friendship. The last time our author took his buddy camping, they stopped speaking for a year. A decade later, they still haven't hit the trail together. Which means there's only one thing to do: Try again. By Steve Friedman
ADVENTURES
Canoe with Thoreau's Ghost

Explore wild and historic Maine on a four-day paddle down the new Thoreau-Wabanaki Trail.
Dayhikes: Big Bend

Scout for gold–and desert views–amid this Texas park's spray of late-fall foliage.
Top 3 Night Hikes

These dark-sky treks serve up perfect viewing spots for autumn's intergalactic bling.
Indian Summer Treks

Fall camping season seems to go on forever with these fair-weather weekend trips.
Do the Nebraska Buffalo Float

No, it's not a new D.Q. treat. It's a two-day paddle through high plains prairie amid buffalo, whooping cranes, and elk.
Vacations: Grand Canyon

Explore hidden gorges and spy rarely seen wonders on this three-week raft trip designed specifically for hikers.
Trip Doctor: Rent Gear for Newbies?
Where is the Spookiest Place to Hike?
SKILLS SPECIAL
How To Do Everything! By Annette McGivney

Become a true wilderness expert with our guide to 121 essential skills for:

Hiking

Packing & Planning

Camping

Gear

First Aid & Health

Cooking
GEAR
Ultralight Tents

These rule- breakers weigh as little as some solo shelters–but house two hikers in comfort.
The Denali Test

Cold-weather gear tested on Denali
Women's Fall Gear 2008

Our female testers review the top new women's pack, bag, and apparel.
Green Scene: Eco-friendly Tent Poles