The New Civilian Climate Corps Might Just Save Us All
A proposal to build a new conservation-focused jobs program could have big repercussions for how we hike.
Heading out the door? Read this article on the new Outside+ app available now on iOS devices for members! Download the app.
In August, after the hottest month in recorded history, the senate overcame a key hurdle for funding for the Civilian Climate Corps (CCC), a New Deal-style jobs program that would put thousands of Americans to work fighting the climate crisis and building new outdoor infrastructure like hiking trails, campgrounds, and more. It's a major, policy-oriented step towards seeking a solution to a seemingly intractable problem. What's more, polling suggests that the program would be popular with the public—assuming legislators can get it off of the ground.
The idea for the Civilian Climate Corps gets its roots from President Franklin D. Roosevelt's Civilian Conservation Corps program from the 1930s, a public works plan that put millions of young men to work building everything from trails to campgrounds to bridges in U.S. forests and parks. Much of that infrastructure is still in use today.
The new Civilian Climate Corps would bring the old CCC into the 21st century by rebuilding outdoor recreation infrastructure, working on wildfire mitigation, and investing in climate resilience. And while the CCC of the 1930s was segregated and catered to white men, the new Civilian Climate Corps would employ workers from different genders, races, and economic backgrounds.
"The CCC program is likely to encompass a lot of on-the-ground stewardship work, work like thinning projects for forest management and trail maintenance and construction," said Louis Geltman, policy director for Outdoor Alliance. "But the vision is very much that these jobs include training opportunities to help bring up the next generation of land management agency employees, nonprofit workers, and recreation infrastructure specialists."
President Biden first proposed what would become the Civilian Climate Corps in an executive order on his first day on the job, earmarking $10 billion for the proposed program in his American Jobs Plan. Since then, lawmakers have been ironing out the details. Key sponsors for the Civilian Climate Corps are Oregon Sen. Ron Wyden and Colorado Rep. Joe Neguse, both of whom serve districts that regularly suffer severe wildfires.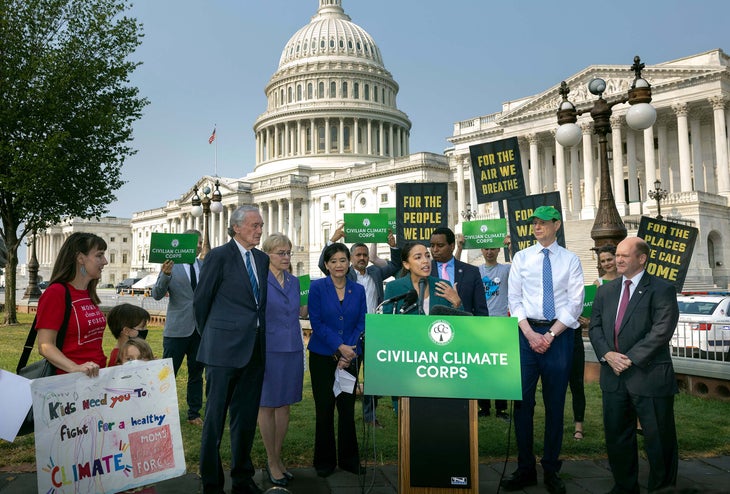 "We can put thousands of Americans to work right away rebuilding crumbling infrastructure on our public lands—some of which dates back all the way to the original Civilian Conservation Corps," said Sen. Martin Heinrich of New Mexico. "The new CCC members can also make vital contributions to restore the health of American landscapes and improve our resilience to climate impacts like more extreme wildfires and floods."
The new program plans to "conserve and restore public lands and waters, bolster community resilience, increase reforestation, increase carbon sequestration in the agricultural sector, protect biodiversity, improve access to recreation, and address the changing climate," according to the text of the executive order. It aims to provide the funding for thousands of Americans, both young and experienced, to get to work — literally — fighting the climate crisis, safeguarding  public lands, and bolstering ecosystems as natural climate solutions.
Sound broad? That's kind of the point.The climate crisis is a large, complex problem affecting communities across geographical and socioeconomic lines—everything from heat waves and wildfire to increased flooding and destabilized ecosystems.The CCC will fund fighting wildfires and responding to hurricanes, building new hiking trails, campgrounds, and other outdoor recreation infrastructure, restoring wetlands, removing invasive species, and addressing the long-deferred national park maintenance backlog, among many other things.
The idea has some bipartisan support, though it's hardly unanimous. According to recent polling from Data For Progress, 65 percent of voters support a Civilian Climate Corps, especially young and rural voters. In many ways, it offers an attractive solution to current issues: Unemployment is high due to the Covid-19 pandemic, outdoor recreation is in high demand, and communities across the U.S. are feeling the effects of the climate crisis.The megadrought in the West has caused Utah to consider airdropping water for its wildlife. National parks face overcrowding problems as crowds love our natural resources to death. Hiking trails have been closed due to heat waves. And wildfires, flooding, and hurricanes continue to ravage the country. 
"Now is the time to invest in our public lands, invest in clean air and water, and invest in rural jobs," said Wyden.