Someone Poisoned an Entire Wolf Pack in Oregon. Now, Authorities Are Asking for Help Finding the Culprit.
Police investigating the poisoning deaths of 8 wolves in Oregon have hit a dead end. Now, wildlife advocates are offering a $36,000 reward for information in the case.
Heading out the door? Read this article on the new Outside+ app available now on iOS devices for members! Download the app.
Police in Oregon are asking for the public's help in locating the person or people who poisoned eight wolves earlier this year, erasing an entire pack from the state's recovering population.
On February 9, the Oregon Department of Fish and Wildlife notified state police about a possibly dead collared wolf southeast of Mount Harris in Union County, located in the state's northwest corner. When troopers arrived on the scene, they discovered five deceased wolves, three males and two females. The dead animals comprised the entirety of the Catherine Pack, which had roamed the Eagle Cap wilderness since its original breeding pair joined in July 2014. A helicopter search uncovered a dead magpie in the same area.
The body count grew in March, when officers investigating a mortality signal from a collared wolf discovered a female—a lone dispersed wolf from the Keating pack—dead in the same area, alongside a skunk and a magpie. Police transported all six of the corpses to the US Fish and Wildlife Service forensic lab in Ashland, Oregon, where necropsies confirmed that all six wolves, as well as the magpies and skunk, had died via poisoning.
In the following months, two more wolves would turn up dead in Union County, an adult male in April and a young female in July. In both cases, toxicology found poison in the deceased wolves' bodies, although investigators could not conclusively determine if it had killed them.
In a press release on December 2, the Oregon State Police said their investigation had exhausted all possible leads and appealed to members of the public to share any information they might have about the poisonings. In an email, Stephanie Bigman, a public information officer for the agency, said police did not believe the wolves had accidentally ingested the poison.
"OSP believes wolves were the intended target," Bigman wrote. She declined to share why police believed the poisonings were intentional or what types of poison the necropsies had detected, citing the ongoing investigation.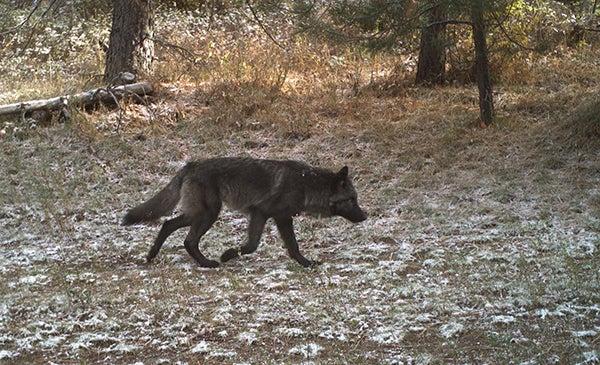 Unlike other western states, Oregon's gray wolves were not reintroduced by humans. Instead, the roughly 170 wolves that call the state home are descendants of animals that naturally recolonized the state from Montana in the late 1990s and early 2000s. Since then, gray wolves have mounted a comeback in Oregon, with the state confirming its first pack in 60 years in 2009. While wolves lost their state endangered species designation in 2015 and their federal designation this January, they still enjoy substantial protection under Oregon law. The state does not have a wolf hunt; according to the Oregon Department of Fish and Wildlife, "non-lethal deterrent measures to prevent wolf-livestock conflict remain the first choice of Oregon wildlife managers."
The agency, however, does occasionally kill wolves they believe are preying on livestock. This year, for example, wildlife officers destroyed 8 out of the 11 members of the Lookout Mountain wolf pack, leaving just the breeding female and two pups alive. Some wolf supporters say that killing wolves only makes the weakened pack more likely look to ranchers' herds for an easy meal, and some research suggests they're right: A study published in 2014 found that for each wolf shot in neighboring Washington, the chances of cattle depredation rose by 5 to 6% statewide.
The state's climbing wolf population has led to conflict between wildlife advocates and cattle ranchers, many of whom see the animal's resurgence as a threat to their way of life. Ranching interests have repeatedly pushed bills that would allow for aggressive control measures, letting people shoot wolves on sight and reducing the state's target wolf population for eastern Oregon to a total of four breeding pairs. So far, they've failed to pass.
The rhetoric that has grown around the wolf debate  has contributed to Oregon's poaching problem, says Danielle Moser, wildlife program coordinator for Oregon Wild. Along with 10 other environmental and wildlife nonprofits, Oregon Wild is offering a $36,000 reward for information leading to the conviction of the person or people responsible for poisoning the eight wolves. Just as important, Moser says, is holding to account people like John Williams, the incoming wolf committee chair for the Oregon Cattlemen's Association. Speaking to Oregon Public Radio about the wolf poisonings last week, Williams said that some ranchers in the state were missing up to 10% of their calves, and he believed wolves were likely to blame; In an email, Moser called that claim "100% inaccurate." (According to official counts, wolves have killed 29 cattle in Oregon this year, a figure representing 0.002% of the state's 1.25 million-strong population.)
"We need to catch and punish poachers, but groups and individuals who give a nod and a wink to this kind of disgusting behavior need to take responsibility for what they have created (and media outlets need to stop giving them a free pass to say whatever they want, unchallenged)," Moser wrote.
History suggests that catching whoever poisoned the Catherine Pack will be difficult. Between 2007 and 2020, Oregon State Police investigated 20 instances of illegal wolf killing. Only three of those cases ended with a conviction, Amaroq Weiss, senior wolf advocate at the Center for Biological Diversity, wrote in an email. In 2015, a hunter confessed to shooting a wolf that he said he believed was a coyote, paying $2,000 in penalties and forfeiting his rifle. In 2017, a trapper who killed a wolf in an unbranded trap received two years of probation, 100 hours of community, and a $7,500 fine, and had his hunting and trapping license suspended for three years. Finally, in 2019, a hunter pleaded guilty to illegally shooting one of the animals and received a $2,500 fine and a term of supervised release.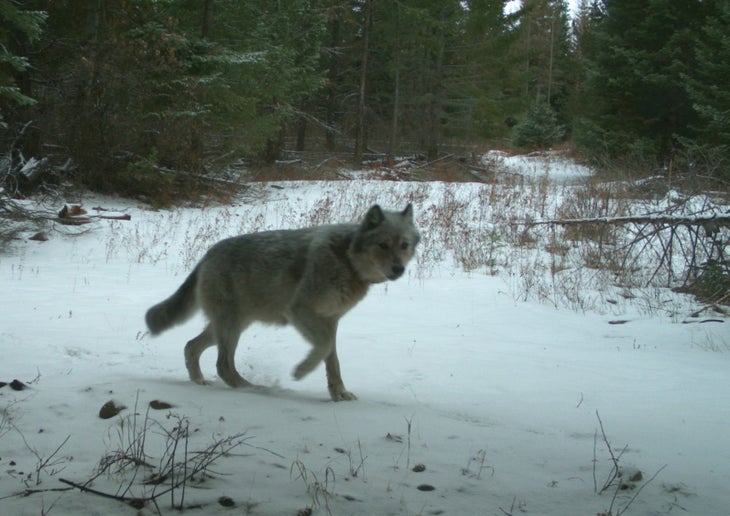 Even in those cases, Weiss says, the penalties that the poachers received were relatively paltry: In Oregon, killing a moose with antlers or a mountain goat or sheep with horns is punishable with a fine of $50,000. Even illegally shooting a six-point elk can net the guilty party a $15,000 penalty, twice what they would get for killing a wolf.
In the future, Weiss says that if Oregon or the federal government hopes to effectively fight illegal killings of wolves, they need to commit money towards education in order to combat the "misguided, unfounded, and deeply unfortunate" fear and hatred that some trappers, hunters, and livestock owners still have towards the animals.
"Robust public education programs and efforts are critical to helping the public learn what wolves are all about, how ecologically important they are, how few conflicts occur between livestock and wolves, that wolves are essential for keeping herds of wild deer and elk healthy, that wolves are not wiping out these wild ungulates, and that wolves are extremely shy and want nothing to do with humans," Weiss wrote.