What's More Dangerous Than a Bear? A Bear With a Gun.
A bruin sparked a search in the Boundary Waters after it stole a bag containing a camper's snacks—and his gun.
Heading out the door? Read this article on the new Outside+ app available now on iOS devices for members! Download the app.
Across their range, little threatens bears except for humans and bigger members of their own species; with their long claws and powerful jaws, they don't need any help defending themselves. That didn't stop a bear in Minnesota's Boundary Waters Canoe Area, which briefly became even more deadly when it stole a camper's gun.
The incident happened sometime last week, according to a post from the Minnesota Department of Natural Resources' Sixth District. Conservation Officer Mary Manning was working alongside a law enforcement agent from the U.S. Forest Service when the duo received a report from a camper who said a black bear had nabbed a backpack containing both "several delicious-smelling snacks" and, oh yeah, also a handgun.
The campers tried to follow the bear, but were unable to find either it or the backpack. Fortunately, Manning and her partner had better luck
"The officers responded and, after searching the area, located and recovered the partially shredded pack, numerous empty snack wrappers and the undamaged firearm," the department reported.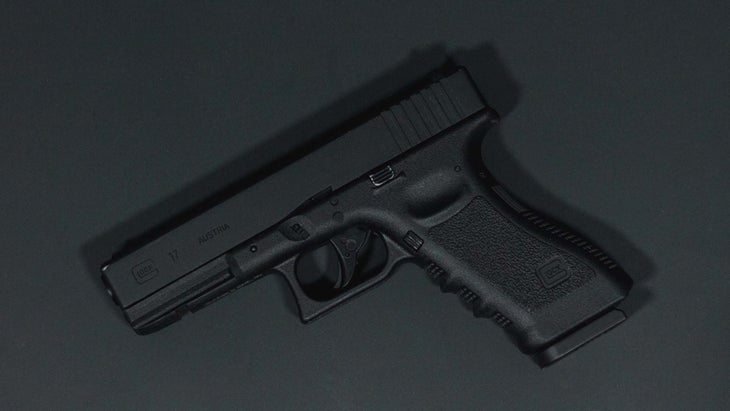 While we couldn't find a record of a bear ever shooting a human, firearm incidents on the trail are no joke. Last July, a visitor to Rocky Mountain National Park shot himself in the leg when he set down his pack on a rock and accidentally discharged the gun inside. In the category of "people being shot by animals," at least 10 people were shot between 2004 and 2015 when their hunting dogs accidentally discharged their weapons, the Washington Post reported in 2019, following a similar incident in Mississippi that led doctors to amputate a hunter's leg.
While it's not clear why the camper in question decided to go armed, it's worth a reminder that for most people, firearms have a mixed record at best as a method of defense against bears and that the vast majority of people will be better off with bear spray. Should you decide to pack heat, be aware that many bear interactions occur when hungry animals approach hikers in search of food; it might be wise to consider keeping your smellables away from your Glock. Because while the Constitution may guarantee the right to bear arms, it doesn't say anything about arming bears.
Want more news, stories, gear reviews, and hikes? Only Outisde+ members get access to our full-length subscriber-exclusive content, including our print edition. But that's not all: Members also get to access to the rest of our publications, including Outside, Ski, Yoga Journal, and more, plus a premium membership to Gaia GPS, invitations to exclusive events, and more. Become an Outside+ member today.