The U.S. Is in Drought Again—and That's Bad News for Fire Season
Record fires ripped through the western U.S. in summer 2020. Could we be in for a repeat?
Heading out the door? Read this article on the new Outside+ app available now on iOS devices for members! Download the app.
People living in the western United States won't soon forget the images of downed trees, mangled power lines, and blood red skies that dominated news during 2020's tumultuous wildfire season. Last year's blazes torched over 10 million acres of land—more than in any year since at least 1980.
Unfortunately, early predictions for 2021's fire season don't look any better. Across the western U.S. many regions like the Sierra Nevada, Utah, and Colorado are seeing lower-than-average snowpack accumulation, and experts believe this could signal an increased likelihood for fires in those regions.
"Probably the most obvious help snow cover can give is timing or delaying the onset [of fires], which is what happened last year," says Heath Hockenberry, manager of the National Weather Service's Fire Weather program. "Although it was a very strong fire season last year, it really didn't get going for most of the nation until mid-August. That's because most of the snowpack was in place."
This year is a different story. With smaller snowpacks owing to higher temperatures, more fuel gets exposed to the air and quickly dries out, which could potentially cause fires to break out earlier in the season. The higher temperatures also heat up the soil, creating more cause for concern.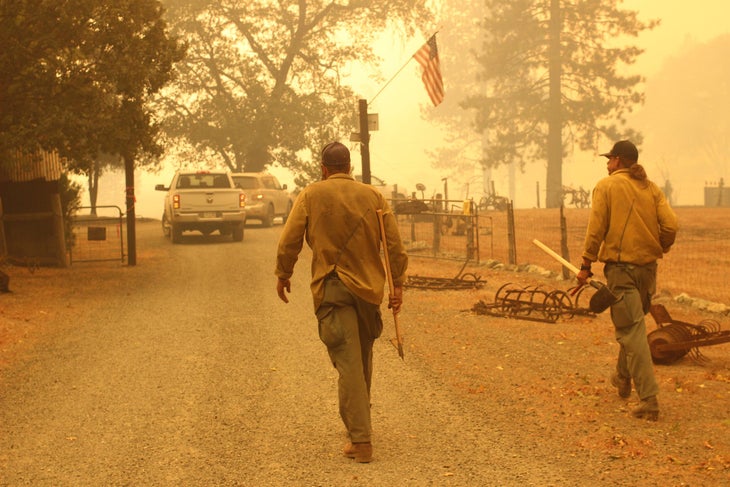 "What we've seen are anomalously high soil temperatures," says Jordan Clayton, data collection officer for the Utah Snow Survey. "That's concerning from a fire perspective, because clearly when you have dry soils that are also hot, that's going to reduce the resilience of that area to fire hazard."
Much of Clayton's jurisdiction, which covers Utah, Nevada, and the sites near Lake Tahoe in California, is currently being plagued by severe droughts, which have decimated snowpacks in the region. According to Clayton, in Utah, snowpacks were at just 81 percent of normal levels when they peaked in early April, a figure that is cause for concern. Nevada meanwhile, is experiencing its worst drought in two decades.
Not everywhere is in such dire straits. The numbers are similar in Colorado, where snowpacks were at 87 percent of normal levels at their peak, Brian Domonkos, supervisor of the Colorado Snow Survey, says that there's less cause for concern than that number might suggest.
"Conditions were relatively variable across the state," explains Domonkos "If you look at the snowpack across much of the Eastern part of the Continental Divide, [it] was near to slightly above normal at times."
Most concerning of all is California, where snowpacks were at 83 percent of normal levels at their peak, statewide. Several regions, chiefly those on either side of the Sierra Nevada Mountains, have reported figures that were 40 percent or less of peak averages.
"In the northwest, we generally had above median snowpack. But as you move down to the south, into California," says Gus Goodbody, senior hydrologist at the National Water and Climate Center, "we generally had below median snowpack this year."
There are plenty of other factors that play into the onset of wildfires, like rising temperatures and buildups of fuel, and conditions could still change before the fire season really starts in earnest. But this year's snowpack conditions strongly point to the 2021 fire season kicking off earlier.
Even so, fires are incredibly difficult to predict. Hockenberry advises that backpackers keep an eye on conditions and visit Ready, Set Go! before they hit the trail.