The Snowpack in Colorado Is Eating Hikers' Shoes
In one week, a Colorado search and rescue team had to perform three rescues on the same fourteener. The cause? The spring snowpack pulled off hikers' shoes, leaving them barefoot above treeline.
Photo: Sparty1711 / iStock via Getty
Heading out the door? Read this article on the new Outside+ app available now on iOS devices for members! Download the app.
Hikers in Colorado's high country keep losing their shoes in the spring snowpack—and it's putting them in danger, one search and rescue group has warned.
In a Facebook post on Friday titled "HIKERS ARE LOSING SHOES ON QUANDARY," Summit County Rescue Group (SCRG) said it had performed three rescues on Quandary Peak, a popular fourteener, in less than a week. All of them involved hikers who had lost their shoes while postholing through the soft spring snowpack. 
On Tuesday, a hiker lost a shoe on the mountain; while she managed to dig it out, she then found herself postholing in snow up to her chest and had to call for rescue. On Wednesday, a solo hiker lost his shoe permanently, leaving him unable to descend. Finally, on Thursday, a group of three hikers required rescue when one of them lost their footwear.
Colorado is in the midst of a spring warm-up, with the snowpack in many parts of the mountains freezing solid overnight and softening into wet, heavy snow during the day. SCRG noted that the variable conditions may be tricking some hikers into venturing out without flotation, only to get into trouble when the snowpack begins to melt out.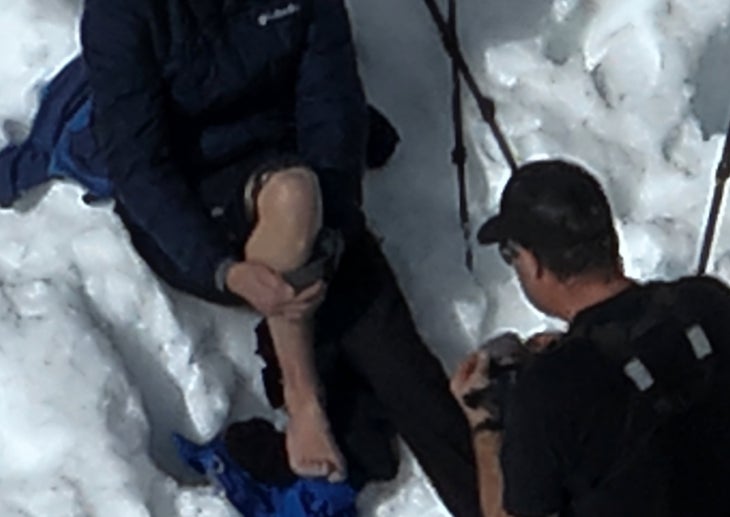 "Some areas are well packed down and [there are] other areas where it has been a warm day but overnight, it got cold and that froze that upper layer of snow," SCRG member Aaron Parmet told Denver7's Danielle Kreutter. "That upper layer of snow may be supportive allowing people to get off trail fairly easily, but that thin layer may be underlined by completely unsupportive snow. When it warms up during the day, and that layer softens up, instead of sinking in [a little] you can go all the way in."
In its Facebook post, SCRG offered some blunt advice to spring-hungry hikers: Find somewhere already melted out to hike, bring the proper gear, or don't go out at all.
"This is not a great time to go hiking, period," the group noted. 'If you're going anyway, make sure you have skis or snowshoes. If you're an experienced backcountry skier, choose your skis. If you're not experienced with skis, choose snowshoes; otherwise you may have a whole new problem set. If you're on snowshoes, do your best to stay on the trail. You will certainly posthole, even with your snowshoes, if you get off trail. You may posthole with snowshoes even on the trail."
As for those who do end up leaving their footwear above treeline, SCRG has an unorthodox idea on how to fund their rescue.
"We will be auctioning off all shoes and boots found on Quandary this summer after the snow melts," the group joked.