The Pacific Crest Trail Was Going to Be the Hike of Their Lives. And Then Fires Shut It Down.
A ferocious fire season forced the closure of California's national forests and put lives and property at risk. For a group of unlucky thru-hikers, it has also spelled the end of a dream.
Heading out the door? Read this article on the new Outside+ app available now on iOS devices for members! Download the app.
When the US Forest Service announced closures across California through mid-September due to hazardous fire conditions, Lena "Princess Di" Milton suspected that her Pacific Crest Trail (PCT) thru-hike was over. 
She'd begun her journey earlier in the season by hiking north on the PCT from Sonora Pass with her boyfriend and her brother. Their intention was to finish the northern part of the trail, and then travel back to Sonora pass to head south in a flip-flop route, bypassing some of the crowds. But once she was on trail, things quickly went off-script.
"We did most of northern California," Milton recalls. "We had to skip like the last 50 miles because of smoke and fire. We did as much of Oregon as was open. But when we got to the Washington border, there was incredibly thick smoke." 
Milton was in the backcountry last year when California's Creek Fire erupted and had to be evacuated to avoid the unpredictable flames. Getting up close and personal with a fire that would consume 379,895 acres over the course of four months was a bad enough experience to worry her about future fire encounters.
"The anxiety levels for me were the hardest to deal with," she says. "Even if I knew there was no fire nearby [on the PCT], I found it really anxiety-inducing to be hiking through thicker smoke than when I was actually evacuating." 
Heavy smoke isn't just an inconvenience, either. It's also a health risk: According to Kari Naddeau, the Naddisy Foundation Professor of Immunology and Asthma at Stanford University, spending just 5 to 7 days near a wildfire can cause substantial damage to the human body. In fact, smoke immersion can cause long-term damage to the lungs, heart, blood, and more. 
The heavy smoke weighed on Milton. "You feel it in your lungs, you feel it in your stomach," she says. It's possible to find some amount of relief by wearing an N95 mask, which Milton did. But the thick layers of smoke still caused her throat to hurt. And when you have to wear an N95 mask to get through the day, it doesn't take long to wonder whether staying on the trail is worth it.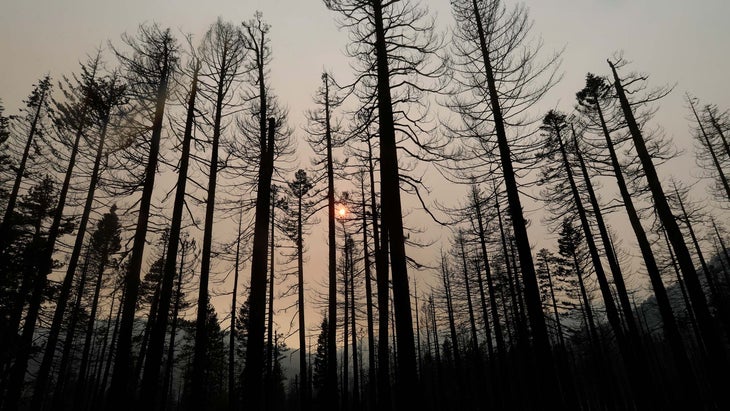 "It gets to the question of why you're actually hiking. Is it worth it even if you're not having fun or potentially jeopardizing your health?" Milton says.
When Milton arrived at the Oregon and Washington border on the PCT, her heart sank. What would typically mark a significant milestone for PCT thru-hikers seemed to be an omen for Milton: Just three miles north of the Bridge of the Gods, there are usually visible mountains protruding from the horizon. But instead, thick clouds of smoke completely erased the spectacle. She, her brother, and her boyfriend agreed that they'd had enough. Waiting for smoke to clear in hostels would be costly, and they were tired of wasting time and resources. 
While many northbound hikers managed to finish California before this year's fires shut down the state's national forests, southbounders and flip-floppers like Milton weren't as lucky. Writing on Facebook, southbound hiker Jessie Gordon said she had gotten off in Ashland, Oregon after 964 miles on trail when she heard the news about the closure. While she hasn't given up hope that she could resume her hike if the closures lift in mid-September, she says that even that would be "cutting it close in the Sierra."
Milton's group looked for another objective. After evaluating a series of air quality reports, the group determined that, somehow, the Oregon Coast Trail seemed largely untouched by the state's raging fires. It didn't take long for them to gather their gear and head south on the 362-mile trail. 
The OCT was everything they'd imagined: varied in terrain, challenging to tackle, and it even had clean air. It didn't have the PCT's wilderness character, instead frequently passing through towns, but it still seemed like just the break they needed. By the time they reached California, they were feeling refreshed and eager to finish the southern portion of the PCT. But when the National Forest Service announced on August 31 that all California National Forests would close through September 17, they found themselves reevaluating their plans once more. With fall snow just around the corner for the Sierra, the closure seemed like a hike-ending announcement.
"I think I'm done for the season, mostly because of timing," Milton says. "If it lifts after September 17, I'd have to be going through the Sierras in what's becoming late season. And I don't want to risk snow." 
When asked if she would do anything differently, Milton said that she would have attempted a pure northbound thru-hike early in the season. In theory, doing so might help to minimize the amount of time that she'd spend hiking in the worst of fire season. But with blazes now starting earlier than ever and burning late into fall, it's possible that even an early-season hike will soon no longer be possible on the PCT. Still, Milton remains hopeful that all isn't lost for aspiring thru-hikers. 
"I think the true continuous footpath is maybe a thing of the past, at least until the fires burn themselves out," she says." but a thru-hike in general, I think, is still possible."