The National Parks Saw Record Crowds in 2021. Where Do We Go From Here?
More people than ever are venturing to the parks. Can the system adapt?
Photo: Natalie Behring / Contributor via Getty
Heading out the door? Read this article on the new Outside+ app available now on iOS devices for members! Download the app.
Since the pandemic began, people have been taking to the US's national parks in droves, searching for a safe vacation in the face of travel restrictions and cruise outbreaks. And while travelers generally stayed in parks closer to home in 2020, 2021 saw a resurgence to national park travel as visitation numbers soared.
While the final numbers aren't yet out for all of the national parks, what we do know is illuminating. Great Smoky Mountains National Park set a new record of 14.1 million visitors in 2021, 1.5 million more visitors than its previous record in 2019 and a 57% increase in visitation from a decade ago. On paper, Yellowstone broke its annual visitation record last year with 4.8 million visits, though park Superintendent Cam Sholly told Wyofile that the number is an overestimate, as closed lodgings forced visitors to leave and reenter the park more frequently; regardless, Yellowstone certainly had one of its busiest years in history. More parks will likely see their visitation records fall as the National Park Service finishes its 2021 tally.
The conflict between inviting in visitors and protecting natural integrity in the parks is an old one, and administrators have had to balance the impacts of tourists against their mandate to preserve the parks since the beginnings of the NPS. Park officials are increasingly showing a willingness to embrace non-traditional solutions in handling it.
One of the most visible ways parks are curbing congestion is by instituting timed-entry systems. Glacier, Rocky Mountain, Acadia, and more parks have all begun using them, and Arches is following suit this year. These are helpful for capping visitation to a sustainable, fixed level and making sure visitors aren't elbowing for room at popular areas.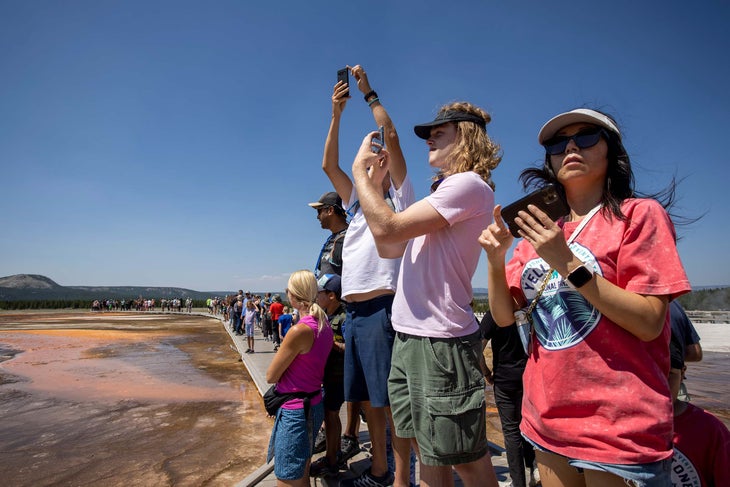 Unfortunately, it also creates new problems about accessibility and visitor experience. Park visitors have been outraged to travel thousands of miles and spend money on lodging/travel fees only to be denied access to the park after not securing a reservation. Advocates for accessibility note that advance reservation systems favor people with time, money, and reliable internet service. That means marginalized groups that already have less access to nature have an even harder time visiting parks.
Reservation systems aren't the only proposed solution to crowded parks, however. Sen. Angus King, Chairman of the Subcommittee on National Parks, sees it as a supply-demand problem: More people want to visit national parks, so Congress should begin creating more of them. This proposal dovetails with President Biden's 30×30 program to conserve 30% of America's lands and waters by 2030.
But more national parks won't magically fix crowds if there's a lack of funding, especially since park funding has decreased while visitation has increased. Jonathan Thompson at The Land Desk also notes that large crowds are heading to specific parks, not spreading out evenly throughout the entire system. Instead of designating more parks, he says, Congress should increase funding for them to help mitigate damage from crowding. That would provide more money for additional staff to educate and control crowds, for shuttle systems like Zion's that are effectively reducing traffic, and for building more campgrounds and toilets inside or outside park boundaries.
Thompson also notes that simply sending visitors to nearby public lands that aren't national parks isn't a great solution either, because these have even fewer staff and facilities for welcoming visitors. They're already feeling the crush, too: A recent report from the Center for Western Priorities found a 39% increase in summer camping on public lands from 2014-2020, noting that >95% of reservable campsites have been filled during peak season in recent years. Non-park public lands as a whole are getting more crowded — and they're not in any better shape than the national parks to handle visitors.  
Congress has recently begun implementing and proposing new laws and pilot programs aimed at reducing crowding and its effects. The Great American Outdoors Act and the Land and Water Conservation Fund began chipping away at the NPS' deferred maintenance backlog in recent years. Additional funding has been proposed in the proposed Build Back Better bill.
Technology could lend a hand, too: Electric shuttle buses, rideshare locations, and an app to notify park visitors about road closures and parking availability are now being rolled out to manage traffic in the national parks after a joint agreement between the Departments of Transportation and the Interior and funding from last fall's infrastructure bill.
As the National Park Service confronts the reality that there isn't enough room in the parks for everyone who wants to visit them, they're also learning that there's no one-size-fits-all solution for addressing the problem, either.