National Parks Close Roads and Campgrounds and Delay Summer Openings
Road damage, projected flooding, delayed openings: here's how the big winter will affect national parks this summer
Photo: Matteo Colombo/Getty
Heading out the door? Read this article on the new Outside+ app available now on iOS devices for members! Download the app.
We'll be talking about the winter of 2022–23 for years. Epic snowfall blanketed much of the western U.S., creating the best ski season in memory. So far that snowpack is delivering one of the best spring rafting seasons in decades.
But all that precipitation and increased snowpack also left a lot of destruction in its path, including damage to the infrastructure in some of our national parks, with projected flooding from the spring thaw prompting temporary closures in others. For example, in Sequoia and Kings Canyon National Parks, in California's Sierra Nevada, the record snowfall and heavy rains led to rockfall and road damage, causing closures throughout the park.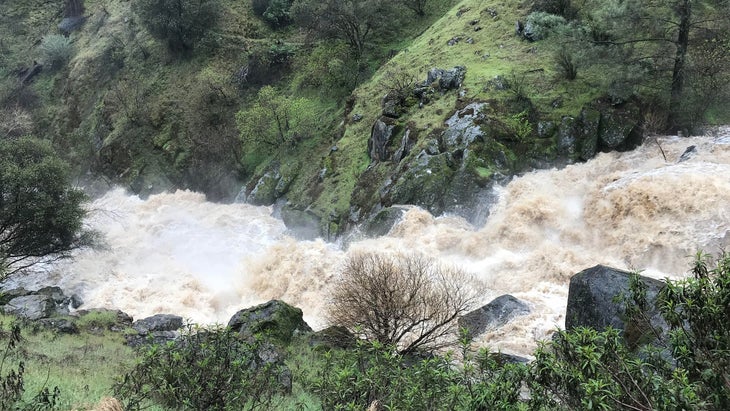 "It was an intense winter for us, and we're still plowing snow and working hard on road construction," says Sintia Kawasaki-Yee, chief of communications with Sequoia and Kings Canyon National Parks. "It's going to be a different spring [than usual], with some areas closed."
Other major events include the closure of the famous Narrows hike in Zion, flood warnings in Yosemite, and campgrounds still under snow at Grand Canyon.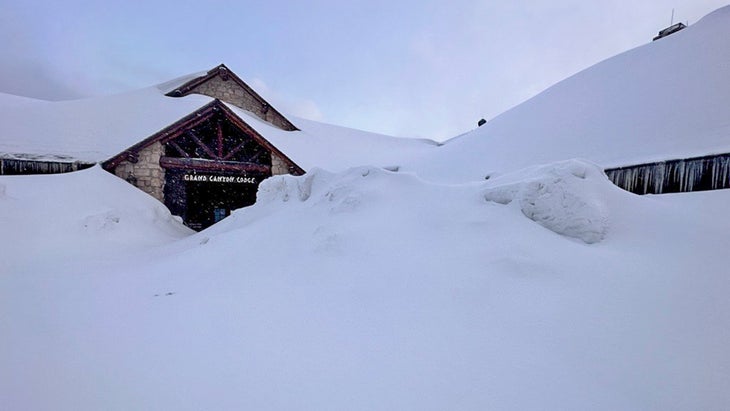 "It's been challenging, but I don't want people to think they shouldn't come to the parks," Kawasaki-Yee says of Sequoia and Kings Canyon. "There are still things to do. They just need to be prepared and aware of certain closures."
All of that snowpack means water tables are replenished to some degree, and more water is flowing through the West's parched river basins. Lake Mead and Lake Powell, both of which sit on the Colorado River, are already seeing a rise in lake levels. And park employees are working diligently to clear the snow, repair road damage and get things open.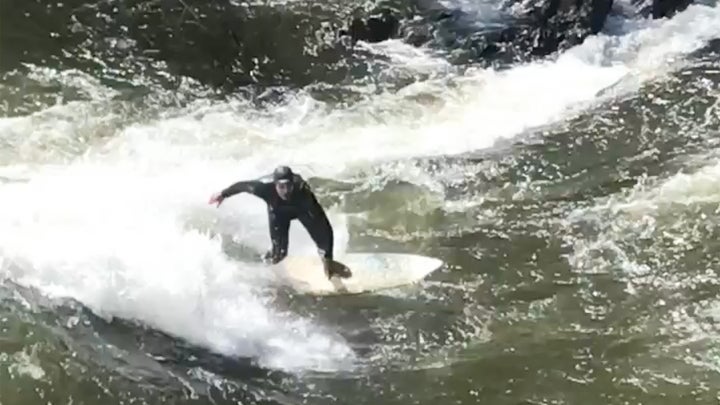 Here are seven national-park delays and closures that are a direct result of extreme weather, as well as our advice for how to deal and find alternatives.
Great Basin National Park, Nevada
Record-setting snowfall has delayed the spring opening date of Wheeler Peak Scenic Drive, Wheeler Peak Campground, and popular hikes like the Alpine Lakes Loop inside Great Basin National Park, as portions of the park are still buried. The roads, campgrounds and trailheads within the higher elevations of the park typically open at the end of May, but the park service expects a delay until July 1. Park management also says hikers should be cautious of flash-flood conditions as temperatures warm. Get current conditions here.
Our advice: Wheeler Peak Campground might be closed, but Baker Creek and the Upper and Lower Lehman Creek Campgrounds are open on schedule. If you can't hike the high terrain, consider going underground—Lehman Cave tours are operating as usual.
Yosemite National Park, California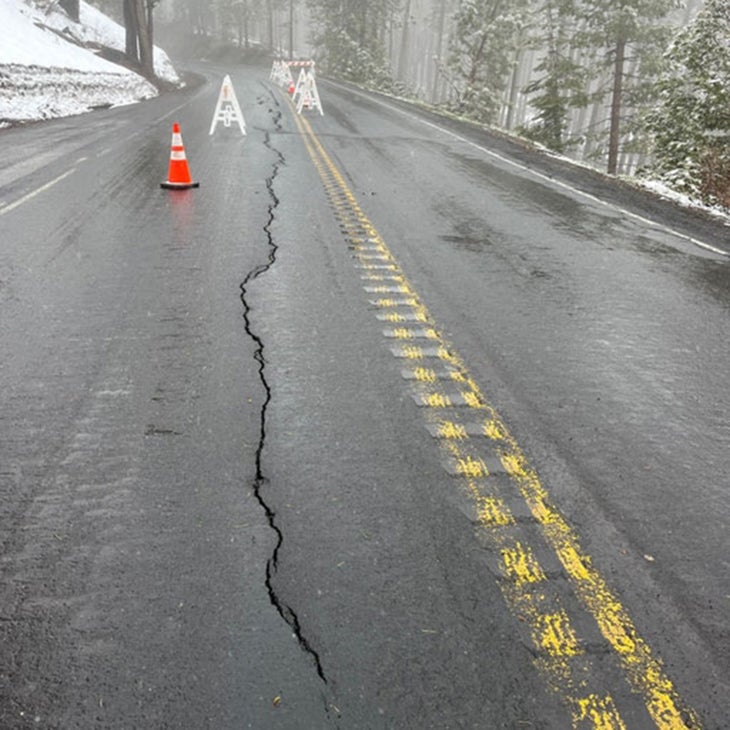 In Yosemite, Big Oak Flat Road (Highway 120) is closed from the park boundary to the Merced Grove while crews repair cracks in the roadway up to four feet deep and 200 feet long from recent storms. The park expects the road to be closed until mid-June and possibly into July, which means visitors coming from the west will have to take an alternate route to access Yosemite Valley. The Mariposa Grove Road is also closed due to storm damage through May and into June. Visitors wanting to reach Mariposa Grove will have to hike two miles each way, with a 500-foot elevation gain. The park is also closing Lower and North Pine Campgrounds starting May 15 due to potential flooding from snowmelt. There's no current timeline for the campgrounds to reopen. See conditions here.
Our advice: If you want to explore the Valley, Highways 140 and 41 are still open from the west. If you're looking to camp in the Valley, Camp 4 campground is open, first-come, first-served until May 21, at which point you'll need advance reservations. Upper Pines Campground is also still open and requires reservations.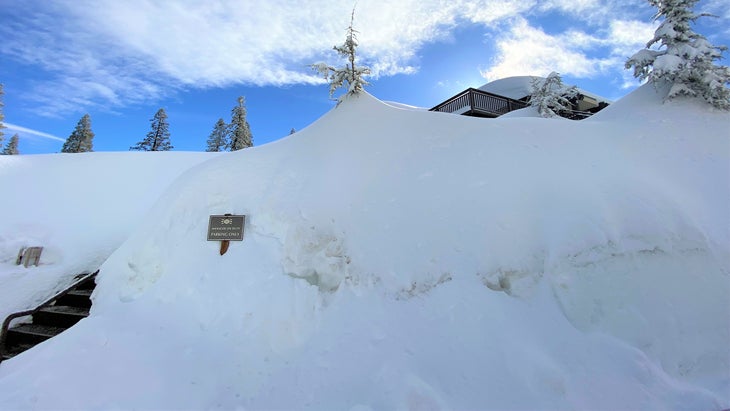 Grand Canyon National Park, Arizona
Grand Canyon has had to delay the opening of the North Rim until June because of record snowfall. The North Rim saw more than 250 inches of snow this winter, burying the Grand Canyon Lodge, necessitating plowing and facility repair. The North Rim campground will open June 9, while the North Kaibab Trail will be closed until June 1 for trail reconstruction due to rockfall and landslides. Current conditions here.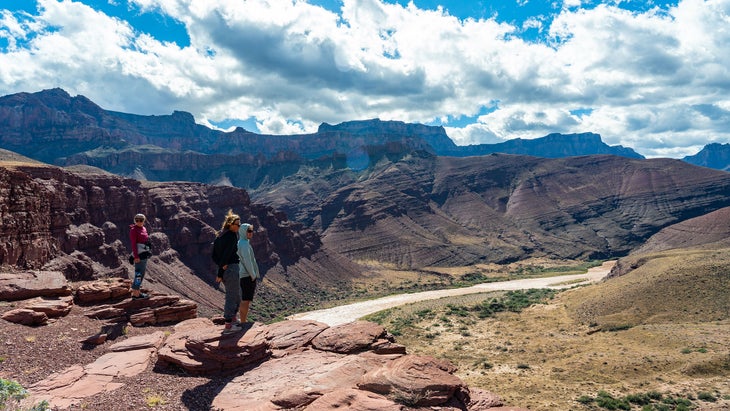 Our advice: You'll have to be patient if you're set on exploring the North Rim. Until the park service can clear the snow, the South Rim is your destination, with plenty of options for hiking and camping. We say bring your bike and pedal Hermit Road, which has more than half a dozen scenic overlooks, and is closed to all vehicles (except park shuttles) from March 1 to November 30.
Sequoia and Kings Canyon National Parks, California
Roads inside Sequoia National Park suffered "extensive" damage from the winter storms, closing all but six miles of the Generals Highway, the main access road, within the park and preventing access to the giant sequoias at this time. The Giant Forest, Wolverton Snowplay Area, Lodgepole, Wuksachi and Moro Rock Areas are closed until at least June 9, while Crystal Cave and Mineral King Road will be closed throughout the summer because of road damage. Cedar Grove, inside Kings Canyon, is also closed due to severe road damage on Highway 180. Management doesn't expect the road to reopen until fall. The park service updates road closures frequently and maintains a map of current road status within the park. Check conditions here.
Our advice: The Foothills Area of Sequoia, which is accessed by the first six miles of Generals Highway, is open, and has its own system of hiking trails and camping at Potwisha Campground (reservations required). The wildflowers are going off in this section of the park this spring, but there are no large trees. Park management is recommending visitors go to Grant Grove, in Kings Canyon National Park, to see the giant trees.
Zion National Park, Utah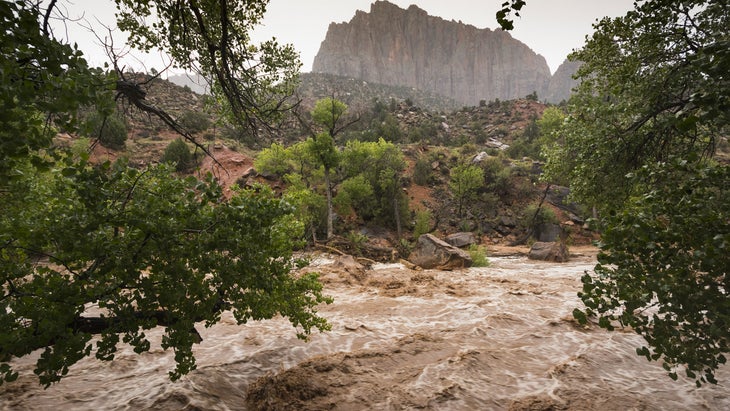 In Zion, the popular Narrows hike, through a slot canyon along the Virgin River, is closed indefinitely due to the unusually high snowmelt and the flow levels in the Virgin River. The park service closes access to the Narrows any time flow levels exceed 150 cfs, and this spring levels have not dipped below 600 cfs. Emergency responders have already had to rescue one woman from the Virgin River's Grotto area, in April.
Meanwhile, Zion Canyon Scenic Drive has been reduced to one lane because of road damage caused by rockfall, which caused a fissure in the road, and Kolob Canyons Road is closed beyond the Kolob Canyons Visitor Center for the same reason. See updates here.
Our advice: The shuttle is still operating on Zion Canyon Scenic Drive, so your hiking plans are still intact. While you wait for the Narrows to reopen, try to score a last-minute permit to hike the Subway, a strenuous 9-mile round trip hike through a slot canyon on the Left Fork of North Creek.
Glen Canyon National Recreation Area, Utah and Arizona
Here's some good news: The winter's snowfall and subsequent melt is raising the water level of Lake Powell, inside Glen Canyon National Recreation Area. As water levels have receded on the lake during the last 20 years, park management has had to close a number of boat ramps, severely limiting boater access. But this spring, the opposite is happening; Glen Canyon recently announced the Bullfrog North Boat Ramp, in north Lake Powell, is operable again for houseboats and larger vessels. More than a dozen ramps and access points remain inoperable because of low water levels, but spring runoff has already raised the lake level by 10 feet. Check for updates here.
Our advice: Take advantage of the higher water while you can. Launching on Lake Powell can be easier at the higher water and you can paddle deeper into narrow gorges like Antelope Canyon and Lone Canyon.
Lake Mead National Recreation Area, Arizona and Nevada
While all that snow in the mountains is helping replenish Lake Mead's coffers (lake levels had risen by three feet as of May 1 and could rise several more by the end of July), the summer heat is expected to put a crimp on hiking plans in the recreation area. Lake Mead has already announced seasonal closures to strenuous areas and trails from May 15 to September 30, citing a sharp increase in medical-emergency calls each summer. To prevent potential distress and tragedies, the park service is closing the following areas: Goldstrike Canyon, White Rock Canyon ad White Rock Canyon Trail, Arizona Hot Springs and Arizona Hot Springs Trail, Liberty Arch Trail, Lone Palm Trail, Sugar Loaf Trail and the Lone Palm and Sugar Loaf surrounding areas. See updates here.
Our advice: Take to the water. While the Goldstrike Canyon and White Rock Canyon Trails are closed this summer, the hot springs at the end of those trails are not. In fact, they're accessible by boat from Lake Mohave. Just limit your soak time. You know, because it's hot outside.
Graham Averill is Outside magazine's national parks columnist. He continues to be fascinated by how this winter's epic snowfall is impacting outdoor recreation well beyond the last of the flurries.