In Some National Parks, It's Literally Too Hot for Helicopters to Fly
With record-breaking heat grounding helicopters, the future of search and rescue—and park access—could be in danger.
Heading out the door? Read this article on the new Outside+ app available now on iOS devices for members! Download the app.
With this July clocking in as the hottest month on record, it's not just hikers who are suffering. Between unprecedented crowding at national parks and an uptick in dehydration and heat-stroke emergencies, search and rescue teams have been busy all summer rescuing stricken hikers while occasionally suffering heat illness themselves. And as if that weren't enough, some of them are doing it without one of their key tools: helicopter rescues. In some parks, it's just too hot to fly.
"When air is heated, it expands, so it's thinner than air that's cold," explains Brian Byrod, a helicopter pilot for California Highway Patrol's Valley Air Divisions, which responds to hiker emergencies throughout the Sacramento Area and Lake Tahoe. When air is thin, helicopters can't get the lift they need to fly. In parks throughout the U.S. this summer, helicopter crews have had to wait for nightfall and cooler temperatures to get off the ground. 
"That brings out major concerns for the patient, because if they're in critical condition, time is definitely of the essence," says Andrew Fitzgerald, branch chief of emergency services for Grand Canyon National Park. "If you have someone going into the heat stroke stage, then getting them to care in a timely manner is pretty important." 
In some places, the post-pandemic visitation surge and the record-breaking heat have proved a deadly recipe. Both Grand Canyon and Death Valley saw hiker deaths due to the extreme heat this summer. And temperatures in Death Valley National Park topped 130°F in July—well past the threshold in which helicopters can fly.

At lower temperatures, around 100 or even 110°F, pilots can leave behind litters, medical equipment, and other items to reduce the weight of an aircraft enough for it to fly. But at temps higher than that? 
"That's when we're going to have to start declining missions," Byrod says. "If it's at sea level and it's 130°F, we're not going to be able to take that mission."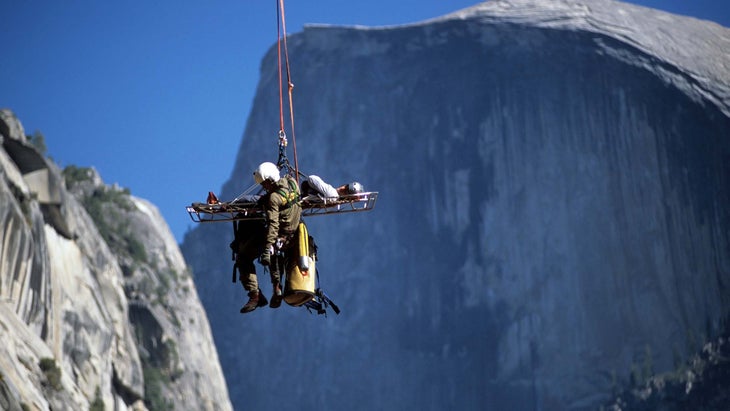 For rescuers on the ground, that's a major issue. Without air support, there's only so much that rescuers can do, especially in rough terrain.
"Park rangers are humans, too, and it's not safe for us to be out there when it's extremely hot, hiking through the heat of the day or, even worse, carrying someone, because that's very intense physical activity," says Abby Wines, press officer with Death Valley National Park. 
If temps top 120°F in Death Valley, for example, rescue personnel are required to take a 50-minute cool-off break for every 10 minutes they spend outside. That makes it tough to get a hiker out of trouble in a timely manner. In the Grand Canyon, helicopter rescue is sometimes the only option when a medical emergency occurs in the canyon bottom.

"Even in good weather conditions, trying to carry someone out from a point just three miles into the canyon is almost beyond our ability," says Fitzgerald. "It's brutal." Carrying the litter uphill in that kind of terrain is so difficult that it can require at least 16 rescuers to take turns. That leaves very few personnel on standby for other incidents—a huge problem given that multiple operations often happen simultaneously during peak season, especially on hot days when unprepared tourists are passing out left and right. 
Starting to think a high-altitude hike would be a better option for rescue if things go wrong? Think again. Low-elevation parks aren't the only ones suffering from the heat-grounded helicopters epidemic. That's because the insufficient-lift issue compounds at higher altitudes where the air is already thin, says Byrod, whose division serves several peaks that top 11,000 or 12,000 feet. 
"Sixty-five degrees is really hot for those altitudes. At that temperature, the aircraft is going to be really sluggish. You're going to have reduced performance," he explains. 
Hotter than that, and the chopper might not be able to fly at all. In 2007, an experienced pilot crashed in Washington State after taking off from about 5,000 feet in 70-degree temperatures. The diagnosis: The air was too thin for the pilot to maintain control of the aircraft. 
If temperatures in the U.S. continue to break new records every year, that could mean more grounded helicopters and more problems for rescuers—at low-country and high-country trailheads alike. Plus, Fitzgerald says, the record-breaking heat days aren't the only issue. His other concern is that the warm season will just keep growing longer.
"With warmer temperatures earlier in the spring and later in the fall, we're seeing more people visiting where they normally wouldn't if it were colder," Fitzgerald says. That has meant more incidents, including heat-related ones, at times when Grand Canyon is operating with a skeleton shoulder-season crew. 
Plus, Wine adds, shoulder-season hikers are often less prepared for the heat than those who arrive midsummer. (Death Valley sees the bulk of its heat-related incidents in spring and fall when it's "only" 105°F or 110°F, Wine says.) 
"I think it's a legitimate concern that we're just going to continue to see hotter temperatures for longer," says Fitzgerald. "So I do fear that our heat-related rescue load will continue to just rise." 
If that happens, hikers could stand to lose access. In July, the City of Phoenix Parks and Recreation Bard approved a pilot program to close some trails between 11 a.m. and 5 p.m. whenever the National Weather Service issues an Excessive Heat Watch. Death Valley used to do something similar, closing all its secondary access points on high-heat days.

Today, the park takes a different, more practical approach, relying on signage and education to strongly discourage hikers from venturing out past 10 a.m. on warm days. Spreading the word, Wine says, has proven the best way for Death Valley to protect hikers and its personnel—and other parks are following suit.

"For us, the number one thing we want to share with visitors is that they need to be prepared to change their plans," says Fitzgerald of Grand Canyon. "If there's a heat advisory, they just shouldn't go. Do something that doesn't involve hiking down to the canyon bottom. And if they do choose to go in, just be aware that rescue isn't a guarantee."