Iceland Wants to Turn Your Quarantine Sweatpants into Hiking Boots
Head to Iceland this summer and you can trek the lava fields in boots made from your pandemic work-, lounge-, and sleep-wear.
Heading out the door? Read this article on the new Outside+ app available now on iOS devices for members! Download the app.
After more than a year of lockdowns and travel bans, we're all looking for an adventure—and wondering what to do with the sweatpants we've been wearing for months. Iceland's travel bureau is answering both problems with one unusual solution. Visit the land of fire and ice this July, and you can drop off your quarantine sweatpants for upcycling into what the tourism board describes as a custom9zed, vegan, and sustainably-made hiking boot. They look pretty good, too: The campaign website promises cuffs that will "keep your ankles warm and emotionally supported," trail-ready outsoles, and a water-resistant upper body perfect for Iceland's rainy climate and abundant waterfalls.
While the boots are free, they're limited in quantity, and only available to visitors landing in Iceland in July 2021. If you're expecting a fully custom pair, you may also be disappointed, as visitors' sweatpants will only be used for the ankle cuff of the boots.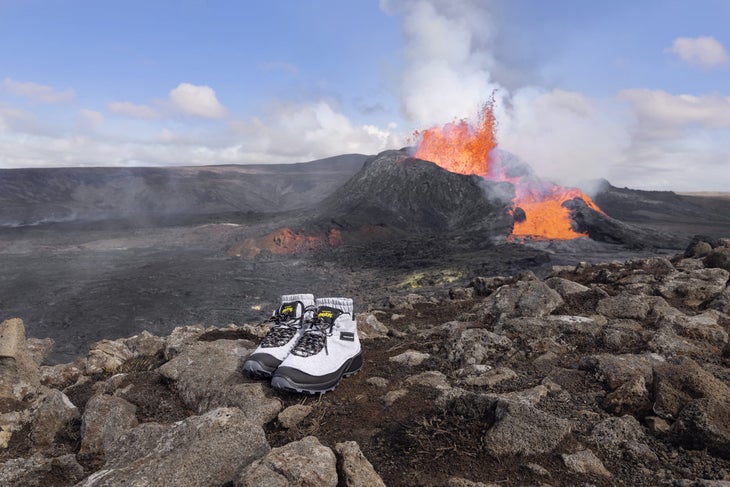 Tourism accounts for the lion's share of Iceland's GDP—north of 40%—and the pandemic hit the country hard. According to the New York Times, Covid-related downturns in the industry led to the layoff of about 8,000 people, or 4% of the country's workforce. Last year, the country's government pledged $12 million to improve infrastructure for the tourism industry; the bureau's boot's campaign is the latest effort to drum up publicity and draw in visitors.
With Covid restrictions beginning to ease, if you decide to visit Iceland this year, picking a trail to hike could be your biggest challenge. Hot springs or fjordside whale-watching? Inland ice sheets, or island-hopping with the arctic terns? The 33.5-mile Laugarvegurinn, a hut-to-hut hike great for those newer to the backcountry, treks through some of the most geothermally active areas on the planet, serving up hot springs and colorful mountainsides galore. The 20 mile Jökulsárgljúfur is far more remote, and follows the Jökulsá á Fjöllum River through a towering basalt canyon. For true solitude, you can test out your new boots to the the 42-mile Hesteyri to Kögur Loop, located in the island's northwest corner where sheep outnumber people.
Before heading out of Reykjavik, remember to check for current park and trail closures due to volcanic activity, and give eruptions and lava a wide berth: They can change erratically, and poisonous volcanic fumes spread much farther than the lava does. As Iceland's tourism sector warns, "sweatpant boots will not protect you from molten lava. Nothing will. Please adventure safely."