Grand Teton Hands Visitor 5-Year Ban, $17,600 Fine Over False Report in Missing Hiker Case
Mother calls report "extremely upsetting" but calls on hikers and mountaineers to continue search.
Heading out the door? Read this article on the new Outside+ app available now on iOS devices for members! Download the app.
The Park Service has banned a woman from entering Grand Teton National Park for five years and fined her $17,600 for allegedly lying to investigators who were searching for a missing Irish hiker.
The National Park Service has handed a 5-year ban and $17,600 fine to a woman for allegedly lying to investigators who were looking for a missing Irish hiker in Grand Teton National Park, the agency announced on Thursday.
In a statement released Thursday, officials with Grand Teton National Park said that Heather Mycoskie, formerly a resident of Jackson, Wyoming, "knowingly provided false information and a false report" to searchers combing the park for Irish hiker Cian McLaughlin, who went missing on June 8, 2021. Mycoskie told investigators that she spotted McLaughlin hiking towards Taggart Lake, where she said he "planned to jump off his favorite rock into the water." Mycoskie's report differed from all other potential sightings of McLaughlin, who witnesses said they had spotted walking on trails northwest of Taggart Lake that led towards Garnet Canyon, Surprise and Amphitheater Lakes, and Delta Lake. (Several months after McLaughlin went missing, forensic experts searching his computer noted that he had searched for information on Delta Lake shortly before his hike.)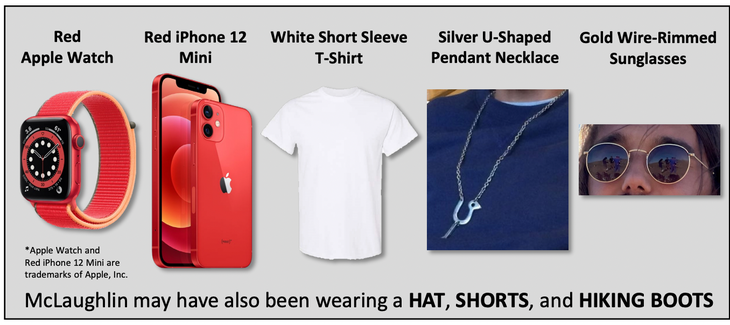 According to the park service, subsequent conversations with witnesses led them to believe that Mycoskie had fabricated the sighting in order to make sure that the search for McLaughlin continued.
"As a direct result of Mycoskie's false report, approximately 532 hours were spent conducting searches, managing search efforts, conducting follow up investigations, and completing associated reports," the park service wrote. "This wasted valuable time that could have been focused on searching areas of higher probability and it cost the Federal Government approximately $17,600."
Per a deferred prosecution agreement signed on June 10, Mycoskie will repay the estimated cost of the search, and will accept a 5-year ban from entering Grand Teton National Park.
This week marks the one-year anniversary of McLaughlin's disappearance. The 27-year-old from Dublin had been living in Wyoming for two years at the time he went missing. In an interview with RTÉ, Ireland's national broadcaster, his mother called the false report upsetting, but said she and McLaughlin's other loved ones "quickly put that behind" them to focus on continuing the search.
The NPS requests that anyone with information on McLaughlin's disappearance contact its tip line at 888-653-0009.