Death Valley's Visitor-Trapping, Car-Wrecking Flood Was Its Second-Wettest Day on Record
Park received 1.46 inches of rain, out of an annual average of 1.9 inches.
Heading out the door? Read this article on the new Outside+ app available now on iOS devices for members! Download the app.
Death Valley National Park's roads remain closed this week after the park received 1.46 inches of rain on Friday—about 77% of the park's average annual rainfall—trapping 1,000 people inside of the park. 
Debris from the flooding buried about 60 vehicles were buried by debris. Visitors began their exodus from the park on Saturday with law enforcement escorts. 
In response to the incident the park's superidentendent, Mike Reynolds, stated: "Death Valley is an incredible place of extremes." 
 "It is the hottest place in the world, and the driest place in North America," he said. "This week's 1,000 year flood is another example of this extreme environment. With climate change models predicting more frequent and more intense storms, this is a place where you can see climate change in action!"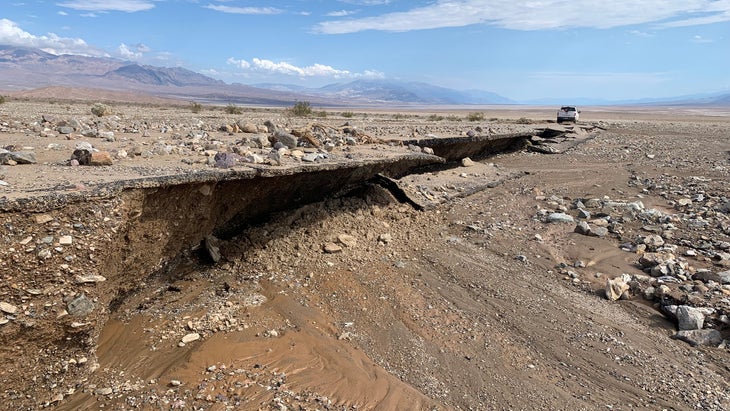 Friday's flooding destroyed many miles of the park's asphalt roads. Hundreds of miles of roads are also currently covered with debris, making most of the roads impassable. Park officials are expecting many of those roads to remain inaccessible for days or months, depending on the damage. 
In addition to road damage, hotels, businesses, and many park facilities experienced flooding. The Cow Creek Water system also experienced several breaks in the line due to flooding. Dumpsters collided with parked cars, which collided with other cars, stranding some visitors indefinitely. The remainder of the park is being inspected for damage. 
Death Valley sees an average annual rainfall of about 1.96 inches. Last year's biggest storm brought 0.62 inches of rain into the park over the course of a day. Friday was the Death Valley's second-wettest day since it began keeping track of rainfall in 1911, missing the high mark by just 0.01 inches.
The Death Valley flooding is one of three "1,000-year" incidents that took place over the summer. In late July, eastern Kentucky was inundated with rain, which resulted in devastating flash flooding. Somewhere between 14 and 16 inches of rain fell in this area of the state over the course of 5 days. In mid-June, unprecedented amounts of rain caused rockslides, mudslides, and flooding in Yellowstone National Park, permanently closing some of the park's roads. 
The California Department of Transportation hopes to reopen several sections of Death Valley's Highway 190 by Tuesday, clearing the way for travel. But it's not yet clear when the park will reopen for recreation.
"I want to thank park staff, the California Department of Transportation, and other partners who are working hard to reopen major roads for travel and manage this incident," said Reynolds. "With the severity and wide-spread nature of this rainfall it will take time to rebuild and reopen everything, and we appreciate your support and patience as we continue this work."