Pacific Crest Trail Thru-Hikes May Be Another Casualty of the California Wildfires
With the state's forest closures set to run through September 17, southbound PCT hikers could be out of luck for the season.
Heading out the door? Read this article on the new Outside+ app available now on iOS devices for members! Download the app.
Each year in late August and early September, dozens of southbound Pacific Crest Trail hikers reach California's northern border, marking their journey's halfway point as they enter Klamath National Forest. But this year, that may be as far as they go..
This week, the Forest Service announced one of California's largest wildfire closures in history, shutting all national forests within the state's borders until at least September 17. Traveling on Forest Service land, trails, or roads can result in a $5,000 fine for individuals, and a $10,000 fine for an organization. 
Prudent? Probably. But for thru-hikers headed south on the Pacific Crest Trail, it's bad—and potentially hike-ending—news. With the exception of Yosemite National Park, Kings Canyon National Park, and Sequoia National Park, most of the California section of the PCT travels through national forests, which essentially means it's closed. It's possible that fire closures will be lifted mid-September, but uncertain fire conditions may continue to put the rest of the backpacking season at risk—and for hikers hoping to get through the mountains before the snow comes or they run out of money, it could be an unwelcome squeeze.
Samantha Reho, a spokesperson for the Forest Service, said that these closures are intended to act as preventative measures for forest fires, and it isn't a coincidence that these closures are taking place right before Labor Day.
"We understand this decision is especially hard with the approaching Labor Day weekend, when so many people enjoy our national forests, but we don't compromise when it comes to public safety," Reho said. The Forest Service hopes the measures will limit risk to hikers and campers, while also reducing the risk of additional human-caused blazes. Current dry conditions have allowed fires to spread quickly, and officials don't expect relief from the weather any time soon.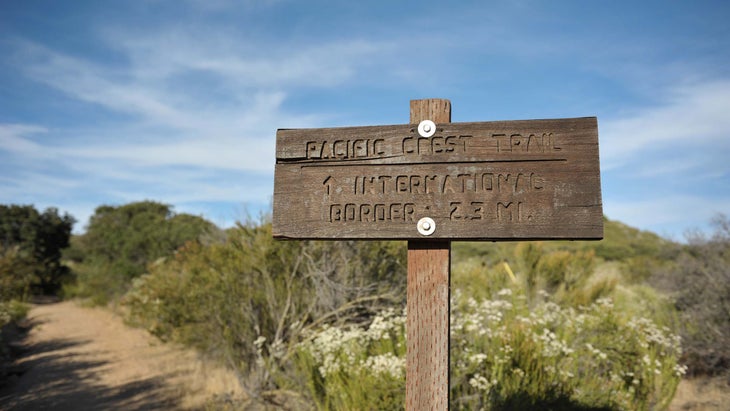 On its blog, the Pacific Crest Trail Association said that the closures would have "a huge impact" on the trail community.
"Hikers and horseback riders may need to think about ending their trips in California for the season," the organization said. "Our hearts go out to our friends, staff, partners, volunteers, donors, and community members who live in places that are impacted by these devastating fires and public lands closures."
When asked if she expects these fire closures to extend past September 17, Reho said it was too early to speculate. 
"Weather conditions can change daily, and sometimes hourly, so we will continue to monitor the conditions on the ground before making any decisions on whether or not to extend this temporary closure," she said.  Of note: Eldorado National Forest is under a separate closure order that began August 17 and goes through September 30. While the Eldorado National Forest closure shouldn't impact Pacific Crest Trail traffic, its extensive closure could be an omen.
The state of California is currently reporting 13 large active fires, with only 3 of those over 50 percent contained. The largest of those fires is the Dixie fire, which is currently impacting 765,635 acres just northeast of Paradise, California. The Caldor Fire, which is just over 204,000 acres and growing, has forced the evacuation of South Lake Tahoe and surrounding communities. As of August 30, California has seen 6,959 fires, which have burned over 1.8 million acres. Last year, by this time, the state had seen 7,632 fires that torched 1.7 million acres. 
Reho said that the Forest Service recognizes the inconvenience that this closure presents, and thanked hikers for respecting the order. 
"Every decision we make prioritizes public safety, and we are grateful to work with partners such as the Pacific Crest Trail Association for their cooperation and understanding of this decision," she said. "I want to reiterate [that] by temporarily reducing the numbers of people on national forests, we hope to minimize the likelihood that visitors could become trapped on National Forest System lands during emergency circumstances."For a list of current PCT trail closures, click here.