After Visitors Trashed it, the Forest Service Has Closed Max Patch to Camping for Two Years
Forest Service hopes new restrictions will help the popular Appalachian Trail peak recover from visitors' impacts.
Heading out the door? Read this article on the new Outside+ app available now on iOS devices for members! Download the app.
One year after a crowd of campers left popular Appalachian Trail peak Max Patch strewn with garbage and human waste, the Forest Service's Appalachian Ranger District has announced a two year ban on camping in the area. 
Besides the camping ban, the Forest Service enacted a host of other restrictions on the peak. Hikers may only visit Max Patch between 1 hour before sunrise and 1 hour after sunset. Riding horses on the bald is prohibited, dogs and other animals must be leashed, and groups are limited to 10 people or fewer. Violators face fines as high as $10,000. 
Max Patch's 360-degree vistas have earned it a reputation as one of the best overlooks in the south. It's a cherished destination for Appalachian Trail hikers who weave their way across the top, and one of the best star-gazing destinations in the country.
That popularity has come with a price. In September 2020, a drone captured footage of dozens of tents and piles of trash littering the peak. Max Patch was being mobbed, leaving local trail advocates and land managers trying to brainstorm solutions, ranging from expanded parking and trash infrastructure to educational programs and increased patrols by rangers.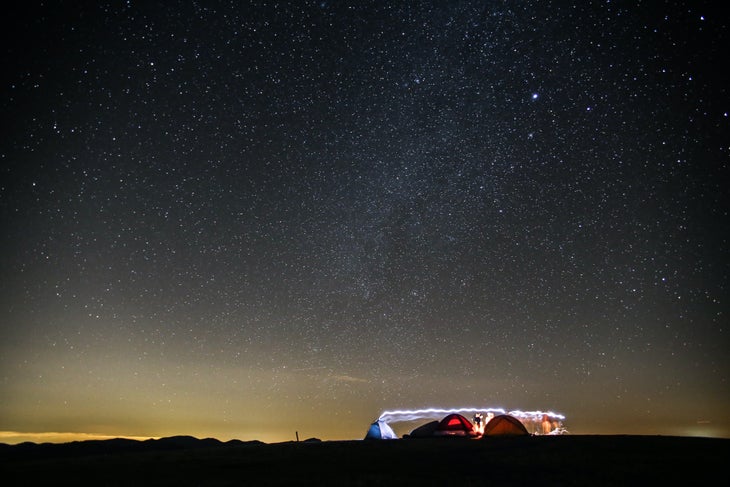 Ultimately, the Forest Service decided to take more drastic action. In a press release announcing the decision,Jen Barnhart, District Ranger of the Appalachian Ranger District, said that the current situation was a "public safety hazard as well as [causing] serious damage to wildlife habitat."
"This spot is easy to access, with it being a fairly short loop hike to a 360-degree view, and attracts a lot of users who may be new to the outdoors and may not have developed a strong land stewardship ethic," Barnhart said in an interview.
According to Barnhart, overnight use has significantly increased over the past 10 years, creating sanitation issues from human waste and long-lasting impacts from tent sites and fire rings. While the Max Patch Visitor Use Management Committee, a group tasked with developing solutions to the area's woes, has discussed adding toilets, Barnhart said that "no final decision has been made at this time."
Parking has been an issue as well, Barnhardt said. When lots fill up, visitors park on the shoulder of the nearby state highway, occasionally causing hazards to traffic.
The Forest Service, Carolina Mountain Club, and Appalachian Trail Conservancy have been working diligently to enact protections on the peak. Together, the groups have worked to host clean ups on the bald, implemented educational campaigns and repaired trails. But the damage appears to be occurring faster than local groups can remedy it.
It's unclear which regulations will remain in place after the 2-year camping ban is up. As of right now, both the Forest Service and local hiking groups hope that a pause to the disruptions will help to heal the mountain's vegetation while reducing fecal matter and trash. But it's possible that the Forest Service may enact a permit system to limit the number of campers on the summit in the future.
Barnhart, for her part, remains hopeful about the effort's potential.
"We expect it to have a positive impact on the area, with areas being able to recover from camping and fire impacts as well as the user-created trails that we've closed off becoming more naturalized, a reduction in human and dog waste and litter, and hopefully contribute to visitors becoming better informed about their impacts as well as caring more for their public lands," she said.