A Scofflaw Drone Pilot Killed a Generation of Seabirds
Whether by driving off nesting birds or separating baby bighorn sheep from their parents, illegal drone pilots are putting wildlife at risk. What will it take to rein them in?
Heading out the door? Read this article on the new Outside+ app available now on iOS devices for members! Download the app.
For bird lovers, the photos are heartbreaking: Hundreds of eggs lie on a Southern California beach, each tucked into a dimpled nest in the sand. All of them are abandoned, without a single adult bird in sight.
That was the scene that confronted wildlife managers last month after an unknown pilot crashed a recreational drone into Bolsa Chica Ecological Reserve, a protected wetland area in Huntington Beach. The victims: roughly 2,000 elegant tern eggs, no longer viable after being abandoned by the parents who should have been incubating them. While the disaster won't drive the terns into extinction—there are at least 100,000 of the birds worldwide—it raises questions about how the growth of cheap, widely-available drones could begin to put more species at risk worldwide.
Drones have been a persistent nuisance in Bolsa Chica, which drew an estimated 100,000 visitors last year. Rules against their operation haven't curbed the problem; in fact, the crash on May 13 wasn't even the only incident at the reserve that day. According to the Orange County Register, which first reported the incursion, another drone crashed in a fenced nesting area for the least tern that day as well, though the frightened birds eventually returned to their nests. (The owner received a citation when he contacted authorities to retrieve his drone.)
It might seem obvious that drones scare off wildlife; that's one reason the machines have long been banned at national parks. In Zion, for example, a pilot scattered a herd of bighorn sheep during an illegal flight in 2014, separating some lambs from their parents. However, some birds are surprisingly tolerant of them. In a study conducted in France in 2014, researchers from the University of Montpellier flew drones around flamingos, mallards, and greenshanks in both captivity and wild locations. About three-quarters of the birds didn't react, even when the drone got to within 13 feet.
However, the researchers noted, there were some significant exceptions. While the birds rarely reacted to drones approaching horizontally, they almost always fled from drones approaching them from above—as, say, a drone cratering into the beach would—"maybe because it was associated with a predator attack."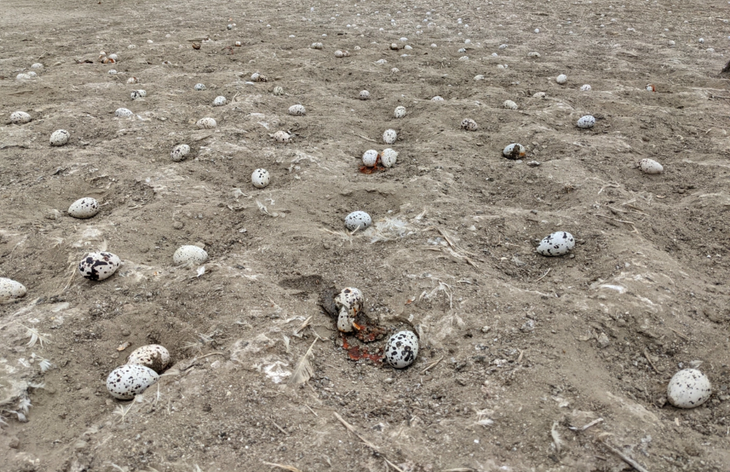 And even when birds don't flee, there's evidence that drones might negatively affect their health and chances of survival. In a 2015 study, a team from University of Minnesota led by biologist Paul Dittmer buzzed black bears with drones, recording their responses and measuring their heart rates with an implanted monitor. While most of the animals didn't outwardly react, their heart rates spiked, in one case by approximately 400 percent. There's evidence to suggest that birds confronted with a drones or other unfamiliar stimuli experience similar stress: As the authors of the French study wrote, "numerous studies showed that disturbance can lead to increased heart rates and/or corticosterone levels in birds that do not react behaviourally," potentially leading them to burn hard-won energy altering their habits. With 8 different threatened or endangered bird species nesting, breeding, or living year-round at Bolsa Chica, it's easy to imagine the damage an unlucky hard landing could do.
While flying drones is already illegal at Bolsa Chica, it's difficult for California's Department of Fish and Wildlife, which only employs three officers for all of Orange County, to consistently enforce the rules. With scofflaw pilots continuing to visit, wildlife managers are looking at other options—from volunteer greeters to asking the FAA to declare the area a no-fly zone—to keep the seabirds on their nests where they belong.