Long Live the King: Otis Is Your 2021 Fat Bear Week Champion
The 25-year-old grizzly beat a younger field to take home his fourth title.
Heading out the door? Read this article on the new Outside+ app available now on iOS devices for members! Download the app.
Become an Outside+ member today and get access to everything we publish, plus free subscriptions, a Gaia GPS membership, and much more.
The dust is settled, the salmon are eaten, and the votes are counted: There's a new reigning Fattest Bear, and his name is 480 Otis. On Tuesday, the 25-year-old bruin took the title once again, beating 151 Walker in the final round of polling to lock up his unprecedented fourth Fat Bear Week Championship.
It's a reversal of fortune after a difficult start to the fall feeding season for Otis. After the bear failed to turn up at Katmai National Park and Preserve's Brooks Falls by mid-summer, viewers on Explore.org's livestream began to wonder if they had seen the last of Otis. Most wild bears in the park only live to between 20 and 30 years old. When they pass away from disease, starvation, or injuries incurred in showdowns with other bears, their bodies are rarely found by rangers, instead quietly disappearing into the backcountry of the park. Finally, in late July, the park announced that a rather slim-looking Otis had returned to his old fishing grounds once again.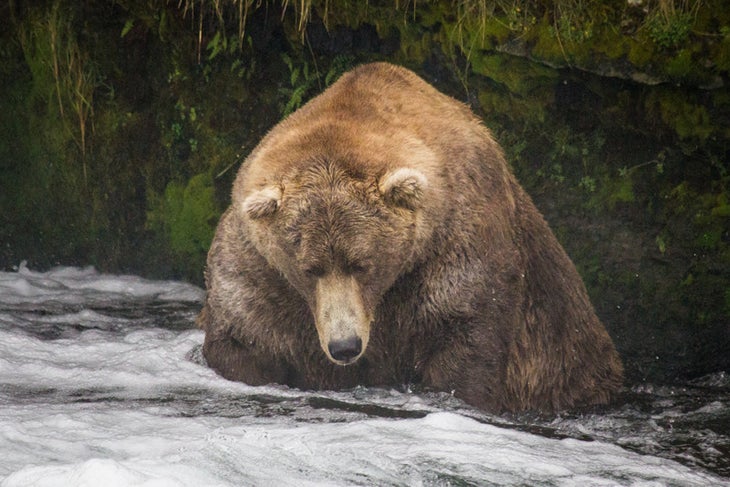 Over the next few months, Otis blew up, gorging himself on his typical fall diet of salmon plucked out of fishing holes at the falls. While no one has yet lured Otis onto a scale, in the past rangers have estimated that he would weigh in north of 1,000 pounds, and to the casual observer, he looked as chunky as ever. 
Still, he was anything but a shoo-in for the Fat Bear Week title. At his quarter-century mark, Otis is the oldest bear regularly observed at the falls, and he faced stiff competition from much younger animals. While he had won the title three times—more than any other bear—the last was in 2017.
But in the end, Fat Bear Week is essentially a popularity contest, and Otis's dogged persistence seems to win over the hearts of viewers. He steadily advanced through the bracket, finally capturing the title on Tuesday in a close contest.
Though Fat Bear Week is good fun for viewers, it's life or death for the participants, who need to last the entire winter on the stored fat they accumulate during their fall feeding period. As they get older, and less able to compete for the prime fishing spots, survival only becomes more difficult. But while it may be tempting to declare that this year's title is Otis's final hurrah, the geriatric bear has been counted out before and come back as strong as ever. For now, park officials say, the newly minted champ seems to have only one thing on his mind.
"As we celebrate his win, like a true champion 480 is still hard at work chowing down," they said.
Become an Outside+ member today.