New To OR: Hillsound Equipment and Rock On Apparel
OR daily sits down with two exciting new gear companies: Hillsound Equipment and Rock On Apparel.
Heading out the door? Read this article on the new Outside+ app available now on iOS devices for members! Download the app.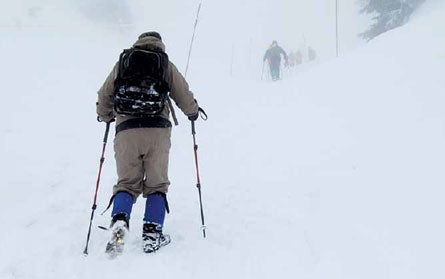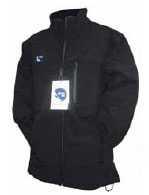 Field testing the Hillsound trail crampon.



Kris Choi, sales manager, Hillsound Equipment
Describe your company's product in 10 words or less.

➜ Superb traction on ice and snow. Easy. Functional. Flexible. Packable. Who is your target customer? ➜ The Hillsound Trail crampon is intended for the average hiker. It's not too heavy or technical, just well-built, simple and well-priced for everyone. We are constantly innovating with feedback and suggestions from customers and creating new designs to better suit every need.
If you only had 1 minute with a retail customer, what is the one thing you would tell them about yourself and your company?

➜ We felt there was a need for versatile traction, something more stable than the spring coil design and less aggressive than a technical crampon. A device that will service the local mountains in North America and across the world.
Tell us about your company name.

➜ What comes to mind when you hear the word "hill"? Forests, meadows full of wildflowers, and a trail winding around a picturesque glacial lake. Do your visions come with a soundtrack? We believe an essential part of the outdoor experience is auditory—the sounds of birds chirping, the wind blowing though the trees, trickling streams, a coyote howling. The people who work at Hillsound Equipment like to experience nature through all of our senses.
What were you doing before you launched your current business?

➜ Before the Hillsound Crampons came along, we started out with Hillsound Equipment Store, an outdoor shop located in Vancouver's outdoor sports shopping district.

Rob Manson, president, Rock On (pictured: Rock On softshell)
Rob Manson on Rock On: "We produce high-quality clothing and gear for backpacking and climbing at a price climbers and backpackers can afford. All of our products are built to withstand the abuse we put our personal gear through over years of use. Our products were designed in the field, not in the boardroom, and include the extras that real climbers want. Lastly, unlike others, our prices are not low as a result of reduced quality. We have made a conscious decision to cut our margins and pass the savings to the retailers and climbers."
Why is it important for your company to be exhibiting at Outdoor Retailer?

➜ This show is hands-down the absolute best conference for sales and networking in the outdoor industry. It's essentially a meeting of the minds for the entire industry and its end users.
If you only had 1 minute with a retail customer, what is the one thing you would tell them about yourself and your company that will explain how and why you started designing and manufacturing your product?

➜ We have been gear abusers since we were teenagers, which is now forever ago. We finally had enough with overpaying for gear and always wishing that it had "a pocket here" or "an insulating layer there" or something else. We decided to take matters into our own hands and make the right gear at the right price.
Tell us what the name of your company means or where it came from.

➜ Rock On is a company that embodies everything our name represents. We love to climb, listen to music, stay out too late at night and get up early to do it again. If your mantra is "I'll sleep when I'm dead," our gear is perfect for you. Rock On!
What is the best advice you have ever received that has helped your company establish itself?

➜ Be honest and always do the right thing.
What were the founders of the company doing before they launched your current business?

➜ Our founders were "living the dream" in financial services technology and HVAC.
— ORD powered by SNEWS (www.snewsnet.com/ordaily)