Moose Falls Into Idaho Family's Basement
Animal appears to have been searching for food in deep snow.
Heading out the door? Read this article on the new Outside+ app available now on iOS devices for members! Download the app.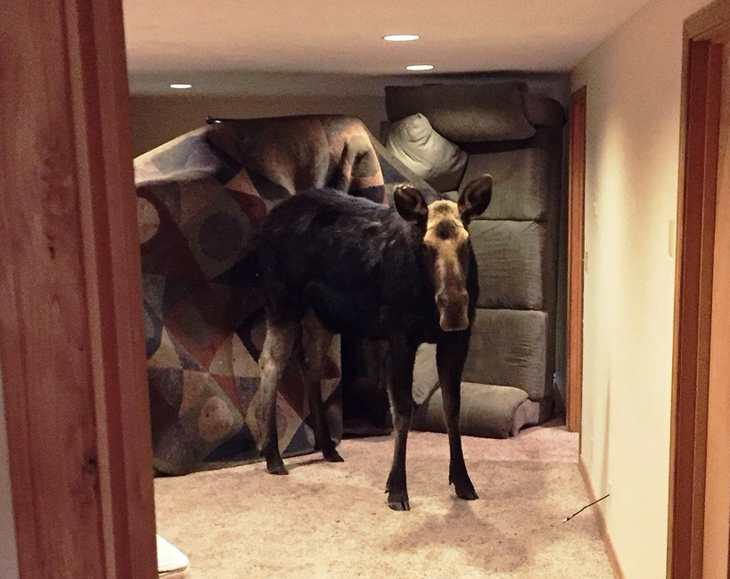 What's the best place to see wild moose? Large stands of softwood trees, mountain lakes—and if you're one Idaho family, your basement.
Police, sheriff's deputies, and Idaho Fish and Game officials teamed up early Sunday morning to rescue a moose that fell through a window well and into a basement in the town of Hailey. In a Facebook post, Fish and Game said that officers at first tried to herd the animal back up the stairs, but "The moose was having none of it, charging the officers several times."
After several failed attempts, a wildlife manager arrived and sedated the ungulate. Officers then carried the snoozing animal up the stairs and out the front door.
"It woke up in the snow, groggy and confused, but free," Idaho Fish and Game's post reported.
In its own Facebook post, Blaine County Sheriff's Office speculated that deep snows may have driven the animal into town in search of food.
This isn't the first time that Idaho wildlife officials have had to remove a game animal from a basement in Hailey: Last winter, officers had to remove a cow elk that crashed through the window of a house. One of the officers who responded was on scene at Sunday's incident as well.