Meet the High School Teacher Who Finished the Entire Triple Crown in a Calendar Year
Only a handful of other thru-hikers have completed the big three in one year.
Heading out the door? Read this article on the new Outside+ app available now on iOS devices for members! Download the app.
On November 15, high school teacher Charlie Janssen strode toward New Mexico's Crazy Cook monument and joined an elite class of thru-hikers. Janssen is one of a dozen or so people to complete a Calendar Year Triple Crown, having hiked the Appalachian, Pacific Crest, and Continental Divide trails all during 2022. 
Janssen started at Springer Mountain on February 3, and over the course of 285 days, he covered 7,546.8 miles—since the CDT has many alternate routes that hikers choose between, mileage for the Triple Crown varies. All year, Janssen took only three true zero days, plus five for traveling between trails, four when he was sick with Covid, and three to attend a friend's wedding. 
Due to seasons and persistent snowpack at high elevations, most CYTCers jump from trail to trail rather than hiking them straight through. Janssen made it from Georgia to New Hampshire before snow in the White Mountains forced him to transfer over to the southern PCT. Once he hit snow in northern California, Janssen returned to the east coast to finish off the AT, then returned for the remainder of the PCT in early summer. He finished with a continuous, 91-day southbound thru-hike of the CDT. The entire journey covered 2.5 million feet of elevation change–the equivalent of climbing Mt. Everest from sea level more than 43 times. 
Though only a handful of hikers have completed a Calendar Year Triple Crown, Janssen says he may be part of the largest class in history to attempt—and finish—in a single year. According to Janssen, 12 hikers attempted the CYTC in 2022 (more than ever at once, he thinks) and at least two or three other hikers are on track to succeed. We chatted with Janssen about his year on the trail. 
Responses have been edited for length and clarity.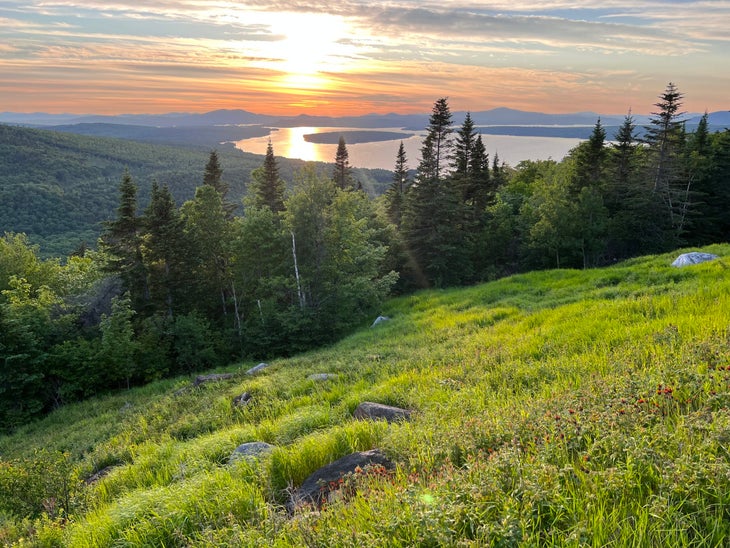 BP: What inspired your CYTC attempt?
CJ: My first inspiration for doing it was when I was on the Appalachian Trail in 2012. That's kind of when I first started thinking it was feasible. I didn't even really know that a Calendar Year Triple Crown was even a thing, but I kind of pondered the feasibility of it. And so really over the period of nine years, I tried to research and look into it more and more in depth. But, you know, there'd only been about a dozen people before me that had ever done it. There's not a whole lot of data floating around.
BP: So after thinking about it for nine years, why did you decide to attempt the CYTC in 2022?
CJ: First of all, I really wanted to test my physical and psychological limits. I felt like I was like my own lab rat in my own experiments. I guess socially as well. The social isolation that everybody experienced during quarantine, I was like, oh, it wasn't that bad. I can do that for longer and in a lot more isolation. 
My wife and I are at a crossroads too. I'm a high school teacher and cross country and track coach. It's something I always wanted to do. We really didn't have anything that we're completely tied down to right now. So I either do it now or wait till I'm like 60.
There's a lot of factors. Processing grief and trauma. Proving to the kids that I teach and coach that anything's possible. And to prove that a strong marriage makes you stronger and tougher, not softer. There were a million reasons. 
BP: What was the hardest part?
CJ: The physical toughness, I honestly thought was going to be a lot harder than it was. I just thought that it would have been physically more daunting, and I'm just lucky and grateful and fortunate that my body held up as well as it did. 
I dealt with some infections early on. One was cellulitis. The other one was strep, like a blood infection in my legs. So that could have been potentially hike-ending. I had some hip flexor tendonitis. But other than that, everything was really shockingly good.
I got really frustrated with the snow in the high Sierra. It was just like a sunup to past sundown operation pretty much every day. I got so mentally worn out from seeing all the snow. It was this posthole nightmare operation. I just remember, it was so slow for so many hours this one day. And I was just tired. I had had one real break day in like 130 or 140 days.
I got out of this sketchy, high-angle part. I was still in so much snow and it was just soft. And I remember throwing my poles down and I sat down against a tree and sobbed.  At that point there were only about 20 people ahead of me on the whole PCT. So you're kind of cutting your own trenches. You can't really see where the trail is. It was just hard.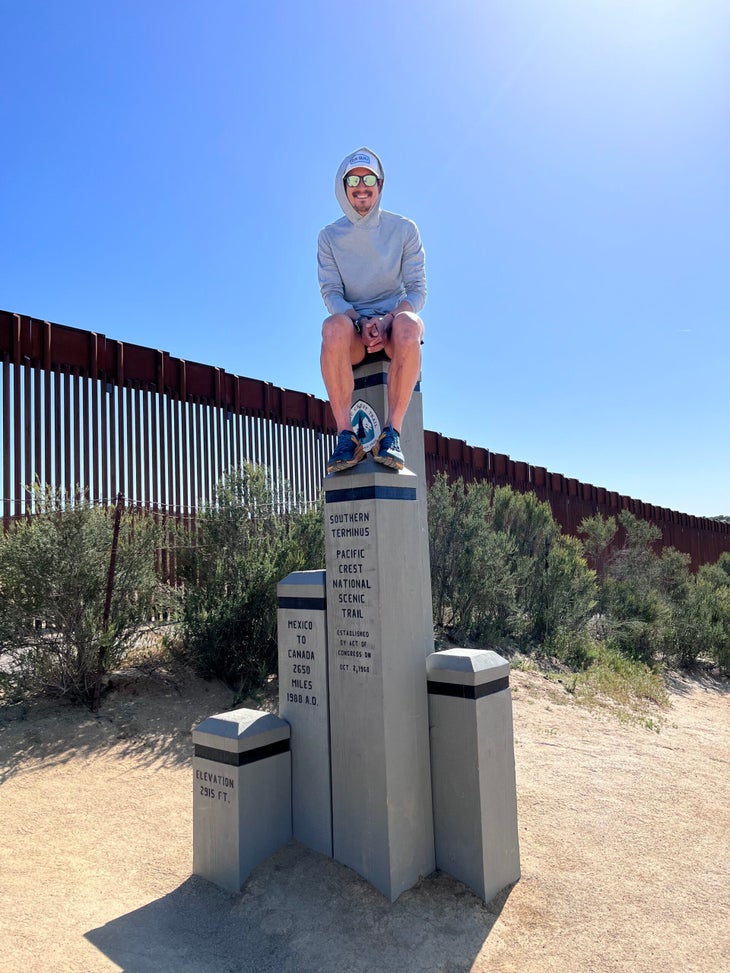 BP: How about the high point?
CJ: I would say of the three trails, the PCT is my favorite. There were people from all over the world, especially in the first 700 miles. I started April 17. That's right in the middle of people's permit window. So I was running into hundreds of people. It was really fun. And my wife is a traveling nurse, she was in Bakersfield. So I got to see her a whole lot and she'd been doing trail magic for everybody. So to me, it kind of felt a little bit like a party. 
Coming off the AT, I didn't see a single other northbound thru-hiker from Hampton, Tennessee, until I got off in Kinsman Notch, New Hampshire. So switching over from a really cold, snowy, humid Northeast, to going down in the Mojave of California where the weather was really good and the hiking's easier, and there's a lot of awesome people, that was awesome.
BP: How did it feel to cross the finish line?
CJ: Weird. I thought I would have been a lot more emotional than I was. I kind of was in that state of shock. My wife, my mom, and my mother-in-law were all there, too.
And about an hour before I finished, three other southbound CDT thru-hikers finished. That was awesome. We ended up picking them up and it was great for me to chat with them and like detox. I only saw 26 total southbounders from Canada to Mexico along the entire CDT. Looking just at people numbers, that was the loneliest trail. It was really great to hang out with those three guys and just decompress.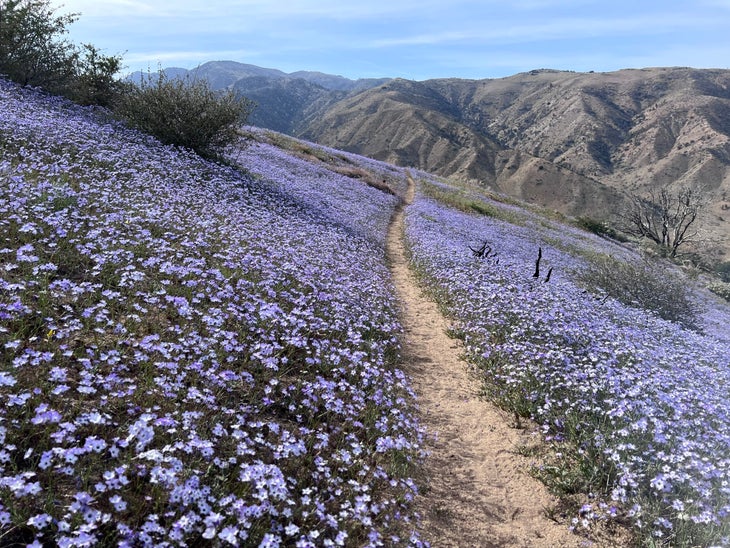 BP: What did you learn from the CYTC? 
CJ: First of all, it was like a huge mental reset. It was so great to be able to join that really small group of people that's ever done this. Ultimately though, you really experience the best of humanity and the best of nature. And that's what I always find super refreshing, especially in such a politically and socially divisive and a tumultuous time.
It was really cool just to see that I was actually able to do it. I wouldn't have been able to do it without the trail community and the awesome trail angels, Good Samaritans, and especially my family and my logistically genius wife.
The crazy thing is though, I went out there to really find my physical and psychological limit.There were certain days I met my limits. But if you're looking at a big picture, that remains elusive.