Meet the Gear Testers: Nancy Prichard Bouchard
Nancy believes you get what you pay for.
Heading out the door? Read this article on the new Outside+ app available now on iOS devices for members! Download the app.
Nancy Prichard-Bouchard

Freelance Writer

Bend, OR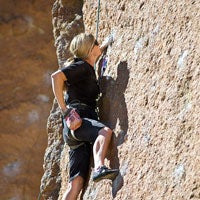 Height: 5'6″

Weight: 125 lbs.

Shoe Size: 8.5 – 9

Unusual Sizing: Big Shoulders from climbing and moving irrigation pipes as a kid on our family farm
My most memorable gear-testing story: My first snow camping experience, up on Mt. Hood. In highschool, I had friends who were a bit older, male and very much into snow camping. I knew pretty much nothing about it, but it was something my Dad let me do as a high schooler, because, as he correctly thought, how much trouble can you get camping in the snow?. The trouble came when one of my tent mates was fooling with a new stove. He lit the tent on fire, as we were on the receiving end of a classic Cascade mountain storm, we ended up hiking down in the dark to Timberline Lodge and spending the night in the mountaineer's shelter.
My "gear philosophy": "Light is Right," a philosophy pioneered by my husband, John Bouchard. Also, "you get what you pay for."
My greatest outdoor achievement: In the '90s I was counted as one of the best female ice and rock climbers in the country – but my achievement was that I became an inadvertent role model for aspiring outdoor athletes.
How I got involved in gear testing: I started writing about gear with my first journalistic gig as an intern with Sunset magazine (I was at Robert D. Clark Honors College on the U of Oregon campus, and had just been accepted to the School of Journalism. Later, when I was completing my Ph. D. at CU in Boulder, I signed up as Rock & Ice's executive editor to help support my academic habit. At R&I I helped develop the first gear test the magazine had ever run (climbing shoes). Then, as I continued in the world of journalism, I wrote for a variety of publications, including Backpacker, Playboy, Men's Journal, Outside and National Geographic Adventure.
What makes me a great gear teste: My husband and I are both addicted to outdoor sports—and we've passed along that part of our DNA to our 3 daughters. We ski more than 100 days a year, climb about half of that, and run, bike, swim and hike the rest of the year. Rarely a day goes by when I don't hike, climb or ski.
My coolest backpacking trip: Climbing Mt. Rainier a couple of seasons ago. I'd always been more of a fan of the vertical—the idea of walking in the snow so far hadn't appealed to me. But being self-sustained on a big mountain like that was a blast.
My dream adventure: Living in Bend with a husband and 3 daughters.
More about me: After so many years of testing, I know that what I write has an impact on people's outdoor experience and wallet. Friends, family and strangers take me at my word—and I take the responsibility of providing the right guidance very seriously. Don't expect a lot of fluff or press release-friendly quotes in my reviews. If the product works, I'll tell you why and for whom. But if it isn't something I'd buy and use for myself, you won't waste your time reading about it.