Meet the Gear Testers: Kelly Bastone
Tester Kelly has tough standards, and it takes a lot to convince her that something new can replace what she already has.
Heading out the door? Read this article on the new Outside+ app available now on iOS devices for members! Download the app.
Kelly Bastone

Backpacker Contributing Editor; Freelance Writer

Steamboat Springs, CO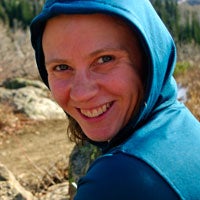 Height: 5'0"

Boot Size: W 6.5

Torso Legth: 16"

Hemmed pants and accordion-style sleeves are de rigeur on my small frame.
My most memorable gear testing story: I've been coordinating a lot of the tent reviews over the past few years, so I'm constantly grabbing different shelters to use. For one trip, I was rushing to get out the door and neglected to check whether the tent sack included all parts. It didn't–it was missing the poles–but we lucked out big time, and only saw a little drizzle, on the last night!
My "gear philosophy": For a gear tester, I'm surprisingly un-covetous of new stuff. I tend to stay intensely devoted to my tested, trusted standbys. Only, I don't often get to use them because I'm always testing new things.
My greatest outdoor achievement: Pulling my daughter (in a sleigh) and 60 pounds' worth of gear to Colorado's Sangree M. Froelicher Hut–and back out again, through rotten, posthole-ridden snow, with a broken ski. It took our entire team of four adults to help that happen, which is when you know you're on a real adventure–when the trip requires people to work together as a team.
My coolest backpacking trip: One of my first-ever backpacking trips was an ill-conceived winter hike in the Pennsylvania woods with my sister. Our stove malfunctioned, so we had nothing to eat. Our summer pads left us shivering all night. I lay there wondering what in tarnation I was doing there, loving it all the while. We just giggled away most of that sleepless night.
My dream adventure: I'd like to ski the Haute Route, and eat fondue. And just this week, I hatched an obsessive urge to flee to the Grand Canyon's Toroweap district and spend a month crawling among its remote reaches and pictographs.
More about me: I'm a hobbit at heart. Grand adventures are splendid and all, but I like them best when they end at the pub, or at a big plate of strawberry pancakes. I'm a mother of one toddler daughter. In 2003, I thru-hiked from Springer to NJ on the Appalachian Trail.