Meet the Gear Testers: Jon Dorn
BACKPACKER's former Editor-in-Chief says that his best tester quality is his clumsiness.
Heading out the door? Read this article on the new Outside+ app available now on iOS devices for members! Download the app.
Jon Dorn

Editor-in-Chief, BACKPACKER 

Boulder, CO (b. Dayton, OH)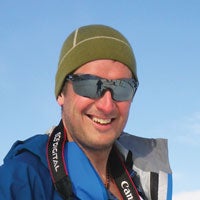 Height: 6'6"

Weight: 215 lbs.

Boot Size: 13

Torso Length: 19.5 in.

Unusual sizing: tall gear
My most memorable gear testing story: Once while testing a new lightning detector – a small battery-powered device that was supposed to beep as ligthning came near – I was nearly struck by lightning when the detector failed to beep. Later, under perfectly sunny skies, the thing started honking like crazy.
My greatest outdoor achievement: Completing an expedition adventure race called Primal Quest Utah in 2006. We covered 450 miles of southern Utah wilderness in 8.5 days with 27 total hours of sleep, combining hiking, navigation, mountain biking, rock climbing, kayaking, and rafting. Physically and mentally, it was the toughest thing I'd ever done — and still is. We finished middle of the pack, which was a great result given than many pro teams were made up of people without full-time jobs like ours. But the greatest sense of accomplishment came from discovering just how resilient the body and spirit can be, and how far I was able to push myself beyond – waaaay beyond – my previous limits.
How I got involved in gear testing: Kristin Hostetter hired me to review a sleeping pad cover after I'd written a story on porcupines for another Backpacker editor. It was a test run for me, and I guess it worked out okay, because she gave me lots of assignments after that. I was really interested in being an outdoor writer, and gear testing was a great way to start making that happen.
What makes me a great gear tester: I fall down and run into things a lot. Being uncoordinated and somewhat careless about gear means it gets a lot of abuse when I'm using it.
My coolest backpacking trip: It all goes back to Alaska for me. That's where my daydreams started, where I've had my most memorable trips, and where I dream of going next.
My dream adventure: That's a hard one. I have a half-dozen in Alaska, like a hike-fish-and-raft in the Brooks Range. And someday I'd like to thru-hike the Grand Canyon end-to-end.
More about me: I always carry a GPS and trust those things with my life, but my idea of a fun afternoon is to turn it off and get lost for a few hours in a place where I know I can find my way out. Just wandering in the woods without a specific idea of location has a way of making me notice my surroundings so much more.