Meet Randy Propster
Randy Propster is hitting the road and traveling throughout the country for Get Out More.
Heading out the door? Read this article on the new Outside+ app available now on iOS devices for members! Download the app.
1. What made you decide to return to the Get Out More Tour?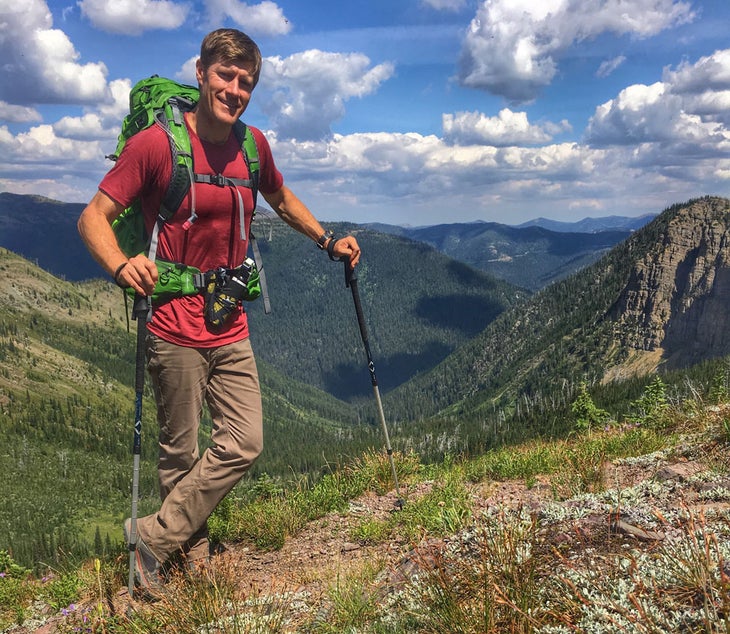 I needed to feed my passion. My life has been so profoundly and positively impacted by the connection that I have with the outdoors, and as a Backpacker ambassador and as the host of the Get Out More Tour I get to not only live that passion by spending 100 plus days a year hiking, camping and backpacking, but I also get to share that passion with others while educating and inspiring them with tips and techniques that will enhance their own outdoor experiences.
2. What are you most excited about when it comes to this year's tour?
Sharing some trail time with Backpacker readers. While I love visiting specialty retailers and engaging with attendees at outdoor festivals because it gives me an opportunity to share my experiences and stories from the trail, I'm extremely excited that the 2016 Tour has integrated a handful of adventures that will allow me to get out on trail with readers, creating new stories together. I'm engaging with Readers by having them share where they would like to go for a hike by sending me their name and favorite hiking spot to: gom@aimmedia.com
3. Why do you think these kinds of events are important?
Life changing impact. Sounds extreme, but it's true. I've seen time and time again the life changing impact that results from providing the inspiration and information someone needs to be able to go out and create a connection with the outdoors. I've felt it in my own life, a genuine connection with the outdoors offers countless physical, mental, emotional, and spiritual benefits. An event like the Get Out More Tour provides me with an opportunity to share my experiences in a way that will eliminate misconceptions, identify challenges and offer proven solutions to everyone in search of the tools that they need to be able to feel self-sufficient while spending extended periods of time outdoors in search of that connection for themselves.
4. Tell us what life is like on the road during the tour.
I am honored and humbled to have the opportunity to live on the road with the Get Out More Tour. I absolutely love to travel and explore, and when I'm not presenting at a specialty retailer or representing Backpacker and the Tour sponsors at an outdoor festival I'm searching out my next adventure. I camp as many nights as possible throughout the Tour (over 100 nights), and I try to discover as many of the ultimate hiking and backpacking destinations as possible throughout the country (send me your local advice to gom@aimmedia.com). I'm constantly searching for the next experience and I take a great deal of pride in "walking the walk" so that I have new and engaging stories to share during my presentations as I "talk the talk" on behalf of Backpacker.
5. What's the biggest takeaway you hope people leave with after your presentation?
Awareness. I hope people leave with an awareness of the benefits that they can add to their lives by spending time in the outdoors, an awareness of the essential skills and equipment that are necessary to allow them to feel safe and comfortable, and an awareness of the numerous backpacking styles and gear choices available to them that will allow them to "hike their own hike" and enhance their own personal experience while exploring the outdoors.
6. What are your five (or ten, if five just isn't enough!) personal essentials for backcountry adventures?
When backpackers talk essentials it is often in reference to the "10 Essentials". I personally prefer the "11 Essential Systems". While I am always sure to bring along the gear that will allow me to meet these "11 essential systems, the top of my personal essentials list is located between my ears. The knowledge of, and skill to use everything in my pack is my #1 essential. That said, If I'm headed into the backcountry my pack will always have a selection of gear that will allow me to meet at least these 11 "essential" needs:
Insulation: clothing, sleeping bag/pad
Shelter: tent, tarp
Fire: waterproof matches, lighter, tinder
Hydration: hydration bladder, bottle, filter
Navigation: map, compass
Sun and Skin Protection: sunscreen, sunglasses, insect repellent, lip balm
Illumination: headlamp, flashlight
Nutrition: high calorie lightweight snacks/meals
First-Aid Supplies: wound care, blister care, cleaning/disinfecting, medications, etc.
Communication: whistle, signaling mirror, satellite communicator
Repair Kit and Tools: knife, duck tape, fishing line, etc.
7.Best and worst meals you've had in the backcountry?
Ah Yes, backpackers and their food…it is a very intense relationship isn't it? I'm regularly amazed at just how delicious a meal can taste after a fifteen-mile hike, and I have often been extremely disappointed by the same meal when it's prepared at the kitchen table and not in camp. When asked this question it is interesting to me how a very simple meal comes to mind. For some reason though, a fresh avocado hollowed out and filled with a spicy salsa and a dollop of sour cream is the thing that my taste buds always go back to as the "best" memory of food in the backcountry. I know it's super simple, but it's all about the timing, the location and the unexpected nature of the "trail magic" that brought that deliciously unexpected treat to my mouth. As for worst foods, oh there have been plenty of those, but again after a fifteen-mile day even a mix of crumbled Doritos, peanut butter, and Ramen can be quite satisfying to the taste buds.
8. Describe your craziest encounter on the trail or in the woods (people or animals)?
On a backing trip in the Pennsylvania Wilds I discovered that it can actually "rain" bears. The late summer four-day adventure presented a handful of challenges including rocky terrain and dry washes that required focusing attention on where you put your feet. Not only to avoid a fall, but also to avoid an unwanted encounter with the numerous rattlesnakes that enjoyed sunning on the rocks along the open trail. The vegetation was in full late summer bloom and above waist-high throughout numerous stretches of the lightly used trail. The combination of rocky terrain, thick and tall vegetation and multiple rattlesnake sightings made watching my feet a priority causing me to be completely unaware that a large black bear had just scurried up the bank that I had been following switchbacks to climb. At the top of the bank the trail came to a Y-intersection at which I paused to check my map so as to ensure that I was going to stay on course. I was taking advantage of the shade of a large pine tree while evaluating my map when I heard a loud and distinct snap overhead. My reflex reaction allowed me to avoid the large branch that came falling from directly above me, but I couldn't believe my eyes when the large Black Bear whose weight had obviously caused the branch to snap came tumbling down through the lower branches eventually making a hard landing just feet from where I was standing. The bear and I made immediate eye contact. It is still undecided who looked more shocked, me from having had a bear "rain" down on me, or the bear after having fallen two stories out of the tall pine. Before I could even wrap my head around what had just happened, the bear hopped up, shook off the fall and scurried back down the bank into the tall vegetation alongside the dry wash. The rest of the trip I was sure to divide my time between watching my feet for rattlesnakes and watching the skies for raining bears.
9.What's your favorite thing about being in the great outdoors and your favorite thing about coming home?
Being in the outdoors and connecting with natural spaces is truly my "church". While the "spiritual" experience I feel in the outdoors would be more than enough to keep me going back, I also experience physical and emotional impacts. When I'm in the great outdoors I always experience that exhale moment when my mind and body can relax, my blood pressure seems to lower, my thoughts seem to get clearer and my feelings seem more amplified. The great outdoors offers the seclusion and interpersonal space necessary to create physical and emotional clarity and relaxation. That quiet contemplation provides an impactful contrast to remind me just how important the connections are with the people who matter the most in my life, the people who are my favorite thing about coming home.
10. Why is getting out more so important to you personally?
It's Home, being in the great outdoors feels like home to me. It's where I feel most alive. It's where I've experienced my greatest joys, where I've cried my truest tears, where I've celebrated my proudest moments, and where I've been most humbled by the "defeat" of needing to retreat from nature's fury and my own physical limitations. I search out the outdoors when I'm feeling my highest highs and when I'm feeling my lowest lows. I know that getting into the outdoors will not only connect me with the purest forms of nature, I also know it will connect me with the most authentic form of myself.