May 2013 Table of Contents
Heading out the door? Read this article on the new Outside+ app available now on iOS devices for members! Download the app.
Features: First Night Out

The most important trip in every backpacker's life? The very first one. Whether you're a dayhiker ready to take the next step or an old hand who wants to lead novice friends and family, this comprehensive guide to beginner-friendly overnights and skills will help you plan, pack, and ensure the trip is perfect. Plus: our favorite writers remember their first camping trips. By Sarah L. Stewart and Elisabeth Kwak-Hefferan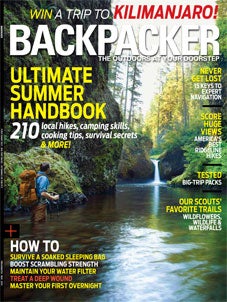 Special Report: All Quiet on the Western Front
When John Rivera returned from Iraq, the veteran struggled to find his stride as a civilian. It's a common story among the many americans who served in Iraq or Afghanistan in the last decade. But what Rivera did next is not common at all: He set out to backpack the entire 2,663-mile Pacific Crest trail. Here's why thru-hiking could save a generation of soldiers. By Brian Mockenhaupt
Our yearlong 40th anniversary celebration continues with a chance to win an epic Kilimanjaro trek and other great prizes.
TRIPS

VIEWFINDER: APPALACHIAN TRAIL
Top shots from America's favorite long path.
LIFE LIST: GRAND CHALLENGE
Competitive backpacking? You bet.
TOP 3: KNIFE-EDGE HIKES
Watch your step—and the epic views.
MOUNTAIN MAP: THE WASATCH
Bag peaks in Salt Lake City's home range.
Local Hikes
WEST
Get your waterfall fix in Oregon's Columbia River Gorge, find solitude in Wyoming, check out a new Denver-area state park, and tag more spring hikes.
CENTRAL
Sample a section of Missouri's Ozark Trail, harvest Minnesotan morels, see endangered sea turtles in coastal Texas, and more.
EAST
Paddle an Outer Banks island, hit a new trail in Tennessee, stargaze in Pennsylvania, and grab nine more adventures.
SKILLS

MASTER CLASS: CAMP COOKING
Eat better with 22 tips and easy recipes.
INSTANT UPGRADES
Maintain your water filter, safely cross snowmelt-swollen rivers, and more.
TEST KITCHEN: PASTA
Save fuel and time with this backpacker staple. Plus: Go beyond mac 'n' cheese.
SURVIVAL

PINNED BY A STRAINER
Learn from a kayaker who got trapped in an icy alaskan river—and escaped.
TROUBLESHOOT THIS: SOAKED BAG
Dry a wet sleeping bag in the field.
CHART OF DEATH: LOST
Stay on track with this guide to avoiding the most common navigation mistakes.
SURVIVAL LAB: TREAT WOUNDS
Blood flowing, no ER nearby? Here's how to close a gaping cut, prevent shock, and more.
GEAR

BIG-TRIP PACKS
Our testers carried monster loads to find packs for every hiker. Plus: a bargain headlamp, all-purpose boots, ultralight crampons, and more.
GEAR REVIEW: GET A GRIP
Plus a bargain headlamp, all-purpose boots, ultralight crampons, and more.