May 2012 Table of Contents
Heading out the door? Read this article on the new Outside+ app available now on iOS devices for members! Download the app.
MAY 2012 TABLE OF CONTENTS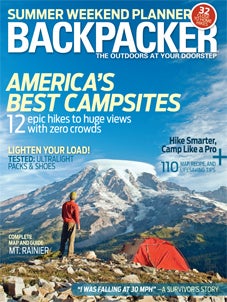 >> FEATURES

America's Best Campsites

Journey shmerney: It's all about the destination with one of these perfect tent spots. Our scouts found the top backcountry perches from the Cascades to the Grand Canyon to the Maine coast, so you can enjoy the best of everything you love—views, solitude, wildlife, nearby summit climbs, fly-casting, and more. Put one of these plots of heaven on the schedule, and pack for a long stay. By Michael Lanza
Mt. Rainier Adventure Guide

Want to climb America's favorite volcano? Backpack to a private paradise on its flanks? Dayhike to a glacier? Our complete planner delivers ground-truthed GPS data for those trips, plus 21 more. Find out where and when to go with a three-dimensional, bird's-eye view of the Northwest's most iconic park. Plus: Enter a sweepstakes for a chance to win gear and a guided trip up the 14,410-foot peak. By Kim Phillips
Hiking Makes You Smarter

Of course you feel rejuvenated after a backpacking trip. But new research shows that hiking does more than revitalize body and spirit. It also boosts brainpower, says Dr. David Strayer, a cognitive neuroscientist behind a groundbreaking study that sends test subjects on multiday treks. Learn why wilderness is good for your frontal lobe, and how you can become a Strayer guinea pig. By Elisabeth Kwak-Hefferan
Heroes

During a winter climb in Colorado's Front Range, Becca Stubbs stumbled into every hiker's worst nightmare: a debilitating injury deep in the backcountry. Learn about her rescue, and how her accident inspired her to hike more—and make outdoor adventure safer and more accessible for her college club.
>> DESTINATIONS



Rip & Go Weekend Adventures

West: Meander through coastal rainforests and over beachside bluffs in northern Oregon.
Mountain West: Follow an abandoned trail to an alpine lake in New Mexico's Sangre de Cristo Mountains.
Midwest: Paddle a beginner-friendly flatwater route to world-class fishing and birding in Wisconsin's Chippewa Flowage.
Northeast: Score bird's-eye views of Pennsylvania's Pine Creek Gorge—"the Grand Canyon of the East."
Southeast: Climb from a river gorge to a big-view southern bald high in North Carolina's Nantahala National Forest.
Local Hikes

Jump-start your hiking season on these spring-ready trips from around the country.
>> SKILLS



THE MANUAL:Rough Road Driving

Safely access tough-to-reach trailheads.
TECHNIQUE: Low-Visibility Navigation

Find your way when weather, forests, or darkness obscure key landmarks.



Dirtbag/Gourmet:Spicy Southwest

Pack in flavor, fiber, and protein with these savory black-bean meals.
>> SURVIVAL



Learn & Live:Coastal Hazards

Read the surf, avoid tidal danger zones, navigate tricky shorelines, and save yourself from the deep if you get pulled in.
Case Study:Trapped in a Sea Cave

Five unlucky hikers survived a surge channel dunking—barely. Learn from their mistakes.
>> GEAR



Field Test: Ultralight Packs

Hike faster, farther, and more comfortably with these 5 minimalist haulers.
Field Notes

Our test crew rates a lightweight shoe, a versatile down midlayer, a touring glove, an ultralight three-person tent, and do-it-all hardshell.
Special Section: Buyer's Guide

Trail Runners

Get trail-fit fast and see more scenery with our complete guide to running shoe technology, including buying advice, training, and reviews of the latest gear.


You can also find the issue digitally at backpacker.com/apps.