Heading out the door? Read this article on the new Outside+ app available now on iOS devices for members! Download the app.
MAY 2009


FEATURES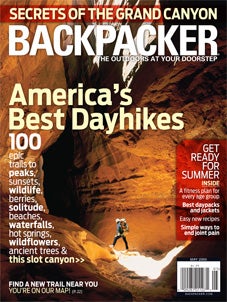 Secret Grand Canyon

This natural wonder keeps some hikers up at night, obsessing about hidden canyon gems. And no place inspires midnight mapping like Royal Arch, one of the most difficult–and rewarding–hikes in the Big Ditch. Start planning: We have turn-by-turn directions, plus more hikes, key skills, and a 3D map. By Annette McGivney
GOOGLE FLYOVER VIDEO: YOSEMITE'S NORTH RIM

Trail-Fit for Life

What's better than hiking today? Hiking forever, of course. With input from doctors, scientists, trainers, and dieticians, we've devised an exclusive health-and-fitness plan for every stage of your life. Plus: Tackle the trail of your dreams in four weeks with our age-specific workout. By Casey Lyons
Field Test: Daypacks

Coming soon: the longest days of the year. Get outfitted for high-mileage epics, fast-and-light summit treks, and everything in between with the year's best new load haulers. By Kelly Bastone
America's Best Dayhikes

Take an easy stroll to a big-time view (Fourteener before lunch, anyone?). Embark on a dawn-to-after-dusk epic (16-mile slot canyon hike-and-swim, perhaps?). Trek to redwoods, hot springs, beaches, waterfalls … and be home for dinner. Here are 100 ways to spend a perfect day on the trail.
PEOPLE
Ridge Runner

What's harder than hiking the entire Continental Divide Trail? Hiking the true crest of the divide itself. Despite crippling injuries, Glenn Dunmire attempts to achieve an alpine first.
The Unlikeliest Mountaineer

When you grow up on a dollar a day in poverty-wracked, HIV-devastated Swaziland, you don't dream of climbing the Seven Summits. Fortunately, no one informed Sibu Vilane of that fact. Now the former goatherd has only one peak left to go–Denali. STEVE HOWE joins him on the historic attempt.
DESTINATIONS
Top 3 Glow-in-the-Dark Hikes

See glowing plankton, mushrooms, and bugs on these brilliant adventures.
Natural Wonders

Discover the world's oldest tree, America's biggest cavern, and Florida's largest herd of wild horses on these three treks.
RIP & GO WEEKEND ADVENTURES

Rip & Go Glen Camp Loop

Rip & Go Bowen-Baker Loop

Rip & Go Jacks River Trail
The Peak: Katahdin

This iconic summit shouldn't be rushed. Savor the experience on this 33-mile trek.
SKILLS
The Manual: Alpine Starts

Boost your summit chances and beat lightning storms with a smooth early-morning start. PLUS: Overcome deadly mental traps in the outdoors and learn to safely cross a raging river.
Medicine Man: Bee Stings

Don't let allergies keep you inside. PLUS: Four myths about snakebites, dispelled.
Dirtbag/Gourmet Jerky

Make quick and easy burger strips and spicy dried elk with our DIY recipes.
Gear School: Ultralight Packs

Lighten up with expert advice on choosing, using, and fixing a featherweight pack.
GEAR
FIELD NOTES

MSR E-Bivy

Alite Designs Monarch Butterfly Chair

Merrell Optima Tank

Brooks Adrenaline ASR 5 Trail Runners

Western Mountaineering Hooded Flash Down Jacket
Review: Ultralight Shells