May 2008 Table of Contents
Heading out the door? Read this article on the new Outside+ app available now on iOS devices for members! Download the app.
Features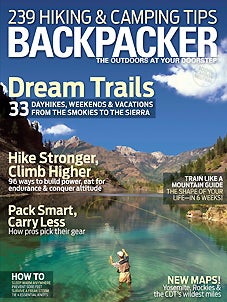 Secret Agent Man

Animals can't talk. But Ed Newcomer can. As an elite U.S. Fish and Wildlife detective, he goes undercover to protect threatened raptors, bears, even butterflies—and bring poachers and smugglers to justice. We go inside the agency's latest covert operation.

by Bruce Barcott
Hiking the Sierra High Route

On this burly, 210-mile traverse, which crosses 33 passes and barely touches established trails, you can find Alaska-size scenery, complete solitude, and just enough risk to keep things interesting.

by Steve Howe
The CDT Project

We dispatched 209 readers to map—for the first time—the 3,100-mile Continental Divide Trail, the biggest, baddest thru-hike of them all. Here's what they found—and their favorite sections along the way.

by Kelly Bastone
Summer Fitness Special

Want to perform at your peak when you hit the trail this season? Follow our three-part plan, and you'll make short work of big miles.
Train Smarter

Get trail fit in just six weeks with this hiker-specific strength and cardio plan. Crunched for time? Try the accelerated version.

by Grant Davis
Eat Better

To reach your biggest backcountry goals, you need to eat right. Here's how—with recipes, nutrition tips for men and women, and the 10 healthiest hiking foods.

by Dorothy Foltz-Gray and Elisabeth Kwak-Hefferan
Climb Higher

With a little help from a half-dozen friends, two high-tech gadgets, and one hypoxic chamber, a rookie attempts the tallest peak in Colorado. PLUS: Top guides reveal their summit secrets.

by Jim Thornton
The Backpacker Interview: Apa and Lhakpa Gelu

Two record-setting Sherpas embark on their most ambitious expedition: trading Everest for Salt Lake suburbia.

Gear
All Aboard! 

The best canoes for every trip and paddler.
Field Notes

We find out everything you need to know about the green truth behind bamboo, a hyper-efficient cookpot, and a bargain three-person tent.

Adventures
Land of the Lost 

Journey to Utah's remote Range Creek, where stunning Native American artifacts remained a local secret for decades.
Quick Fix: Great Smoky Mountains

Check out the steepest trail, the best swimming hole, and the widest vista in America's most popular national park.
Top 3 White Mountain Treks

Hike the other Whites—in Arizona, Alaska, and New Mexico. Here are our top picks.



Flower Finder

Trek the best spring blooms from the Ozarks to the Olympics.
Best Damn Weekend Ever: Cascades Gem

An hour from Seattle, Kaleetan Lake offers killer Rainier views.
Vacations: Paddle Voyageurs NP

With a thousand islands and countless passages, this little-visited treasure is a watery maze. Here's the way in—and out.
Trace Canada's Spine

Hike the best section of the Great Divide Trail.
Where Can I Catch America's Largest Grillable Trout?
Trip Doctor: Best National Park Bus System

Nature
Hiking with Nukes?

How Cold War weapon sites are becoming America's most unusual preserves.
Phenomenon: Microbursts

These vertical hurricanes are rare—but deadly.
See More: Deer

Learn the difference between elk, white-tails, and mule deer.
Should Mount St. Helens become a national park?

Skills
Casting Call

Grab a fly rod and learn how to catch—not carry—your dinner.
The Specialist: Plan Away Pounds
Next Level: Prep a Fish for Dinner
Food: Hook-and-Cook Recipes 

From chile and cornmeal to lemon and olives, here are four ways to feast on fish.
Better to the Last Drop

The best coffee, tea, and wine upgrades for the backcountry.
Health: First Aid for Fido

Heal your four-legged trail partner.
Keep Your Feet Happy

Get foot-care tips from an (ultra) ultra runner.