Two Years After the "Massacre on Max Patch," the Mountain Is Healing
One of the most popular spots on the Appalachian Trail, Max Patch, is better off now than it has been in years.
Heading out the door? Read this article on the new Outside+ app available now on iOS devices for members! Download the app.
As a higher-elevation bald with 360-degree views of the mountains along the Appalachian Trail, Max Patch features on many a hiker's bucket list. Day-trippers once frequented the spot for picnics, football or Frisbee games, and a scenic place to camp on a thru-hike. But when visitation reached a staggering zenith during Covid-19, the 350-acre peak made headlines for its unruly crowds and growing litter problem.
Hikers left a mark on the area with whiskey bottles, dog and human waste, social trails, and more. Nine months after a drone photo of the crowded, litter-choked area went viral in 2020, the U.S. Forest Service announced a series of restrictions and bans in the Max Patch area that will remain in place until June 30, 2023. Under this order, hikers can't camp on Max Patch, build a fire, go on unauthorized trails, visit earlier than one hour before sunrise and later than one hour after sundown, and more. Violators of these restrictions could face in a $5,000 fine ($10,000 for organizations) and/or imprisonment for no more than 6 months. 
But while these restrictions may be a pain, evidence suggests that they are having a positive impact on the landscape. Matt Drury, the associate director of science and stewardship of the Appalachian Trail Conservancy, says that these "changes in visitation and our ecological restoration efforts have helped facilitate healing. The visitor experience is now a more natural one with less trash, noise, and erosion."
The past few years has been an era of considerable change and recovery for Max Patch. Organizations such as the ATC, Carolina Mountain Club, and U.S. Forest Service have worked to reduce the impact of camping, monitor erosion, and protect native plants. Still, according to Drury, there is a lot of work left to do. "Visitor-use issues persist and remnants of past misuse are evident," he says. "There is a way to go, but Max Patch is much better off than it has been in years."
Locals have used the area for centuries, beginning with the area's Cherokee residents. In the 1800s, farmers cleared out the trees that once were on Max Patch and turned the area into a pasture for grazing cattle and sheep. After that ended, the Forest Service mowed the area and prescribed burns to prevent new growth and maintain the bald 4,629-foot vantage point for hikers.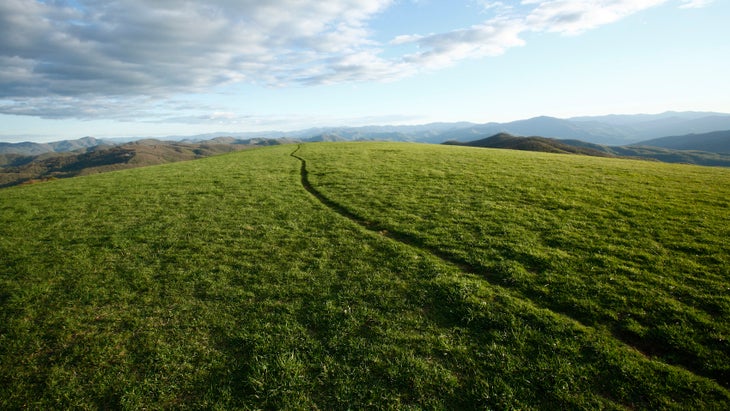 Today, many Asheville locals are responding positively to the camping closures. They are supportive of the restoration efforts taking place in the beloved regional icon, says Jeffrey Hunter, an Asheville-based senior program manager with the National Parks Conservation Association.  This Saturday, September 24, volunteers and public servants are celebrating National Public Lands Day with a service project on Max Patch. Participants will restore the trail from 8 a.m. to 3 p.m. Hunter says this event is a great example of the dedication that people have to maintain the area. 
"Hopefully, we will see a commensurate increase in funding for land management agencies like the Forest Service and National Park Service for new staff, education and stewardship," says Hunter. "Our public lands deserve nothing less."
It's unlikely that Max Patch is the harbinger of a wave of closure orders elsewhere on the AT. There are local AT management partners (such as an ATC chapter or the Carolina Mountain Club) that monitor visitor use, says Morgan Sommerville, the director of visitor use management for the ATC, and these types of closures or restrictions depend on the area's needs and the reality of the situation. 
The closures on Max Patch have stopped further damage or erosion: We reported in June that the number of fire rings dropped from 70 to 9, and social trails that once covered 22,000 square feet of the mountain now only cover 9,000. Some hikers also see the Max Patch closures as a reason to seek out less-traveled trails in less-crowded places, such as those in Lamar Alexander Rocky Fork State Park in Tennessee. 
"Less-popular trails are no less beautiful or serene," says Hunter. "Many natural wonders in western North Carolina and beyond deserve more protection and resources. So many members of the hiking community understand the direct link between a positive visitor experience and the need to support conservation. We are moving in the right direction."