Heading out the door? Read this article on the new Outside+ app available now on iOS devices for members! Download the app.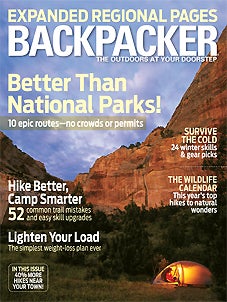 FEATURES
America's Best-Kept Secrets

Get the best features of our iconic national parks—world-class terrain and expansive backcountry—with none of the traffic or permit hassles at these 10 perfect substitutes. By Michael Lanza
Lighten Up!

Cut weight the smart way: Lose the load you're carrying around the middle. Here's how to get in the best shape of your life with the ultimate fat-burning program: backpacking. By Jim Gorman
Hike, Pray, Protest

Does God love camping? A new church movement foot-soldiered by wilderness-loving young people could transform the way conservative Christians perceive and protect the environment. We hit the trail with the new green evangelicals. By Tracy Ross
DESTINATIONS
RIGHT PLACE, PERFECT TIME

See Yosemite's river of ice, witness there-and-gone meteor showers in Hawaii, and mark your calendar for eight more fleeting natural wonders.
EXPANDED LOCAL SECTIONS!
WEST

Trek to Washington hot springs; spy gray whales breach off the California coast.



MOUNTAIN WEST

Explore ancient ruins in Utah's Grand Gulch; summit an Arizona peak.
MIDWEST

Discover east Texas's longleaf pine forest; see the Boundary Waters on foot.
SOUTHEAST

Ascend Rocky Top in Tennessee; spot herons and pelicans in a Florida bayou.
NORTHEAST

Paddle to Maryland's Assateague Island; pack an ice axe for the Presidentials.
SKILLS
THE WRONG WAY

Stop! Drop that pack. Don't make one of these 52 outdoor blunders. Here's how to do it right the first time.
THE MANUAL: COUPLES CAMPING

Want your sweetheart to love backpacking? Hint: Don't rush it. See our entire Couples Camping section.
RECIPES: SEAFOOD SURPRISE

Dig into a backcountry fish feast with these easy-prep, sure-to-wow dishes.
GEAR SCHOOL: AVY BEACONS

Learn how to choose and use the right model before an avalanche scare.
GEAR
FIELD TEST: CAMP COOKWARE

Upgrade your backcountry kitchen with light, durable, no-mess cooksets.
REVIEW: WATER TREATMENT

Drink up with eight ways to filter and purify water.
Plus: a body-hugging puffy, an affordable four-season tent, a versatile lightweight pack, super comfy trail runners, and a windshell that's light and packable.